I am not a vegan, nor am I a "meat-eater." I am not Paleo, Macrobiotic or Carb-Free. While I try to eat gluten and dairy-free most of the time based on experience with my own body, sometimes I "give in" and want a piece of good-quality sourdough bread or cheese from the local farmer's market. (Um, the cheese thing happens more than sometimes.) I avoid red meat for the most part, but I won't say no to a good-quality, organic grass-fed burger every now and then…when I'm in the mood that is. My body knows what it can handle, and I listen to it 99% of the time.
The thing is, I don't like to define myself, or my diet. I like to think of food as food, and load up on as much food that makes me feel good inside, reducing those things that make me feel not-so-good. It's as simple as that. As you learn to listen to your body and treat it with lots of love, you'll come to realize your own recipe for happiness and contentment in your body.
One of the many things that make my body feel really darn good is loading up on plant-based meals prepared with real, whole foods. That is, foods that are as LEAST processed as possible, and closest to their natural state. Therefore, while I am not a strict "vegan" or "vegetarian," many of my meals happen to be naturally vegan and vegetarian-friendly. Same goes for gluten and dairy; I find often times while cooking I could do without these ingredients and therefore I do.
These Coconut Curry Tempeh Tacos with Garlic & Ginger Tamari Sauce that I whipped up the other night is a great example of a not-on-purpose vegan dish prepared with fresh, wholesome ingredients.
Coconut Curry Tempeh Tacos with Creamy Garlic & Ginger Tamari Sauce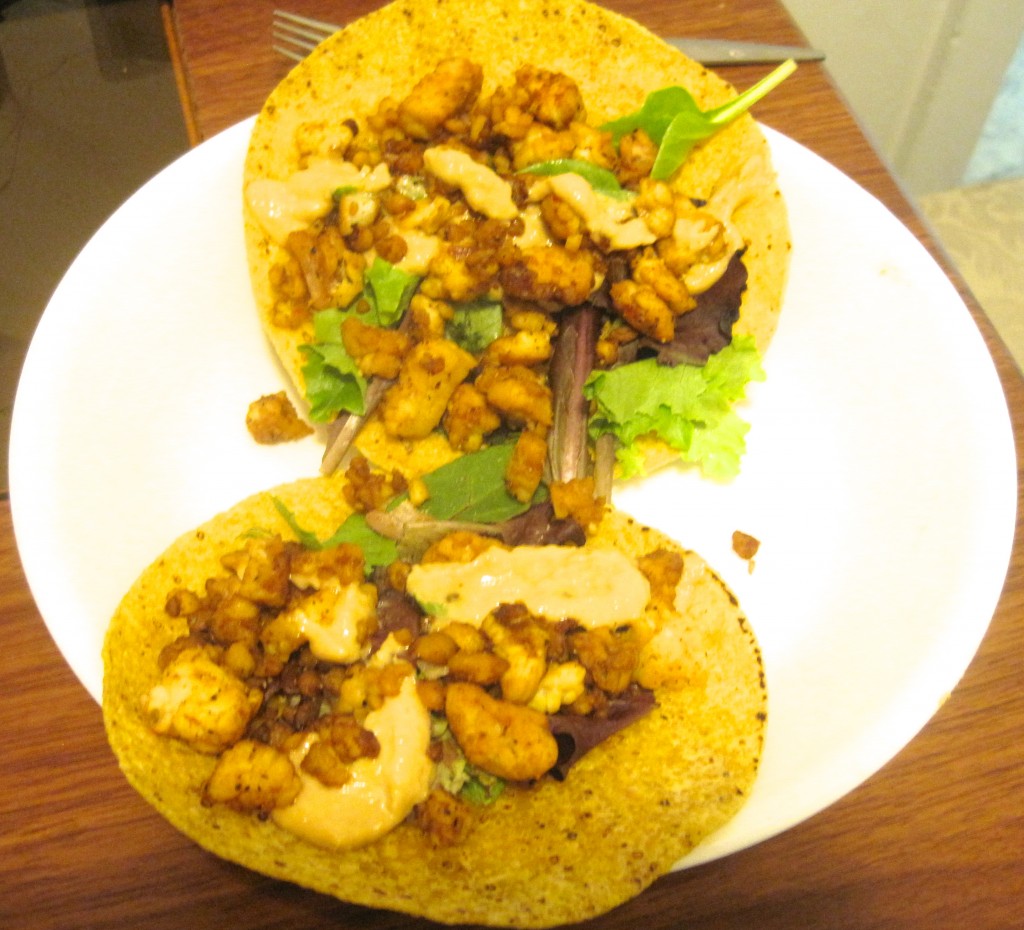 Vegan, Free from gluten & dairy
For the tacos:
*makes 6 tacos
1 package organic tempeh (8 oz), diced into small squares (I used Lightlife Foods' Organic Flax Tempeh)
6 whole corn tortillas (I used Food for Life's Sprouted Corn Tortillas)

1 shallot, diced

2 TB coconut oil, organic, cold-pressed & unrefined

2 TB tamari, organic

1 tsp. curry powder (add additional according to taste)

salt & pepper to taste

handful of leafy greens (for taco toppings)
1. Heat large skillet on medium heat with coconut oil. Add in shallot and cook for about 3 minutes.
2. Mix in tempeh, using spatula to create a crumbled effect (like ground meat). Add tamari, curry, salt and pepper and stir. Cook until tempeh is lightly browned and crispy. Reduce to low heat, and let sit covered. In the meantime, heat corn tortillas in the oven for a few minutes until soft and warm.
3. Top each tortilla with taco mixture, sauce (see below), & leafy greens and serve.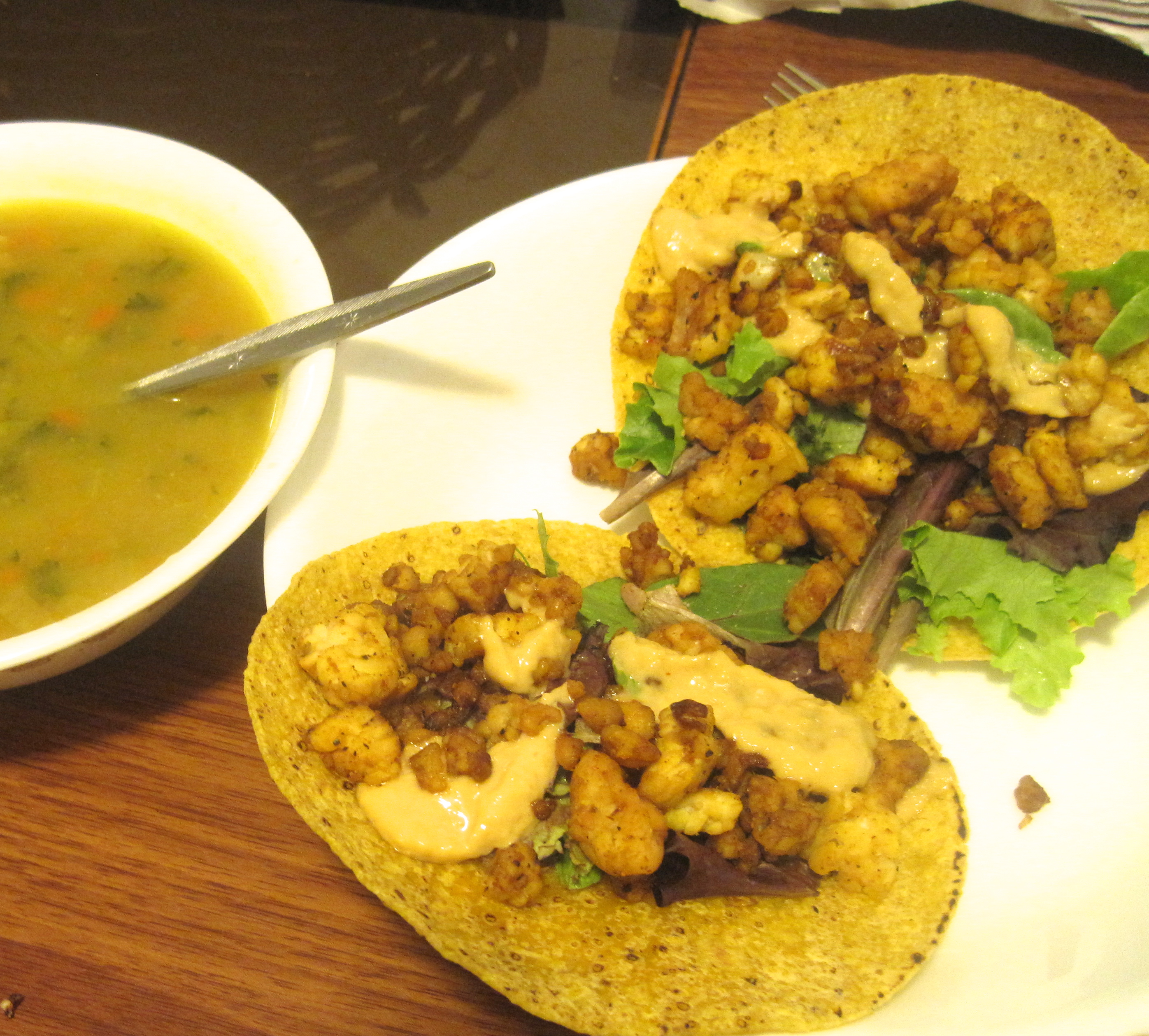 [We enjoyed ours with a side of homemade fish-chowder!]
For Creamy Garlic & Ginger Tamari Sauce
6 cloves garlic, pealed and chopped
About 1/4 c. fresh ginger, peeled
1/4 c. tamari, organic
3/4 c. extra virgin olive oil, cold-pressed & unrefined
2 TB lemon juice
1 TB nutritional yeast
sea salt to taste
Note: This makes enough so you have leftover to use for other dishes, sandwich toppings or as a dip with your favorite veggies.
~Add the garlic, ginger, tamari, lemon juice and half of the olive oil. Blend on high speed in a food-processor or Vitamix (I used a Vitamix). Then slow add in the olive oil, pulsing until it creates a creamy texture. Mix in nutritional yeast and sea salt to taste, and stir with a spoon.
This sauce is seriously AMAZING. I was literally licking the sides of the Vitamix…I kid you not! It was originally inspired by Life Alive's Ginger Nama Shoyu Sauce (which is served on my favorite Green Goddess dish) since I just had to try making something similar at-home. Enjoy!
Do you define your diet, or eat a particular way? Have you ever tried cooking with tempeh? What's your favorite vegan or vegetarian dish?