Good morning to all you beautiful Healthy Chicks out there! I'm off to a great start to the day, as The Boy made me a super veggie-packed frittata (while I was still sleeping) and I'm off to meet a friend for life chats at one of my favorite organic cafes, Life Alive.  (Fitting, huh?) I'm also going to get my Downward Dog on tonight with one of my best friends at Back Bay Yoga. We're taking Lynne's Vinyasa Flow with Live Music: Flute & Guitar.
I'm so excited for a zen, thought-provoking me kinda day. Those are the best after all, don't ya think? And even if your schedule's packed to the brim, you can still try to squeeze in little things throughout the day just for Y-O-U. Take time for yourself, ladies, even though it's hard to remember at times (trust me, I know…I sometimes put "me" on the back burner too).
Anyway, 'nough about me. Today I'm here to bring you this week's feature for Healthy Chicks in the Community. I am extra giddy about today's spotlight, as she's actually one of the first bloggers I "met." (We actually have plans to meet FOR REAL in the near future!) Anyway, we started reading each other's blogs back in the day pre-Boy and pre-Health Coaching. I was a totally different person then (as was my blog) and it's so neat to see how much we've grown! This mystery gal also has a rockin' sister who (hint, hint) you'll meet soon. Anyway, I'll let this super-inspiring barre loving fit chick, Jess, take it from here! I'm sure you'll fall in love with her killer personality and genuine writing like I have…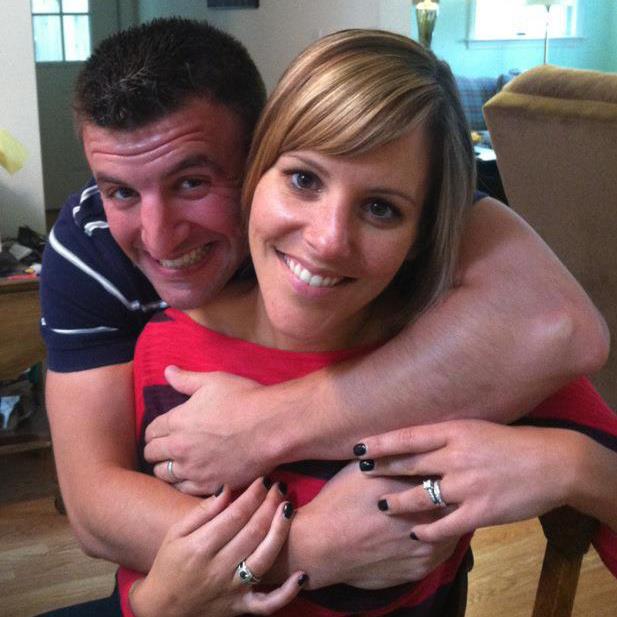 NAME/AGE: Jessica Sutera, 33 (ugh lol)
BLOG/TWITTER (If Applicable): http://eatdrinkbreathesweat.com / @jessfit654
PHOTO TAKEN: This pic was taken last fall while visiting my gram and gramp at our family lake house in Maine. It was my gram's birthday and she was so happy to have us there to visit. Such a happy memory, reminds me how lucky I am to have two healthy grandaparents…and a goofy husband who I adore very much. <3
WHAT YOU DO FOR WORK: By day – PR, marcom and social media for a high-tech company in Burlington. By morning/night – I teach at barre n9ne studio in Danvers, my self-professed 'happy place' and a job I feel such gratitude for every single time I set foot in the studio.
NUMBER ONE PASSION: Leading a fit and healthy lifestyle and (hopefully) inspiring others around me to live a little bit of a fuller, happier and yes, healthier life. One way I do that is by teaching at the studio that transformed my life in about a million ways (you can read more about that here and also on the barre n9ne blog here). Another way is by blogging and sharing my real self in every post I write. And the final way I do that is by simply living my best life now and sharing that joy with my friends and family and even complete strangers if I can.
I FEEL MY HEALTHIEST SELF WHEN I AM: Standing on that front and center mat at the studio teaching classes at barre n9ne. I feel strong and empowered. It's a crazy awesome feeling.
BUT I AM ALSO A REAL GIRL & SOMETIMES: I can't lie, I'm a huge wino. I love wine. In all forms. And am not afraid to pour a glass (or two-ish), finding a reason to 'cheers' after a long day. I've found most wine pairs *very* well with a dove dark chocolate promise. 😉
TOP THREE KITCHEN STAPLES: Oatmeal. Coffee. Ingredients to make a quick and yummy wrap – usually that means a Flatout wrap or Joseph's flatbread which I love to fill with turkey, deli ham, tuna / egg salad (made with chobani plain greek yogurt!) and whatever else I can get my hands on that's 'wrappable!
'NUMBER ONE GUILTY PLEASURE: Pizza. Only the homemade kind – that you can *only* find at the Sutera Manor (aka my house, ha). Made with homemade pizza dough in the bread machine, topped with fresh tomato sauce and freshly grated mozzarella cheese. Nothing else compares. Nothing.
EXERCISE THAT MAKES YOU SHINE: Well – barre n9ne classes are an obvious choice. I LOVE teaching there, love all that it's done for my mind and my body, and love the beautiful community of women that congregate there day and night. It's an awesome place to be, and makes me glow on the inside and out – I told you: total 'happy place!!'
FAVORITE COMFORT FOOD: Pizza. See 'guilty pleasure' above. Ha.
MESSAGE YOU'D LIKE TO SHARE WITH OTHER HEALTHY CHICKS: Please, please, please be your own best friend. Do not constantly tear yourself down, but lift yourself up. Even if that means forcing yourself to look in the mirror every single day and find something about yourself that you LOVE that day, even it's just the way your hair is flipped behind your ear. Something. Anything that makes you feel good as you walk out the door. Self-confidence is beautiful. It's not vain to say "Hey, I look good today." It's even LESS vain to say it and to truly mean it.
If you'd like to be featured as one of my Healthy Chicks in the Community, or know someone who you want to make blush, email me for more deets. And remember, if you aren't feeling your healthiest self or are struggling to make positive changes, shoot me an email anytime to schedule your FREE 15-minute info session / sign up for one of my health coaching programs.