Good evening ladies! Hope you all had a nice day. I'm feeling real good as I just got home from a sweaty spin class/ meeting with the ever-so-energetic Ali Balsassare at Equinox. I'm beginning to love evening exercises more than I thought, though I'm still a morning person at heart.
Alright, let's get to it; it's time for another week of Healthy Chicks in the Community. Remember how last week I mentioned that Jess had an equally awesome twin sister? Well, I thought it'd be fitting to feature her amazing twin (in fact, they are actually triplets) on the blog this week. I'm thrilled to introduce you to the Jolene, whose writing literally gives me chills, or makes me tear up every. single. time. By the way, she truly has one of the most beautiful love stories I've ever witnessed. I'll let Jo take it from here…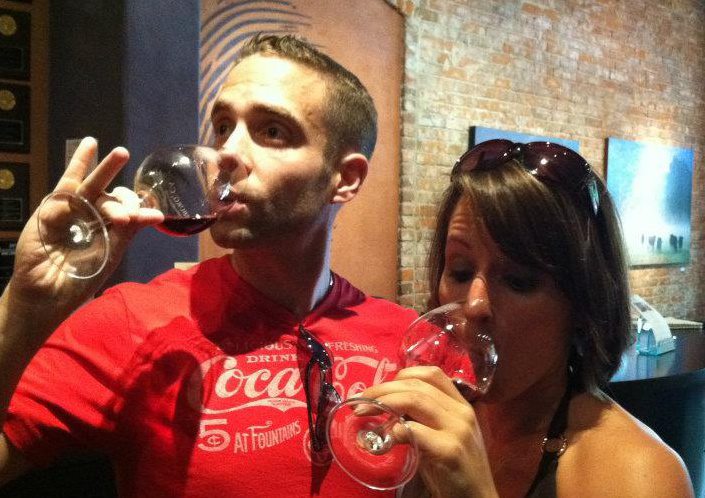 NAME/AGE:  Jolene Bonina, age: 33
BLOG/TWITTER (If Applicable): Blog: Determined To Be: http://determineduncensored.com/ Twitter: jobo_determined
CURRENT CITY:  Andover, Mass.
PHOTO TAKEN:  This is one of my favorite pics with M (it's a toss up, location takes the cake on this one!), in our favorite town in Sonoma County – Healdsburg. It's at one of our favorite wineries, Thumbprint, as we practice our faux 'wine snob' faces. I think we do a pretty good job here, no?
WHAT YOU DO FOR WORK:  By day, I manage PR and social media for a tech company in Southern California, working from home, which I've realized is my ideal way of working. I get so much done, stay out of the office politics and have the flexibility do my passion…as by night (and early morning!), I teach barre classes at barre n9ne studio in Andover and love, love, love it. Every single class is just an amazing experience, helping clients reach their fitness goals and really challenge them, and just seeing sweaty, happy faces, makes me equally as happy!
NUMBER ONE PASSION: Honestly? barre n9ne. It is such a 'homegrown' unique and original community of clients that are just fiercely dedicated, devoted, and determined to reach their fitness goals. Whether it be a 60 day challenge, a 'moms bounce back' program for new moms, or the everyday client who just wants to tone up and feel better about themselves, these clients – this family – is seriously amazing and I am so proud to be a part of it, and a walking 'example' of how this approach just works.
I FEEL MY HEALTHIEST SELF WHEN I AM: I feel my healthiest self every single day. No joke. I live by the mantra 'smarter, not harder' with my workouts, staying active daily, teaching at the studio, and fitting in runs or an occasional spin, when my schedule allows, and eating in a wholesome 'real foods' way. No food is off-limits, but I know my limits. I know what fuels me, and what satisfies me, and what does not, and it feels like the 'magic bullet' to happy and healthiness.
BUT I AM ALSO A REAL GIRL & SOMETIMES: I love my wine. Really and truly. I enjoy every glass, and I definitely have it several times a week, no apologies there. And it's good for your heart, so it's truly a win/win, isn't it?
TOP THREE KITCHEN STAPLES: kabocha!! My latest obsession. I.love.that.squash. coffee. Oatmeal. Not necessarily in that order 😉
NUMBER ONE GUILTY PLEASURE: wine. or pizza. Or both, together, for the ultimate combination!
EXERCISE THAT MAKES YOU SHINE: this is a tough one. It is a toss up between a super sweaty and intense barre class or a super sweaty and intense run. But the run must be outdoors for it to truly feel amazing. There is nothing better!
FAVORITE COMFORT FOOD: cheese. I LOVE cheese.
MESSAGE YOU'D LIKE TO SHARE WITH OTHER HEALTHY CHICKS: For me, the last two years have been such a journey about intuitiveness and mindfulness and learning what my body needs to stay satisfied physically but also mentally. You truly need both to be able to live and sustain a healthy, fit, and happy lifestyle, in my opinion. It shouldn't be work, but it takes work to get there, to get to that point where you trust yourself and your body, but know that once you do? It's totally worth it. Because there's no sense living a life where you can't eat the food you like, or live up to an image of 'perfection' on tv. There is no such thing. Strive for excellence, and not perfection…it's a much happier life!