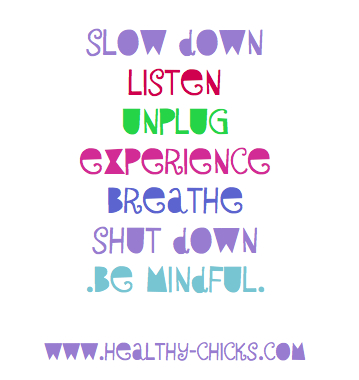 Good afternoon, ladies! Today I wanted to touch base on a topic that's often not discussed in the health & wellness community: mindfulness. For those of you who are participating in my 7-Day "Get Happy & Healthy" Wellness Challenge, you should have already seen in your inbox that today's challenge has to do with eating mindfully.
What the heck does mindfulness have to do with healthy living, you ask? Well it's a whole lot more than one may think! It's also a topic that I hold very close to my heart, as it's one of the major steps that helped me get over diet-obsessed living once and for all.
You see, in college I ate (and lived, for that matter) completely mindlessly. I scarfed down food as quickly as I could so I wouldn't have to deal with the guilt, and I rushed through all my meals like it was one big race. I was an emotional eater and an impulse eater at that, eating what would make me "feel better" (or so I thought) and then dealing with the guilt of the aftermath.
This then lead to extreme restriction, dieting and poor body image which, if you ever saw someone on a diet eating lunch, you know is far from a mindful experience. It was complete hell, and I was stuck in a mindless mess.
While I am still a work in progress when it comes to eating mindfully (without distractions from technology, people or thoughts) I am proud to say I have come a long way. Eating this way has taught me to savor my food, to enjoy each meal and to appreciate myself and my body.
How can you practice eating more mindfully? For those of you participating in the challenge, remember to share your experience. The hashtag on social media is #HappyHealthyWC