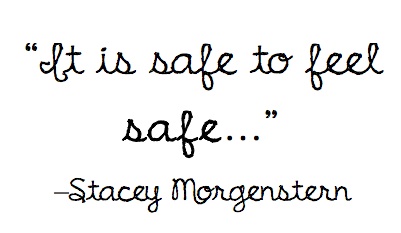 This past weekend, I attended a Business Conference for Wellness Professionals in NYC—HMBA Live: Step into Your Spotlight—that literally changed my life. I can honestly say the past three days have been among the most fulfilling days of my life: eye-opening, fun, and transformational all in one.
I cried, laughed, danced, sang, ate, wrote, learned, reflected and heck, even spoke in front of a room full of 400+ people….on a microphone.  In addition, I networked, made new friends, and relished in a community bursting with positive energy.
And while all of those things were life changing in and of itself, one of the most eye-opening "A-Hah" moments I had was when we started talking about money. More particularly our relationship with money. Just bear with me here…
I never really took the time to explore my relationship with money, although I certainly knew it wasn't a good one. In fact, it was toxic, to say the least. I say was because all of this is about to change…starting 48 hours ago.
However, up until now, money and I just didn't jive. We were heading straight to a break-up and boy was it going to be a nasty one. I'd spend my days obsessing over money up to the point where it was affecting every area of my life from my career to my self-love to my relationship. I'd anxiously swipe my credit card to get it over with (especially with impulse buys), and refused to look at my balance when withdrawing cash from the ATM.  Then I'd experience several days of guilt for spending "too much" irresponsibly. To top it all off, I'd constantly compare myself to friends, family and colleagues who were making more money feeling both jealous and ashamed.
My beliefs were "I don't have enough money," "I will never have enough money," "I can't make good money doing what I love",  "Once I have money I will be happy" and "That's great for her that she's successful and making money but I will never be able to do that. HA! That'd be the day."
It's plain to see that money consumed me and, well, I let it. I wanted more of it, but refused come face-to-face with it at the same time. Therefore I ignored it and instead hid behind my go-to place of feeling scattered and "not enough" where in some twisted way I felt safe. I felt safe because this is the pattern I was used to.
It wasn't until the beautiful Stacey and Carey of Holistic MBA encouraged me to look at my "Money Mirror" (a super powerful exercise if I do say so myself) that I finally saw things so clearly. One of the things we talked about is that how our relationship with money is directly related to our relationship with food, and in fact any relationship in our lives. These relationships—spouses, friends, business partners, co-workers, food, body image, boyfriends, family—are all tied together.
I quickly realized, as tears swelled my eyes, that my relationship with money was exactly the same of my relationship with food (in my late-teens and early twenties, that is). I spent my days obsessing over calories, the number on the scale and how much weight I had left to lose to the point where it consumed my life. I went through periods of bingeing (a.k.a. anxiously eating as much peanut butter out of the jar as fast as I could) followed by periods of deprivation and guilt a.k.a. essentially starving myself. Oh, and to top it all off I constantly compared myself to friends, family, and sorority girls who were skinnier and prettier than I was.
My beliefs were  "I am not good enough, pretty enough or skinny enough," "I will never lose the weight and be enough," "Feeling beautiful and confident in my body is just not in the cards for me," "Once I am skinny my life will be perfect," and "Yea, she looks great but I will never look like she does."
Are you seeing the pattern here? By no surprise, my money mirror card (there are four of them) that resonated with me was "Deservability," also known as "The Pleaser." Essentially, this type of person constantly feels guilty and tells themselves "I am not good enough as I am." Constantly comparing themselves to others, "The Pleaser" creates anxiety, chaos and overworks herself leading to major burnout.
I finally got it…money was my new addiction and I was treating it exactly how I used to treat food (and my body). When I went up on the microphone to share my realization, I couldn't stop shaking. This is it. It finally all makes sense! My limiting beliefs around money were preventing me from living the life of my dreams, just as my limiting beliefs around food and my body were preventing me from loving myself fully and truly. And while I've figured out the whole food thing, and in fact help other women overcome similar struggles, money and I still have a little work.
As I spoke, Stacey asked me point blank: "How did you overcome your issues with dieting?" and I said back, hands shaking, "I just quit…I let go. I told myself enough was enough and I didn't want to feel so stressed anymore."
She then had me write down this simple affirmation: I am safe to feel safe. I repeated it to myself in my head. It sounded nice…peaceful even. You see, you don't have to struggle anymore. It is OK to give yourself permission to make a positive change you know deep down you need to make for yourself in order to transform. Whether you are struggling with your relationship, body image or food habits, know that things don't have to be so damn hard and that you don't have to suffer anymore.
While I am still on my personal journey with my money relationship, I am proud to say that I have healed myself from food torture and most importantly that you can do the same…starting today. When you make the investment in yourself to overcome these fears and "step into your spotlight," anything is possible. And I mean it.
Are you ready to make the investment in yourself? If you suffer from compulsive dieting and want to lose the weight & gain the confidence while falling in love with yourself, I'd LOVE to invite you for a FREE 15-minute "Diet-Free Breakthrough Session." Fill out this quickie form to schedule your complimentary session today.