Happy Thursday everyone! I am off to a great start to the day as I got my butt out of bed for yoga. Yoga mornings = the best kind of mornings. Today, I gave Karma Yoga in Harvard Square a shot for my first time. I took a super energizing Vinyasa flow with Rachel Barringer, who gave the perfect balance of challenging postures, breath work and good ol' fashioned humor. I really enjoyed her class and give her big props for starting my day off on the right foot.
Speaking of yoga, today's feature on Healthy Chicks in the Community is a yoga teacher as well, and she's far from ordinary. In addition to yoga, she teaches Barre & Soul and even aerial yoga. Plus she's a wonderful writer and all around amazing woman inside & out and someone who I have the pleasure of knowing personally. I'll let Andrea take it from here! (I think you'll enjoy what she has to say, especially her message at the end!)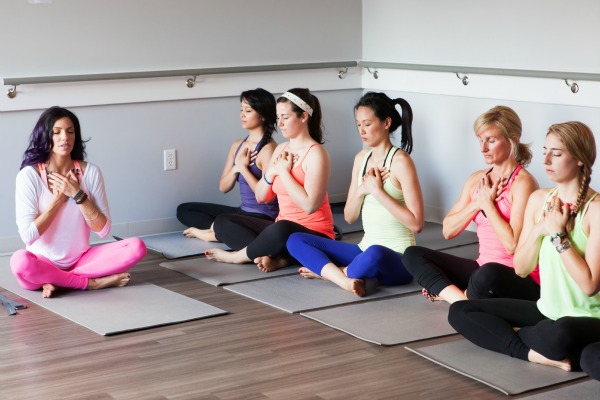 NAME/AGE: Andrea Isabelle Lucas/33
BLOG/TWITTER: Fit Feminist / Barre & Soul /@barresoul
CURRENT CITY: Boston
PHOTO TAKEN: by Lucie Wicker during my Barre & Soul class at Lexington Power Yoga in Lexington, MA.  Barre & Soul will be available in more locations, including Equinox fitness clubs, starting soon!
WHAT YOU DO FOR WORK: I'm the founder and owner of Barre & Soul, a yoga-infused, results-oriented barre program.  In addition to barre, I also teach yoga and aerial yoga.
NUMBER ONE PASSION: Gender equality. The driving force behind all I do is to inspire women to live in a fun, self-expressed, empowered way.
I FEEL MY HEALTHIEST SELF WHEN: I keep a sane schedule, allowing time for healthy meal preparation, connecting authentically with others, moving my body with fun activities, and reserving some quiet time to be alone.
BUT I AM ALSO A REAL GIRL & SOMETIMES: I get swamped, skip my workouts, eat on the run, stay up late working and get up early to care for my family and work some more.
TOP THREE KITCHEN STAPLES: Eggs, spring mix, apples, peanut butter. OK that was 4.
NUMBER ONE GUILTY PLEASURE: The song "Mr. Jones" by the Counting Crows.  I play it on the ukulele and sing really loud.  My friends have tried to intervene but there's no stopping me.
EXERCISE THAT MAKES YOU SHINE: Aerial silks, hula hooping, surfing, barre & yoga
FAVORITE COMFORT FOOD: Apples & PB. Also mildly addicted to frozen yogurt.
MESSAGE YOU'D LIKE TO SHARE WITH OTHER HEALTHY CHICKS:
Don't sit around waiting for someone to tap you on the shoulder and say it's your turn to do something great. Tap yourself on the shoulder. Give yourself permission to surprise everyone, even yourself, with the great things you can achieve.  Don't let fear of failure hold you back.  The shame of failure is nothing compared to the uneasy sense that you are missing out on your calling.
Also, since it is near impossible not to compare ourselves to the images of perfection we see in advertising and magazines, I believe every woman should have a professional photo shoot at some point, complete with makeup artist, Photoshop etc.  With those kind of resources, we all look like cover models. Then we can get over it and get on with doing the big things we are called to do with our lives!
If you'd like to be featured as one of my Healthy Chicks in the Community, or know someone who you want to make blush, email me for more deets. And remember, if you aren't feeling your healthiest, most fabulous self (which you totally desserve) or are struggling with food & body image issues, feel free to schedule your FREE "15 Minutes to Fabulous" Breakthrough Session today!