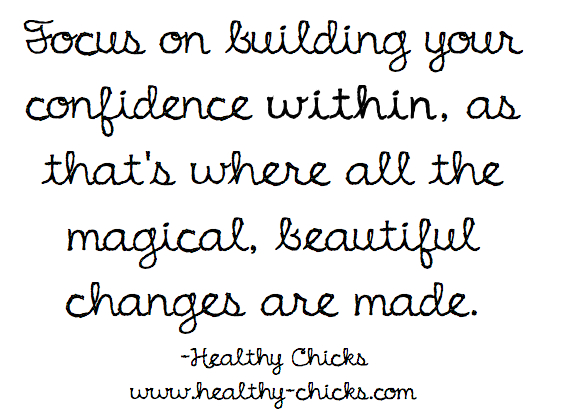 Good afternoon lovely ladies, and Happy Friday! This week's Friday Flashback has to do with something that's  been on my mind a lot lately: confidence.
To me, confidence means trusting your inner self to guide you & feeling certain that things will work themselves out. It's knowing that, even though things aren't perfect just yet, everything is going to be OK.
Often times, confidence gets a bad rap, mistaken for cockiness or being arrogant. But today I'm going to talk about the other end of the spectrum…when you let your confidence (or lack there of) hold you back and prevent you from living your greatest potential.
Back when I was dieting and in a pretty messed up relationship with the scale, my confidence level was about a 2 on a scale of 1 to 100. While I went about my day all smiles pretending everything was "perfect," in the inside I was struggling.
I felt unhappy with my weight, weighing myself 2, 3, 5 times a day hoping that a drop in numbers would make me truly happy, only it didn't. Every time the scale went up a pound, my confidence (and self-worth for that matter) would take a major hit.
I felt "fat" and all days were suddenly "fat days," in turn forcing me to go on strict diets,  count my calories, binge eat, guilt trip and then start the cycle all over again…every day.
I felt not good enough, constantly comparing myself to my skinny, bold, eat-what-they-want-when-they-want 100% confident friends. I wanted that.
I felt ugly in my body, refusing to wear jeans and covering up in baggy shorts at the beach to hide. On the other hand, sometimes I'd wear tight dresses & high heels like my pretty friends so I could fit in and create confidence. (Unfortunately, it doesn't work that way.)
You see, yes you can create confidence but it has to come from the inside. And I was too busy hiding, throwing self pity parties and burying myself in diet books to see that I was looking in all the wrong places. I was looking for outside validation from others which is never a recipe for success.
Years later, I still struggle with confidence from time to time, now more so involving career & success than with body image. But I've come a long, long way from my years of diet-hood. One thing is certain: no matter where you struggle, one thing is certain: until your confidence shifts, you won't be able to move forward.
So many of us stress about losing the last 10 pounds, fitting into our skinny jeans, getting a perfect boyfriend or achieving those dream abs. And what do we focus on? The fact that we're 10 pounds "too heavy," too fat for our skinny jeans, unwanted, or have a flabby tummy. Those negative hate thoughts right there create a state of STUCK-NESS.
So how do you get unstuck? Instead of working on changing things on the outside (doing more, cutting back on food, finding a boyfriend, doing it all "right") focus on the inside. Focus on building your confidence within as that's where all the magical, beautiful changes are made.
If you need support in this area, I'd love to work with you. Schedule your FREE "15 Minutes to Fabulous" Breakthrough Session today to help release some of that gunk holding you back and move forward!