Good morning, ladies! Hope you are all having a fabulous week. If you missed my updates yesterday, I encourage you to check it out so you can see what's been going on over at Healthy Chicks!
Anyway, it's Thursday and that means it's time for another week of Healthy Chicks in the Community, where I spotlight a different woman each week who embodies what it means to be truly healthy (on the inside & out). I have to admit, I have been slacking lately and haven't been keeping up with my weekly features. That being said, I couldn't be more excited to bring it back with one of the most inspirational bloggers and woman I know.
I discovered this lovely lady, the one and only Heather Waxman, around Christmastime and have been hooked ever since. She has a way about her writing that makes you feel comforted, stretched and as if you're not alone in this sometimes crazy world. As I read through Heather's posts (which generally focus on spirituality, life lessons and meditation), I'm constantly nodding in approval, thinking "I could totally be this girl's best friend." She just gets you. I can honestly say that she is one of the only blogs/sites I read on the regular. The content is just that juicy!
It's definitely been a joy following Heather along on her journey through self-discovery, growth and everything in between. And writing isn't this soul-sisters only talent! Recently, Heather has decided to make her passions & dreams a reality by creating her very own meditation album geared toward twenty-somethings who are feeling stuck or are trying to seek their soul's path to happiness. You can read all about Heather's project here and help support her on her journey by donating to her Kickstarter Campaign. Every dollar counts!
Alright, 'nough of me yapping away. I'll let Heather take it from here!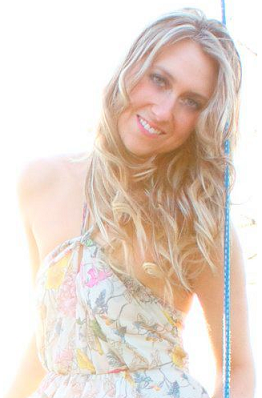 NAME/AGE: Heather Waxman
BLOG/TWITTER: http://heatherwaxman.com / @heatherwaxman
CURRENT CITY: Providence, RI
PHOTO TAKEN: Kourtney Keil Photography
WHAT YOU DO FOR WORK: Life coach, musician, writer, speaker
NUMBER ONE PASSION: To give love in ways that are most authentic to me. To bring passion to everything I do. To serve. Sounds cheesy but it's true. Whenever I do that, my life and the people in it mean so much more to me, I receive more back, and I feel so fulfilled. That equal exchange of giving and receiving is so important in everything we do.
I FEEL MY HEALTHIEST SELF WHEN I AM: Practicing kindness, exercising daily, eating plant-based foods, being of service to others, making music, learning from others and teaching others, laughing with my man.
BUT I AM ALSO A REAL GIRL & SOMETIMES: Eat ice cream (specifically, coconut milk ice cream).
TOP THREE KITCHEN STAPLES: Hummus, Brussels sprouts, and avocado. All day every day.
NUMBER ONE GUILTY PLEASURE: House Hunters. I'm obsessed!
EXERCISE THAT MAKES YOU SHINE: Mind Body Barre (a Pilates, ballet, and spirit inspired workout that kicks your booty and makes you feel good from the inside out) and kickboxing. I dabble in and out of yoga too.
FAVORITE COMFORT FOOD: There is an amazing restaurant near my house called Garden Grille. They make this amazing lentil-quinoa burger that's served with an UNREAL aioli and roasted sweet potato wedges. It's to die for!
MESSAGE YOU'D LIKE TO SHARE WITH OTHER HEALTHY CHICKS: Feed the world in your own words. Embrace everything you are. Make mistakes. Forgive a lot. Laugh. Love. Be authentic. Shine your light. The world needs it!
If you'd like to be featured as one of my Healthy Chicks in the Community, or know someone who you want to make blush, email me for more deets. And remember, if you aren't feeling your healthiest self or are struggling to make positive changes, feel free to schedule your free 15-minute Body Love Breakthrough session anytime!