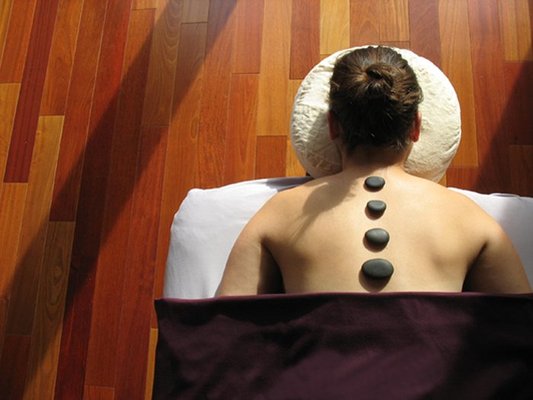 [source]
Last week, I was lucky enough to book my first ever massage at OMBE Integrative Health Center. I had been to OMBE a few times before for special events, but this was the first time I was there for ME & only me.
Upon walking in, you're immediately taken into a state of pure bliss. The lights are dimmed, the decor is hip, and the ambience is relaxing yet welcoming. Even their couches are comfortable and inviting! Unlike other spas & salons that can be uninviting, loud and uncomfy, OMBE sets you up for a true spa retreat right off the bat.
I also adore that this holistic center walks the talk by keeping it "green." Not only do they offer earth-friendly health & beauty products with their brand new Eco-Beauty Bar, but they also offer environmentally-friendly products and services (all they way down to their Pilates mats!) Now that's staying true to their company values!
And even more impressive than the studio itself is the incredible staff and services OMBE offers. From acupuncture to naturopathy, yoga to Pilates, this holistic wellness studio truly has it all. While I'll likely be back to experience different services in the future, I was lucky enough to experience their 50-minute massage with Kristen Lutz.
All I have to say is WOW. I was completely blown away by Kristen's professionalism, genuine personality and incredible talent. I loved that she took the time with me before my appointment to discuss my personal concerns and needs, which you don't often get at any old spa.
When I mentioned my neck aches and upper back pains (from sitting at a computer/lugging gym stuff all day long), she knew exactly what she needed to work on with me. So I let her work her magic! And that she did.
Kristen focused mainly on my chest/upper back which had a good amount of tension. She used Badger Balm's Tangerine & Rosemary intended for stress-relief & calming the mind, body and soul. I'm a huge fan of rosemary scent and absolutely loved the extra touch to an already amazing massage.
After my massage, she recommended a few stretches I could do at home (or in yoga class!) to realign my body including including chest-openers, side angles and twists. Good to know! Definitely go see Kristen…she knows what she's talking about! Perhaps it's time to make massages part of my monthly self-care regime?
I would recommend OMBE for anyone who's looking for one-on-one, individualized attention in a friendly, earthy, inviting setting. To learn about other services they offer, visit their website.
OMBE is located at 551 Boylston St. on the 4th Floor. For appointments visit their website at www.ombecenter.com.
Do you get massages often? What kinds of things do you look for in a spa/salon?