Good morning ladies! Now I know it's been a while since I've posted a feature for Healthy Chicks in the Community, but I'm excited to get it going again this week with a very special lady.
As a past client of mine, this Healthy Chick always wows me with her strength, guts and drive to go after what she wants. Not only did she just start her own biz, but she also works full time at Harvard Business School. Talk about gettin' stuff done! I'll let Erica take it from here…I'm sure you'll fall in love with her mission as I have.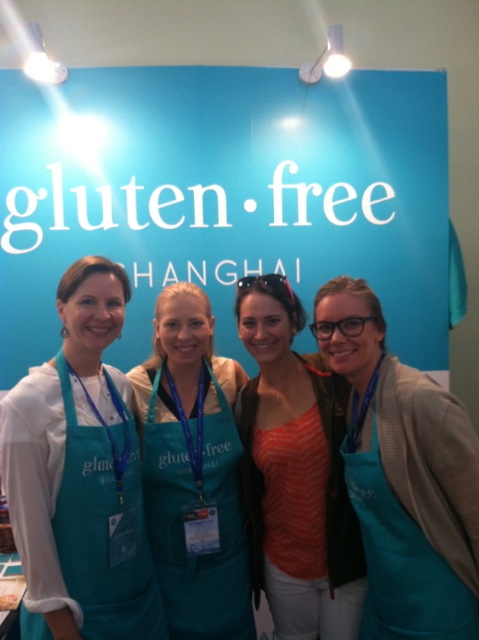 [second to the right]
Name/Age: Erica Zendell, 23
Blog/Twitter: http://erica-zendell.blogspot.com, @ezendell
Current City: Boston, MA
Photo: I traveled to China on a recent work trip and met the lovely founders of the organization 'Gluten-free Shanghai,' whose resources made my time in a land of soy sauce and wheat buns so much easier!
What I do for work: I am balancing work as a research associate at Harvard Business School and starting a healthy snack food business, Zen Cookery!
Number one passion: Building my business, which seeks to help those with special diets in their desire to feel whole and at peace with food by cooking up superior-tasting gluten-free, vegan, and allergy-friendly food products.
I feel my healthiest self when: I get a full night's sleep and get some sort of exercise early the following morning. In the summer I love a good bike ride along the Charles River.
But I am also a real girl and sometimes: I stay up late binge-watching shows like 'Glee' and 'Pretty Little Liars' and spend too much time looking at friends' pictures on Facebook.
My top 3 kitchen staples: shelled edamame, frozen bananas, and flaked coconut. Edamame makes for an interesting variation on hummus, frozen bananas I'll use in homemade vegan/gluten-free ice cream, and coconut is simply miraculous.
Number 1 guilty pleasure: singing 90's one-hit wonders at karaoke nights across Boston and Cambridge bars.
Exercise that makes me shine: I never thought I'd say this, but yoga. I started about five months ago, and while I was highly averse to the idea of doing yoga, it's been a huge help in a variety of subtle ways for my mind and body.
Favorite comfort food: homemade sunflower and coconut butter cups–they're like Reese's, but better (and better for you)! I'm seriously considering adding them to my product line for Zen Cookery!
Message you'd like to share with other healthy chicks: Check out Zen Cookery on Facebook, Twitter, or ZenCookery.com and spread the word! We're looking to take on Boston and beyond in our quest to change the business of allergy-friendly food. Say you heard about us on Healthy Chicks and we'll give you a special discount off your first order! 🙂