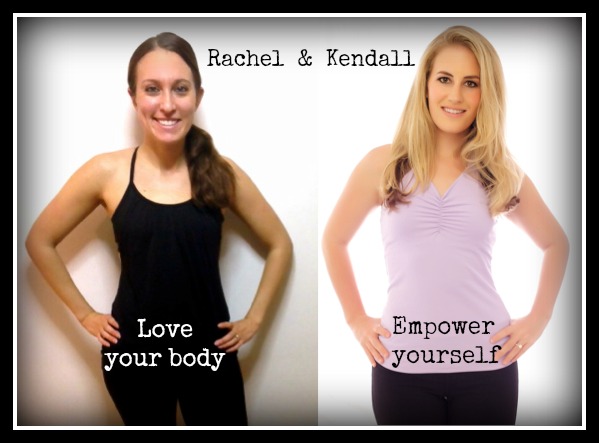 The other evening, I nearly fell off my chair when I read my friend & fellow health coach Kendall Covitz's Facebook status:
"A trainer looked me up and down and said 'I can make your butt smaller and shrink you.' I didn't say anything since I was working for another company. What would you have done?"
Yes, I was mortified this happened to her but the reason I was shocked is that the SAME EXACT THING happened to me the day before. (You'll read all about my story below in a minute) Was this a new trend? I had to reach out to her to tell her my story. We quickly realized that not only did this happen to the both of us just two days apart, but it was the same trainer.
After making each other giggle and realize what the woman said to us was pure hogwash (we both know each other are beautiful even if that means we're not stick thin models), we knew we had to do something about it.
You see, as holistic health coaches, Kendall and I both work specifically with women to help them feel beautiful in their own skin by eating the foods & doing the exercises that are right for their bodies. Because, as I say on this blog over and over again, what works for one doesn't necessarily work for another. You gotta do what works for you, girlfriend!
When someone (especially a personal trainer & businesswoman who people look up to) is going around telling women they need to change their bodies or they'd be more beautiful THIS way, that's putting people into cookie-cutter molds & totally going against everything Kendall & I believe in.
What if she said that to someone who was happy with their curves? What if she said that to someone with body image issues, or an eating disorder? What if she said that to someone who is in the midst of a major weight-loss journey, who is proud of their success? What if it's not every single woman's goal to LOSE weight or have a teeny-tiny butt or be stick thin? What if that's the body she was given?
Imagine the harm that could do.
So yes, it's safe to say we were pretty fired up about this! Hence Kendall's novel idea of writing a joint blog post was born.
My Story
"I can get rid of those," she said to me, pointing to my thighs covered in a pair of black workout leggings. "I used to have big thighs like you too."
She then hopped up and took me in another room with a mirror, and had me stand right in front of it. I was starting to feel a little awkward. And as if this was her absolute favorite part of the day, she began rattling off everything "wrong" with my body.
"I can get rid of everything bad about you and make you hot!" she gleefully shouted.
I was in a meeting for work, and I said nothing. Not one word. I smiled, laughed and moved on with my day. But the more I got to thinking about it, the more I became infuriated. Gosh, I wish I said something. Anything.
That I love my body as is. That my curves and "too big" bum make me feel womanly & I adore shaking my hips on the dance floor (and in Zumba!) That these "fat thighs" have actually finished 3 half marathons, run hundreds of miles, and skied down dozens of slopes. That I actually am 30 pounds lighter than I ever was and got there by learning to love my body & eating real food, not counting calories. That I enjoy working out for my body, but mostly because it makes me feel good. That it's my body, and everyone's bodies are made differently.
That it's not her job to tell me what I "should" and "shouldn't" look like. That I have no interest in losing any weight at the time nor do I want my butt to be shrinked, thank you very much. That I am in good health with perfect cholesterol and a healthy weight for my size. That I don't own a scale anymore, or have any interest in owning one. That I'm proud of who I am and what I look like. That she's not entitled to tell other women how they should look.
But I said nothing because I was there on behalf of work.
Part of me was happy that I wasn't upset by the situation. After years of body-hatred, dieting and trying to mold myself to look a certain way, I have finally come out on the other end. I finally know my worth. No, I wasn't sad or hurt or ashamed. I didn't want to cry, run away or beat myself up. Rather, I was downright pissed. I was fired up.
And yes, now, I feel the need to say something.
Here's the thing: she didn't know my story nor care to ask. If she had said that to me 9 years ago when I was a chubby junior in highschool (right before I went on my first diet), I would have been mortified and embarrassed, hiding my body with over-sized clothing and a fake smile.
If she had said that to me 6 years ago when I was a self-conscious, calorie-counting dieting, sophomore with a borderline eating disorder, I would have gone home to weigh myself, balled my eyes out, cut my calories even further and skipped dinner.
If she had said that to me 4 years ago when I was just starting to like my body again & lose the weight by eating REAL food, I would have pinched my fat and thought maybe I was never going to be able to love my body after all.  That maybe I should just give up on this natural weight loss thing.
Are any of these scenarios promoting health or positive self-image? Is this the way to speak to young women, despite their weight or body size? Are any of these comments doing any good? What kind of message is this portraying to women?
During my years of obsessive dieting, I believed that my body needed to look like all the other girls in the magazines in order to be considered beautiful. I thought that the number on the scale defined who I was. I l let myself think that no man would ever want me unless I lost the weight and that once I lost the weight, then I'd be happy.
I didn't realize at the time that it's the other way around: to truly love your body and find your happy weight, you first need to start treating it with love.
I keep replaying those shameful words over and over again in my head, going back to all my wonderful clients. Most of them beautiful bright young women in their twenties who didn't realize how beautiful they are. Most of whom feared food, hated their bodies or felt they weren't "enough." Most of them who were alot like me…6 years ago.
Every time I picture this trainer saying something like that to them, or any young women, it breaks my heart. These women need encouragement, hope, positivity, love. They need to know that yes, they can. That their bodies are beautiful as is, and once they themselves can see that, the transformation can begin. That your body is meant to be treated with love and kindness, as it's the only one you have.
But by telling them no? That they cant? That their butts are too big and their thighs are too fat? That they can look "hot" if they get rid of all the "bad" things about them? That some stranger, who you just met, can shrink you to be "perfect?" Man, if only she knew the damage she could be causing.
Last night, after decorating our first real Christmas tree with my man, my home was full of so much love. Then as we were settling in for the night & cozying up on the couch, suddenly I thought about this woman and what she had said to me and started balling my eyes out. Uncontrollably. I didn't really quite know why I was crying.
Perhaps I was finally feeling everything she said & having my reaction. Perhaps I needed to cry, and that was OK. Perhaps I was thinking about everything I've gone through over the past years, and was brought back back to my vulnerable, self-conscious self for a little bit. But I let myself cry. I let the feelings come out.
Then I remembered something: that I'm not that girl anymore that I was 6 years ago. That I am much stronger, more confident and happier in my own skin.
And I wasn't going to let that woman take this away from me.
No we have no intention of bashing this woman or calling her out (in fact, we find that irrelevant & silly to stoop down to that level). But rather we desire to take the negativity & anger we experienced from this situation & spread our message: a message of body love, positivity and empowerment.
Ladies, don't you dare let anyone tell you what your body should or shouldn't be. Only you know what makes you feel your very best self, and no one knows your body quite like you do!
I highly encourage all of you to go to the mirror after reading this post (clothed or unclothed) and point out every. single. thing. you love about your body. What makes you you? What are you proud of? Honor that.
Please make sure to check out Kendall's take on the issue over at On an Inhale, and give her some love on Facebook, Twitter and Instagram. We're on a mission to spread our message to as many women as we can! And please, speak up. I'd LOVE to hear your thoughts on the issue! Have you experienced similar body-bashing? What would you have said if you were in our shoes?