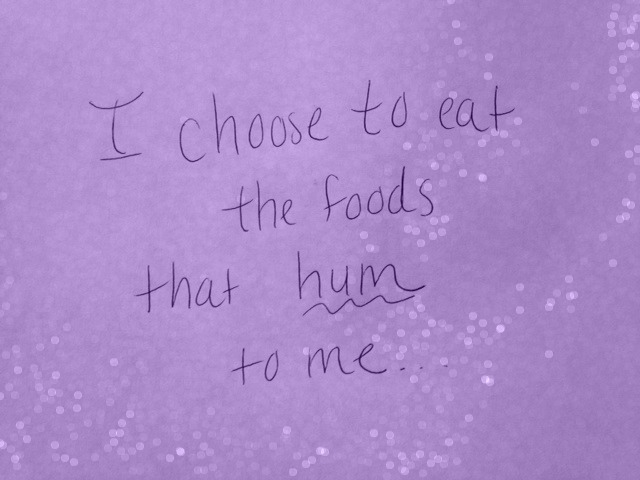 In Emotional Eating Expert Geneen Roth's book Breaking Free From Emotional Eating, she refers to foods as either "humming" foods or "beckoning" foods.
Humming foods? What the heck is that, you ask? Why it's exactly what it sounds like; humming foods are foods that sing (or "hum") to you, that light you up and make you feel good. They can change day-by-day depending on how you are feeling, what time it is and even who you are with. But you know it when you see it.
The most important part about humming foods is that they satisfy you both emotionally and physically. "When you eat a humming food, you don't go looking for more food fifteen minutes or an hour later. After eating a humming food, you forget about food," Roth writes. "You know those people who actually think about things other than food during the day? You become one of them."
To me, eating the foods that "hum" to you means eating according to what your body wants & needs, rather than eating what you think you "should" be eating. It's listening to your body at its best. On the other hand, beckoning foods are those that suck from you and leave you feeling crappier.
While I didn't know it at the time, I attribute losing weight & becoming more comfortable in my own skin (without dieting) to eating the foods that hum to me. No calorie counting. No judgement. No guilt. No obsession over portion control, or worrying about what I'd eat at my next meal. Just purely listening within. Yes, your body is really really smart if you take the time to simply listen to it.
I think we all have our own humming foods, while we may not refer to them that way. They are the foods that make you feel juicy, alive and energized. They're your feel-good foods (not to be confused with comfort foods) that satisfy both your emotional and physical needs.
Today, I'd like you to take some time to think about your own humming foods. Which foods satisfy your hunger and make you feel really good inside?
Here's my top 10, but note these can change according to seasons, time of day and situations!
humming foods:
1. avocados + healthy fats (think: coconut oil, olive oil, etc.)
2. warm grains like rice + quinoa + oats
3. whole cage-free, farm fresh eggs
4. nut butter + ezekiel bread
5. sautéed leafy greens like kale or swiss chard with garlic, olive oil & lemon juice
6. fresh seasonal fruit
7. organic chicken
8. high-quality seafood (especially in season)
9. a good quality cheese
10. dark chocolate + a glass of red wine
beckoning foods:
1. packaged snack foods
2. energy bars
3. cold breakfasts
4. high-gluten, what-heavy foods
5. restaurant bread & butter (when not fresh)
6. processed cheese
7. pizza
8. white pasta
9. mac & cheese
10. sugary cocktails
Do you listen to your body when it comes to eating? What's on your list of humming foods & beckoning foods?