It's no secret that it's been a really rough winter for us New Englanders; I honestly don't remember a time with this much snow in years! That being said, I still love to stay active & keep my body moving through yoga, spinning, zumba and various indoor group fitness classes.
Unfortunately because of the temps, I've let one of my all-time favorite workouts fall by the wayside: running. And try as I might to fall in love with the treadmill, it's just not really my thing.
I need the outdoors. The fresh air. The people. The nature. The sunshine. And I know outdoor winter running is possible with proper gear and all, but I just wasn't doing it.
So when the lovely folks at New Balance sent me a pair of their brand new Fresh Foam 980 running shoes, I took it as a sign to go back to my running roots & get back into it. (This was also around the same time as Chestnut Hill True Runner's "Ladies' Night Out," where I bought a new running headband, socks and some other apparel.) Running Rachel was about to make a comeback!
I was super excited when the sneakers arrived at my door in the "Blue Aster with Hot Pink & White" color. How fun!  And the feel of them…so soft and foamy. But as you know, it's not all about looks, especially when it comes to running shoes. So I immediately looked into what these bad boys were all about.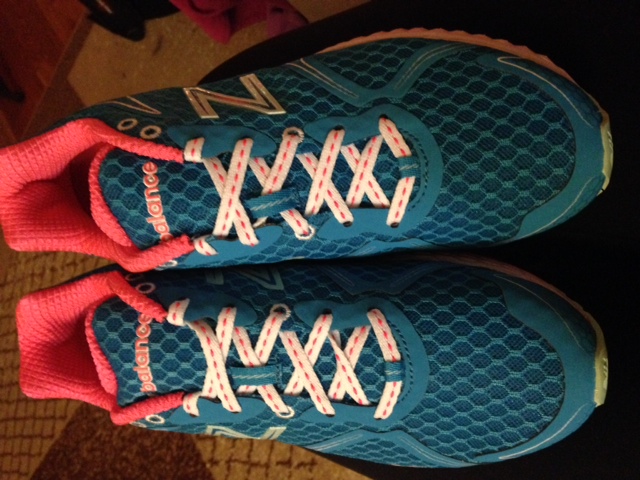 Key features include:
specialized foam midsole making for a plush, natural ride
4 mm drop to encourage natural movement & continuous ground contact for a smoother run
reduced drop heal for soft, bouncy ride
spray-paint finish with eye-catching design!
lightweight with breathable mesh for added comfort + great fit
Not to mention they come in a variety of fun colors (for both men + women) including women's "Dark Heather Grey with Green Gecko & Blue Bell" and "White and Purple Cactus Flower & Neon Yellow."
I was sold. But what better way to really see how they move than to take them out for a test ride? On my first run, the first thing I noticed was their super lightweight feel; I absolutely hate when running shoes feel heavy and bulky like they're weighing you down. Not the Fresh Foam! The run felt smooth and comfy (especially for someone who had been slacking big-time).
Also, given that I have flat feet and sometimes need to buy specialized running shoes, my feet actually felt surprisingly supported by the Fresh Foam 980. I also noticed this when wearing them for the day just walking around the city…pure blissful comfort. That being said, I still have yet to take them for a long run, but so far so good!
Oh, and I've absolutely been rocking them out for spin classes, Zumba and long walks to add a pop of color + comfort. I was super pumped to see the banner ad for them in Boston Marathon Sports when I stopped by one chilly afternoon…those are my shoes!
One of my favorite runs was on The Charles River one chilly winter morning. It felt great to break 'em in at one of my favorite running spots of all time, while letting loose and clearing my mind. Running (closely followed by yoga) is by far my favorite exercise for stress relief and "zenning out."
Not to mention I got to take a trip down memory lane, popping by my favorite willow tree where The Boy popped the question. Boy does it look different in the wintertime!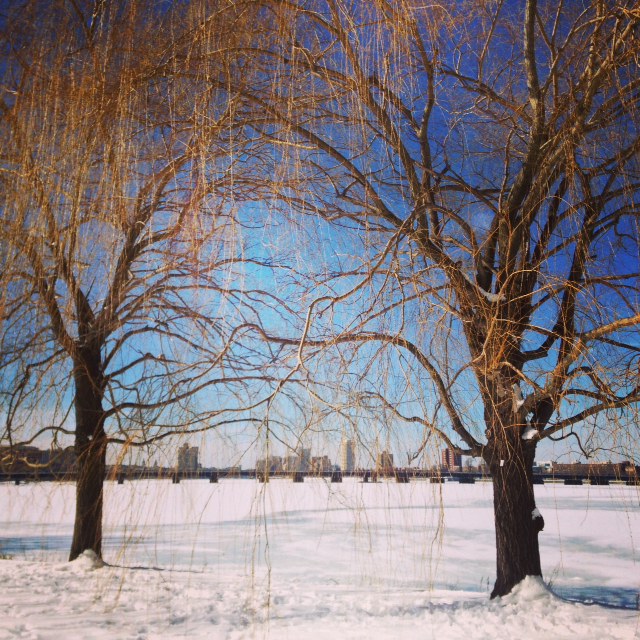 Naked willow tree!
After breaking in my new kicks, I realized winter running really isn't that bad… when geared up properly that is. Nonetheless, I'd be lying if I said I wasn't looking forward to spring running weather! I've already got my eye on on some upcoming 10Ks and possibly another half marathon. I'll keep you posted!
OK, let's get to the fun part now shall we? I've got some exciting news for you ladies: New Balance is going to be gifting one lucky Healthy Chicks reader a brand new pair of Fresh Foam 980s of their own!
TO ENTER THE GIVEAWAY
1.  Simply leave a comment on this post with why you heart running (or why you want to get into it)!
2. Post on social media (twitter or Facebook):
Twitter: "Check it out, @NewBalance + @Healthy_Chicks are giving away a free pair of #FreshFoam 980 running shoes! http://healthy-chicks.com/?p=5876"
Facebook: "Check it out, New Balance + Healthy Chicks are giving away a free pair of #FreshFoam 980 running shoes! http://healthy-chicks.com/?p=5876" (Be sure to tag Healthy Chicks and New Balance)
Note: This review is open to US & Canada readers only. I will choose a random winner by 5 p.m. EST on Friday, 2/28.
Best of luck!
Happy running,
Rachel
Big thank you to New Balance for my new pair of sweet kicks! Note: I was given a pair of Fresh Foam 980 running shoes from New Balance for review, but was not compensated for this post. All opinions are my own, as always!