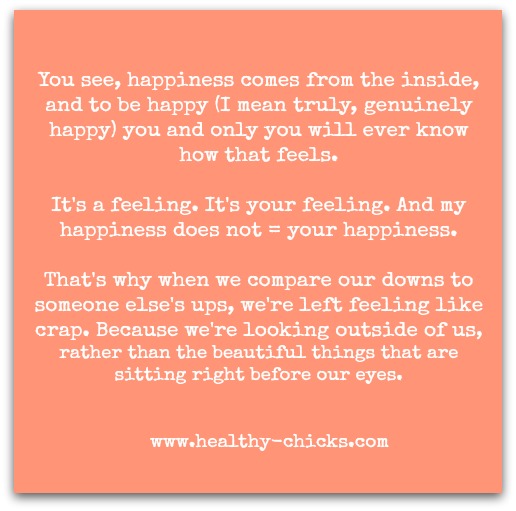 One of my favorite quotes (& one that I go back to often) is:
"The reason we struggle with insecurity is because we compare our behind the scenes with everyone else's highlight reel."  – Steve Furtick
Think about that for a second, and I mean really truly deeply think about it.
To me, it's pretty much saying we'd be a whole lot more happy (and confident) if we simply quit comparing so darn much. Take Facebook for example. You're having a crap day so you decide to go peruse social media (worst decision ever). Within seconds of logging in, you find that Susie just got the job of her dreams, Mary's about to start her own business (the same business you wished you started 2 years ago), and Lisa lost 15 pounds with that new diet she's been trying. Oh, and Jane got engaged. Great, well isn't that just dandy, you think as you pour yourself another glass of red, tears streaming down your face.
But then again what do you expect when you're comparing your shittiest of shit days to everyone else's spotlight moments? You're setting yourself up for the worst.
You see, happiness comes from the inside, and to be happy (I mean truly, genuinely happy) you and only you will ever know how that feels. It's a feeling. It's your feeling.
And my happiness does not = your happiness. That's why when we compare our downs to someone else's ups, we're left feeling like crap. Because we're looking outside of us, rather than the beautiful things that are sitting right before our eyes.
We need to open up our eyes, and look inside.  Easier said than done, I know.
That's why I've decided to sign up for 100 Happy Days, a challenge with yourself to post one thing a day that makes you happy. The best part? It's a challenge for YOU, and no one else and it can be as private or as public as you want it. One of my favorite "rules" is this: "It's not a happiness competition or showing off contest. If you try to please/make others jealous via your pictures – you lose without even starting." BAM!
Bonus: if you make it through all 100 days, they send you a little book full of your happy moments. How cool?
So today, March 2, 2014, I choose to start my 100-day journey to happiness. I'll be sharing my photos + happy moments on instagram, Facebook and twitter if anyone would like to follow along!
Who would like to join me? It's happy time!
Xoxo,
Rachel
Do you ever catch yourself comparing you lows with other's highs? How can you begin to look internally to find true happiness?