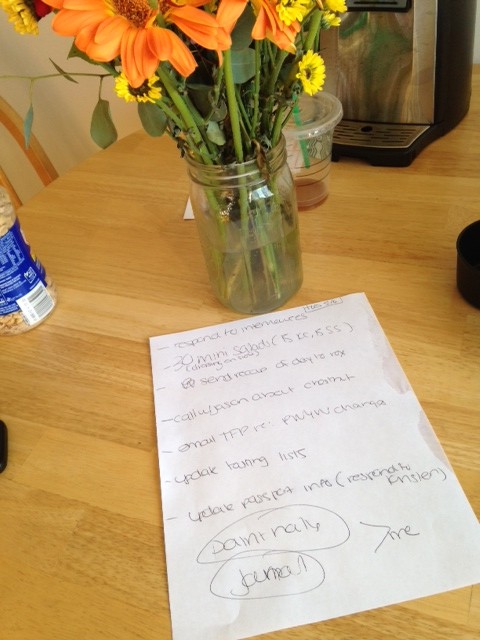 To do-lists are great. I won't lie: I love them.
Grocery lists.
Getting-ready-for-vacation lists.
Wedding lists.
Office lists.
Life lists.
There's something about checking something off that list – be it asparagus, buying my veil (yippee!), or hitting that deadline – that feels so rewarding.
But do your to-do lists ever 100%, completely stress you out? OK, I won't lie (really, this time). What I meant to say is I love them most of the time. Waking up to a to-do list a mile long (with 5 different colored pens screaming at you!) can be a little scary. OK, a lot scary.
In comes the HAPPY to-do list. In the morning as you sip your cup o' tea (or coffee) or whatever feel-good beverage you so choose, take some time to write down all your "stuff" you need to get done for the day, you know, your typical "to dos." Then after you get it all out (the good, the bad & the ugly) write down 2 to 3 things you're going to do for yourself. A-hah, there's a catch!
Just as rewarding as crossing all the things off your to-do list, is the ever so satisfying feeling in knowing you took care of YOU today. 'Cause like I said, how you start your morning is how your day will flow so if it starts with a monstrous, overwhelming to-do list, well, you paint the picture.
OK, YOUR TURN! Your "assignment" today is to add 2 things to your to-do list that are solely for yourself. It can be anything from painting your nails to phoning an old friend but you have to actually WANT to do it. There should be no "need to" involved. Circle those 2 things and DO THEM by the end of the day.
For accountability you can announce your to-dos on social media and give me a little shout out @healthy_chicks (on twitter) or @HealthyChicksGroup on Facebook. Can't wait to see how it goes!
Xoxo,
Rachel