This past Tuesday, I helped host the third (and final!) GNO Celebration in Boston this summer as part of New Balance's Girls Night Out Campaign.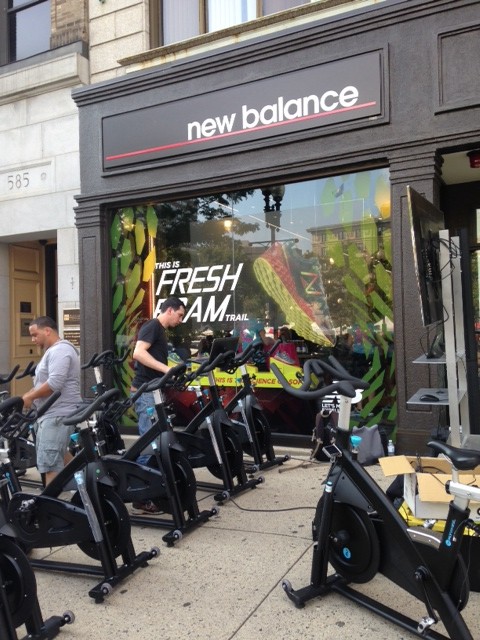 The theme this time around was Self Expression: Freedom to Be Fit. You can read all about my thoughts on self-expression in my blog post over here. I think this was my favorite themes yet as I'm all about encouraging women to express themselves (be it through fitness or creativity) while discovering what works for YOU and your body. After all, what works for me may not work for you or your best friend (which I'm sure you've heard me mention before on the blog).
In honor of the theme, each woman was able to choose their own workout for the evening: an outdoor spin with Flywheel, a signature bootcamp with Equinox or a fun 3-mile run. I helped organize and plan the 3-mile fun run (using the GNO Meetup tool), which we dubbed "Freedom Fighters Fun Run Plus." The run was definitely hot (in the low 90s) but our group had a blast cheering one another on and stopping along the way for pics!
After sweating it out, all of us met back up at New Balance for the party. I won't lie: bottled water and moisturizing face wipes never looked so good! As the ladies gathered in and munched on tasty bites (like BLTs, rolls ups, and Deep Eddy vodka mixed drinks), I welcomed everyone and spoke about my thoughts on self-expression and being YOU.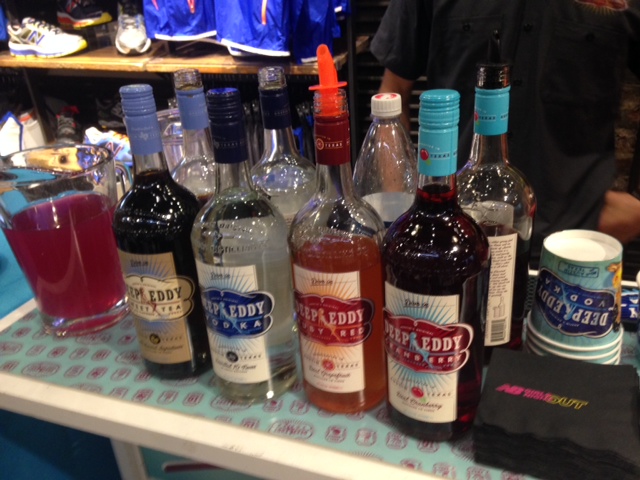 I told my story about how in college I was all about doing what was "right" or the norm according to celeb magazines (i.e. Score Jennifer Anniston's abs! Get that Pilates body! Lose 15 pounds!). I'd beat myself up at the gym, and spend hours at the gym burning away calories on the treadmill. I didn't feel inspired or motivated, and I most definitely wasn't expressing myself.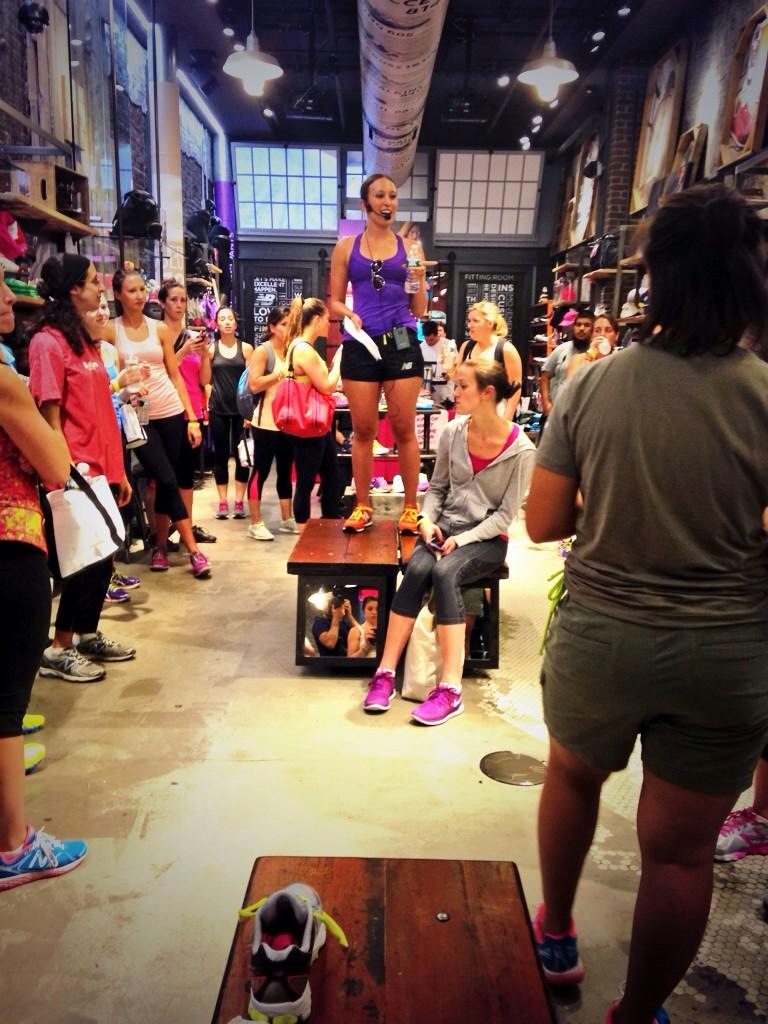 It wasn't until after college where I became in tune with my body, began running and practicing yoga (for my mind!) that I really felt myself. Suddenly, fitness felt empowering and right. I was doing it for me.
You see, the thing is you don't have to be a marathoner to be a runner, you don't have to be #1 on the Torq board to try Flywheel and you most definitely don't need to do headstands or bend into crow pose in order to be a yogi. You just gotta do what works for Y-O-U.
After my talk, I made some exciting announcements including filling in the girls on what was in their swag bags. They were packed with goodies, including a fitness towel that each of us could customize at the Self-Expression Transfer Station with various inspiring phrases like "Girls Run this Town." We also got a thumb-drive loaded with a 30-minute running playlist specially mixed by DJ Brek One, as well as some discounted vouchers.
Once again, New Balance was kind enough to offer 20% off everything in the store. But this time there was a special added bonus! Women had the chance to customize their own shoes – everything from laces to mesh color to specific words placed on the heels – while taking advantage of the 20% off special. Check out the pair I customized for myself. Don't they just scream summer?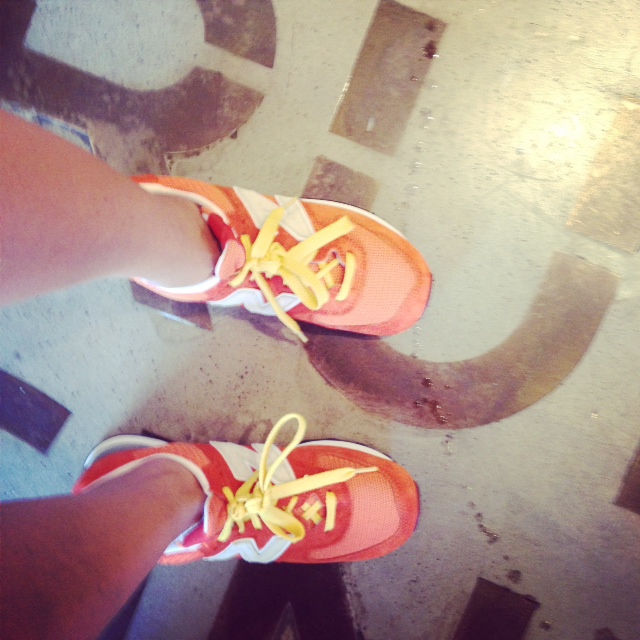 The back of the heels say "choose happy," as I believe happiness is a choice, and sometimes all it takes is a simple shift in perspective to find your happiness. I had so much fun creating my dream shoe, but I must say it was quite overwhelming with all the color combinations you could choose from. I kept it simple by sticking with lemonade + burnt orange.
After I was done speaking (I must say this whole public speaking thing is getting a bit easier), I was able to mingle, grab a bite and catch up with friends both old & new.
I was especially excited to see my long lost friend and Pilates guru Jennifer Phelan, as I haven't seen her since she became a mommy!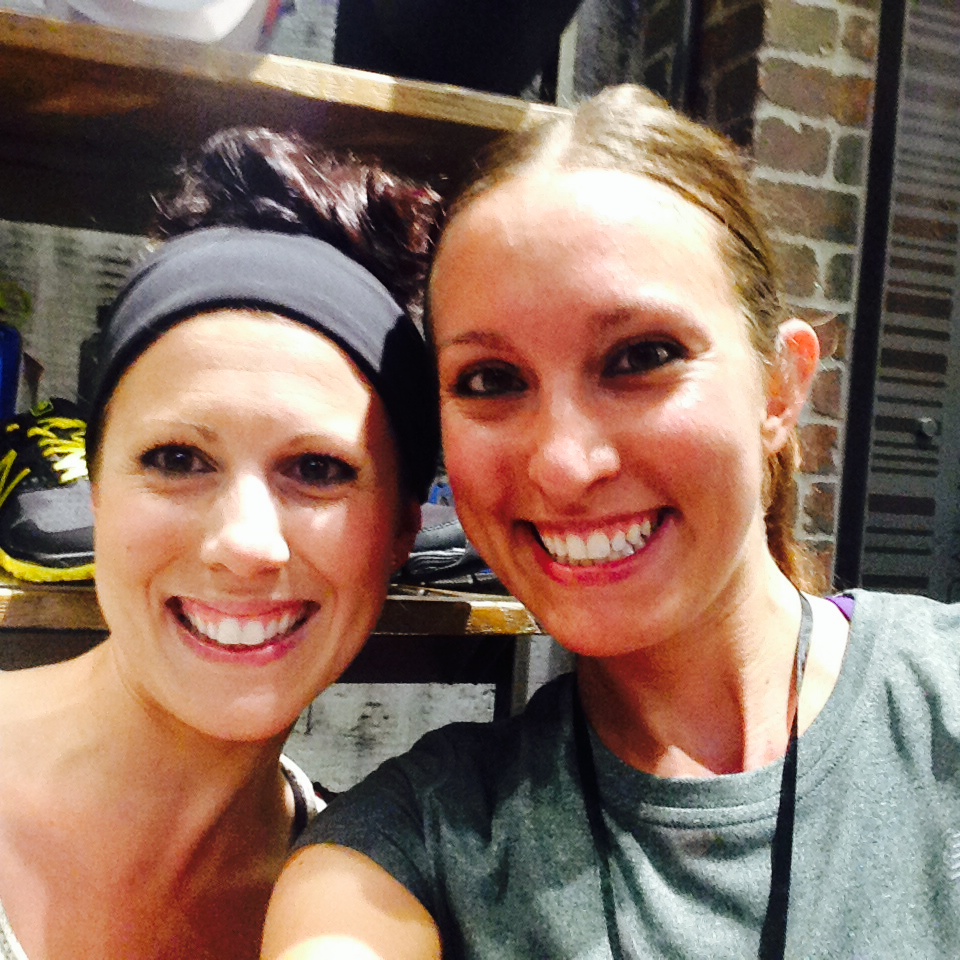 Overall, it was a wonderful evening filled with great people, good eats and a fabulous sweat session! I am so grateful to have been a part of New Balance's GNO Celebrations here in Boston, and look forward to more fun, empowering events in the future.
I'd love to hear from you! What workouts make you feel most vibrant + in tune with your body? What color combos would you choose for your custom shoes?
XoXo,
Rachel