I am not really a fan of cleanses, detoxes and definitely not diets. When you think of a traditional cleanse, you think of restricting yourself, juice fasting and calorie-counting, all of which I don't believe in. I'm a HUGE advocate for treating yourself, and firmly believe that Healthy Chicks Eat Burgers Too.
I also don't feel that a 7-day or 14-day juice fast can "fix" your body (like a magic pill) and erase years of pizza parties, wine binges and sitting on the couch only to go back to your old habits once the cleanse is over. It's a lifestyle, and like anything making changes to your diet takes time and commitment.
That said, I am a believer in doing a whole-foods based cleanse with the goal of resetting your body and getting you back on the right track (vs. healing you and erasing years of "bad decisions.")
In the past few months, I got married, enjoyed a two-week honeymoon in Hawaii, forged through some busy times at work, and survived the holiday season. Needless to say, my body was feeling a little blah.
This is the very reason I decided to give Clean Slate: A Cookbook and Guide a go. Written by the editors and chefs of Martha Stewart Living, this book is chock-full of whole-foods based recipes intended to reset your body, promote detoxing and help you feel your best.
Since I generally lead a rather healthy lifestyle (and like I said I'm really not a fan of "cleansing") I chose to do a 14-day version of the 21-day cleanse they outline in the book. Week 1 is primarily fruits, vegetables, legumes, nuts, seeds and oils and then Week 2 you can add back in gluten-free grains and fish.
During the entire two weeks, you cut out alcohol, coffee, gluten, soy, added sugar, meat, processed foods and dairy (all of which, to be honest, us Americans over-consume anyway). In addition gluten, soy and dairy are among the most common allergens and given my sensitivity to gluten, my body was definitely craving a little break.
I won't lie: the first 3 days pretty much sucked big time. I had headaches (did I mention I'm hooked on coffee?) and I was pretty darn cranky (just ask my husband). I actually cried on day 2 as I was so very emotional, and my husband came over to comfort me asking "Are you sure you don't want to delay your cleanse when you have less 'stuff' going on?" to which I shouted back "NO!"
I must say, I am glad I stuck through it as by day 4 I was feeling like a brand new woman, and all of those not-so-glamorous symptoms began to fade. One of my favorite parts of the cleanse has been the way it's sparked my creativity in the kitchen. Instead of focusing on what I "can't" have I focus on all the glorious things I can have: colorful produce, flavorful spices, rich oils. Believe it or not, it's actually been pretty fun!
In the past week, I've made raw cacao coconut balls adapted from MIX Wellness, gluten-free dairy-free vegetable lasagna inspired by YumUniverse, and Crispy Smashed Potatoes with Garlic Avocado Aioli from Oh She Glows. I even brought vegan Jalepeno Poppers (via Minimalist Baker) and Creamy Artichoke Spinach Dip (via 86 Lemons) to "Football Saturday" as we watched the Pats last night.
I have discovered the amazing way that cashews (when soaked, blended and mixed with delicious spices) can double for cheese, I've learned that life goes on (with a lot less bloat) without bread, and now have a new-found love for green smoothies and firmly believe garlic should be in everything.
Then this past Thursday, I got the opportunity to visit Thirst Juice Co. — a brand new juice + smoothie bar in Downtown Boston — to see what they're all about. Located on School Street, they're just steps away from Downtown Crossing and Park Street Station making it a convenient option for the city-goer.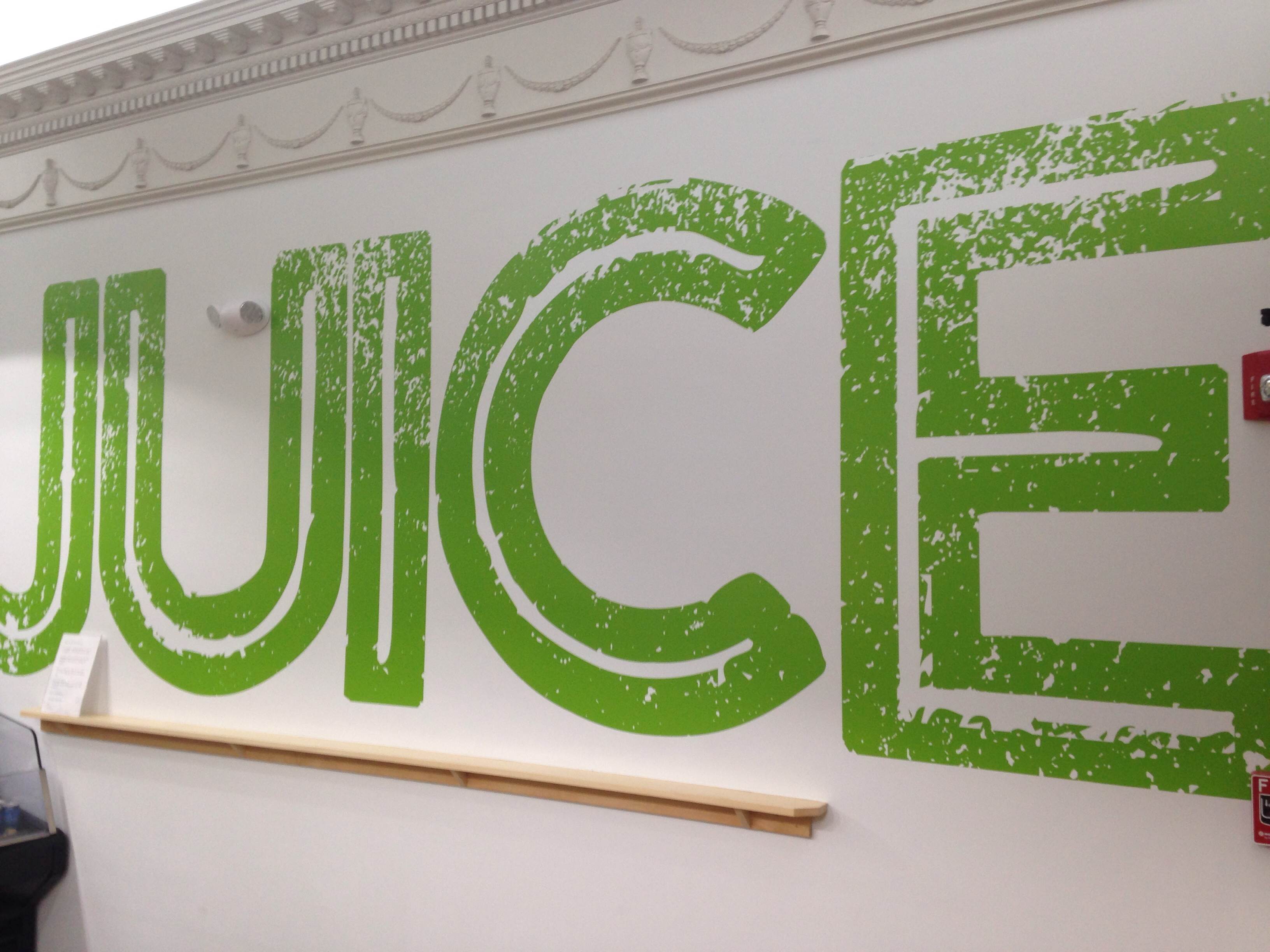 Serving up made-to-order juices and smoothies, cold-pressed juices and homemade soups, the folks behind Thirst Juice Co. know what they're doing. Founded by husband and wife duo (and former-lawyers!) Chris + Heather, Thirst was born due to their love of real food and healthy living. And what better way to kick things off than by sharing their love of health with the Boston community?
I ventured over to Thirst during Day 8 of my cleanse, excited to walk into a place where I could have literally almost everything! After chatting with one of the owner's Heather, I decided to give her favorite juice "The Green Dream" a shot, made with kale, cucumber, pineapple and jalapeno.
[co-founder Heather Stevenson prepping behind the bar!]
I absolutely loved the way the flavors came together, especially the jalepeno kick. It was the perfect blend of refreshing and zesty (with a touch of sweet!) that led me to gulp down my entire cup as I snapped photos and browsed the menu in awe.
While I was there, I also tried the Apple-Ginger-Turmeric-Lemon shot for a winter wellness boost. I loved the spicy, strong flavor (and the adorable slate it was served on)…I could tell it was doing my body good!
[The Green Dream + Apple-Ginger-Turmeric-Lemon Shot!]
I'm excited to know Boston is becoming more health-conscious, and more and more local businesses that get it are beginning to pop up around the city!
As I approach Day 12 of my "cleanse," I am feeling vibrant, re-energized and ready to continue this healthy way of eating + living. Remember: it's not about what you do for 1 day, two weeks or even a month; rather it's the little things you do daily that add up. You don't need to be PERFECT, you just need to be consistent.
Cheers to good health + good food!
XoXo,
Rachel