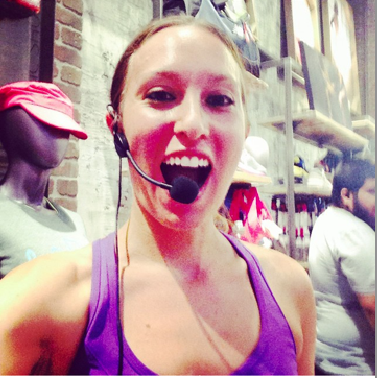 Boston ladies, summer is here (well almost) and it's time to embrace the beauty of the season! And what screams summer like cocktails, bumpin' beats, movement, and spending the night mingling + laughing with your best gal pals?
Fortunately you can do all of that and more at Boston's next New Balance Girls Night Out event! Find all the important deets below. Oh, and did I mention I'll be hosting again? 😉
WHO: You! Grab your best gal pals or show up solo to make some new friends for summer…is there really a better way to kick off the season? I'll be the host of the evening — you can find me all mic'd up likely wearing my NB fresh foams! And New Balance Ambassador + bad-ass Sarah Kusch will be leading you in a booty + arm workout like no other. Get ready to sweat!
WHAT: The theme of the night is "Booty + Arm Ready." Don't worry, you don't need to be a fitness model or have arms sculpted like the celebs to join in on the fun. In fact, it's quite the contrary! To me, "booty + arm ready" has much more to do with your mindset than it does your physical appearance. After all, it's how you HONOR + FEEL in your body that matters most!
Fun fact: did you know that for the longest time I would actually leave my shorts on at the beach (and risk that horrid tan line) because I was ashamed of my body? Not any more! Make this summer about stepping outside your comfort zone, finding your inner confidence and rocking that bod. As I constantly say on the blog (and to all my girlfriends), "Learn to embrace your body." Once you do, life is a lot more fun! (More on my story at the event…)
WHERE: Right at the New Balance Experience Store on Boylston St. Take the t to Copley Square + walk (or run) on over to 583 Boylston St. I'll be there to greet you at the door with the biggest smile (and maybe a hug too!)
WHEN: June 11th at 6:00pm sharp…I better be seein' ya there!
WHY: Because what's better than spending a night out surrounded by passionate, inspiring, strong ladies? Seriously, though. Plus, you'll have the chance to get some body art from TribeTats, healthy cocktails + apps and swag galore! Oh, and did I mention BREK.ONE will be spinning beats to set the mood for summer fun?
Update: This event is now full, but I will let you know if any more spaces become available! In the meantime, you can learn more about New Balance Girls Night Out + get all the deets on their meetup app here. (It's pretty sweet — you can map your runs + meet up with other gals in the area for your very own GNO!)
XoXo,
Rachel