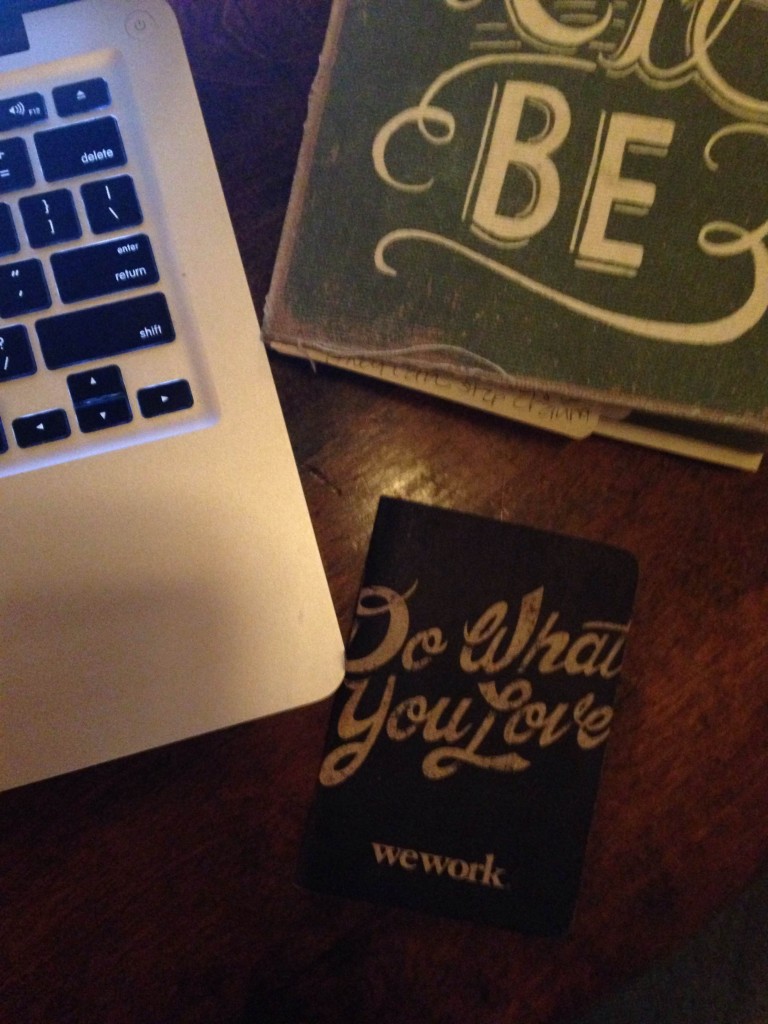 Flashback to about one month ago. I had just landed a promotion at work for my dream company, and was living the high-life — traveling from Boston to New York City to Connecticut back to Boston to DC. "We're so proud of you!" everyone around me exclaimed. My life was in fast-pace and I was riding the wave…it felt a little crazy but I liked it. I felt recognized, important, like I was growing.
Until it didn't really feel all that good anymore. The first time I felt things were off was on my plane ride home from Washington DC after I fully accepted this new position. I had this intense, anxious pit in my stomach but couldn't really pinpoint what was going on. And so I ignored it. "You're fine… you're just nervous. It's natural to be a little nervous," I told myself. I closed my eyes and shut it out…and landed back to Boston feeling back to myself (well, at least for a bit).
A few days later, I was setting my career goals for the next month, quarter and year and that familiar feeling came back…this time much more fierce than before. As I looked at the year ahead, I literally couldn't write out my goals…I was experiencing writer's block in its truest form. They just weren't there. My heart wasn't there.
Again, I ignored these thoughts. "Just go back to them later," I told myself. "You're probably just tired." And I continued to go back to work. Work helped me numb out to these thoughts that, quite frankly, scared me a little bit. "This is crazy!" "What would people think of me?" "Stop being so ridiculous!"
The next day, I was walking home from a long day of work and heard a little voice in my head telling me to sloowww down, to stop, to listen. I rushed home to my apartment, threw my work bag down and ran straight to the bedroom. I closed the door behind me, tossed my shoes aside, and climbed straight into bed.
I closed my eyes and took several deep breaths in + out. Slowly, my mind began to quiet…and my thoughts became more clear. It was the first time in months that I truly allowed myself to be alone with my thoughts. Like really alone with my thoughts.
I pictured my life one month, 3 months, 1 year down the line. And what I saw was not the life I was currently living + chasing. I saw myself feeling free, spinning around through fields of sunshine. I saw myself writing in little, eclectic coffee shops and journaling by the sea. I saw myself coaching + inspiring other women…sitting in circles getting deep with our desires. I saw travel and joy and romance and love and peace.
I opened my eyes and it suddenly became so crystal clear to me what I needed to do. I realized the one + only thing holding me back was my fear of what others would think of me. I heard my mom's voice saying "But what about health insurance?!?!?!?!" I heard my dad asking me if I really thought everything through. I heard my friends saying "Huh? I thought you loved your job!" I heard my coworkers being disappointed in me…and feeling that I let them down. I heard my husband telling me that I am young and have my whole life to run my own business. I heard everyone around me laughing, and asking, "How the heck are you going to make money?"
And then I heard my own voice saying I want to feel free. I am limitless. I know I have the rest of my life to follow my dreams, but I want to start right now. I can do this. I need to do this.
However, my current lifestyle was blocking me from truly getting what I longed for…from feeling the way I wanted to feel. So I let go. I let go of the salary, the benefits, the safety net and took a big, giant leap into the unknown.
The ironic thing is, I've never felt more sure of myself. Yes, I'm scared. Yes, it's not going to be easy and some days are going to be harder than others. Yes, I know this isn't the traditional, logical, make-sense decision. And I'm beginning to be OK with that.
Flash-forward to today: This past Friday was my last day at work, and today marks the first day of the rest of my life. I'm feeling so many emotions but above all I am feeling a giant burst of inspiration. I haven't felt so myself and so alive in quite some time now, and that makes me so deeply happy to know I am getting back to my roots (slowly but surely).
Now when people — be it relatives or strangers — ask me why the heck I quit my full-time, salaried job (with perks! and benefits! and glitz!) I tell them the truth: I was craving freedom. I want to live more. I know that I have this deeper purpose in life to empower other women to FEEL GOOD + re-discover joy. My happiness is 1,000 times more important to me than money, and always will be. I need to follow my heart; in fact I don't know any other way to live. And I know things will work themselves out… they always do.
So, hello again my friend…it may have been a while but I. AM. BACK. Expect to see a lot more going on over here — more writing, more inspiration, more coaching, more juiciness, more of me! I've got a lot of little, fabulous things up my sleeves for you all and I couldn't be more excited to share them with you…now let's do this.
XoXo,
Rachel