If you've been reading the blog for a while, you probably recall my involvement last summer in New Balance's Girls Night Out campaign, a night for women to socialize, sweat and have fun with their girlfriends! Last Thursday, I had the opportunity to return as a host for June's GNO event, and I couldn't have been more honored to dive in.
We all met at the New Balance Boston Experience Store in Back Bay to kick off the evening, and were served Essentia Water (thank goodness, it was a hot one!) and delish homemade granola bars upon our arrival.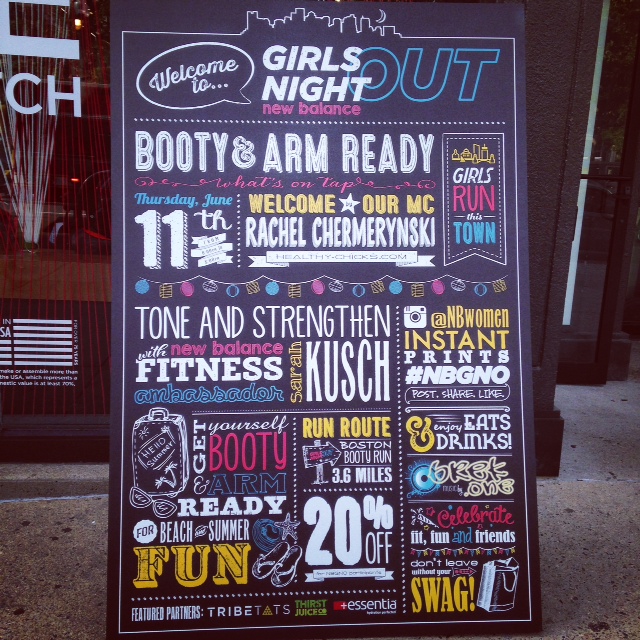 [eek, that's my name on there, minus the extra "R" ;)]
When I got there, I was immediately greeted by the lovely staff at Regan and New Balance, and then head straight to the back to get my TribeTats on before the girls arrived. I was super thrilled to have them as one of the sponsors, as I absolutely LOVE what their company is all about — self-expression + empowerment, baby! While all the tats were super cute (decisions, decisions!), I decided on the gold feather as they've always been super meaningful in my life. To me, they symbolize strength and new beginnings…and what better than to have one on my right shoulder?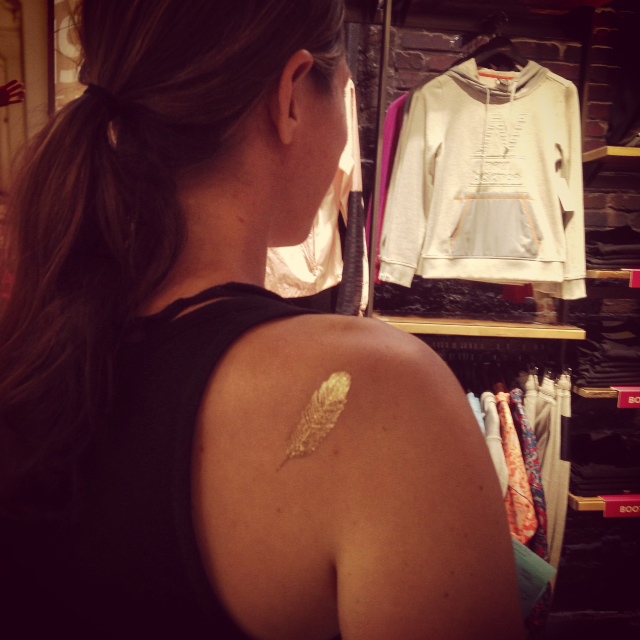 The theme of the evening was "Booty and Arm Ready," focusing on getting our beach confidence up and our arms, booties and minds ready for summer! I love that New Balance shares a similar philosophy as me, recognizing that it's not all about your looks or how many miles you can crush. At the end of the day, how do you feel and where's your mindset at? That to me is what really matters most. (More on that in a bit!)
Each GNO event always starts with a good sweat session to get the girls going, with your choice of a fun run or a group fitness class! Tonight, we were in for a special treat with an option to take the Booty + Arm Sculpt Class with New Balance ambassador Sarah Kusch. Our group head off to Titus Sparrow Park in the South End, where we were greeted with our mats lined up and the fabulous Brek.One in the house (er, he park!) spinning live beats.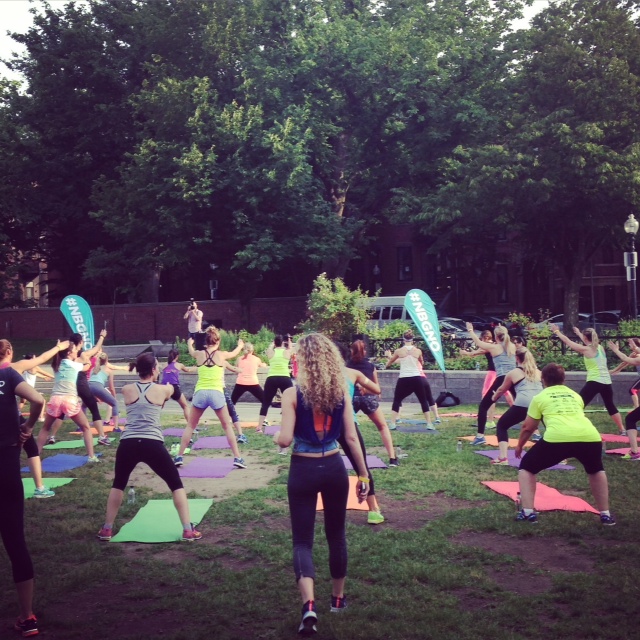 [Oh hey, Eliza!]
The workout was sweaty + fast-paced, including a mix of squats, lunges, planks, jumping jacks and some core work. It was nearly 90-degrees, so all of us were dripping in sweat and Sarah did a great job keeping us gals motivated!
After the workout, we head back to New Balance to cool down and refresh. It was now my time to "take the stage" and share some thoughts on what being "Booty + Arm Ready" and beach-body confident means to me.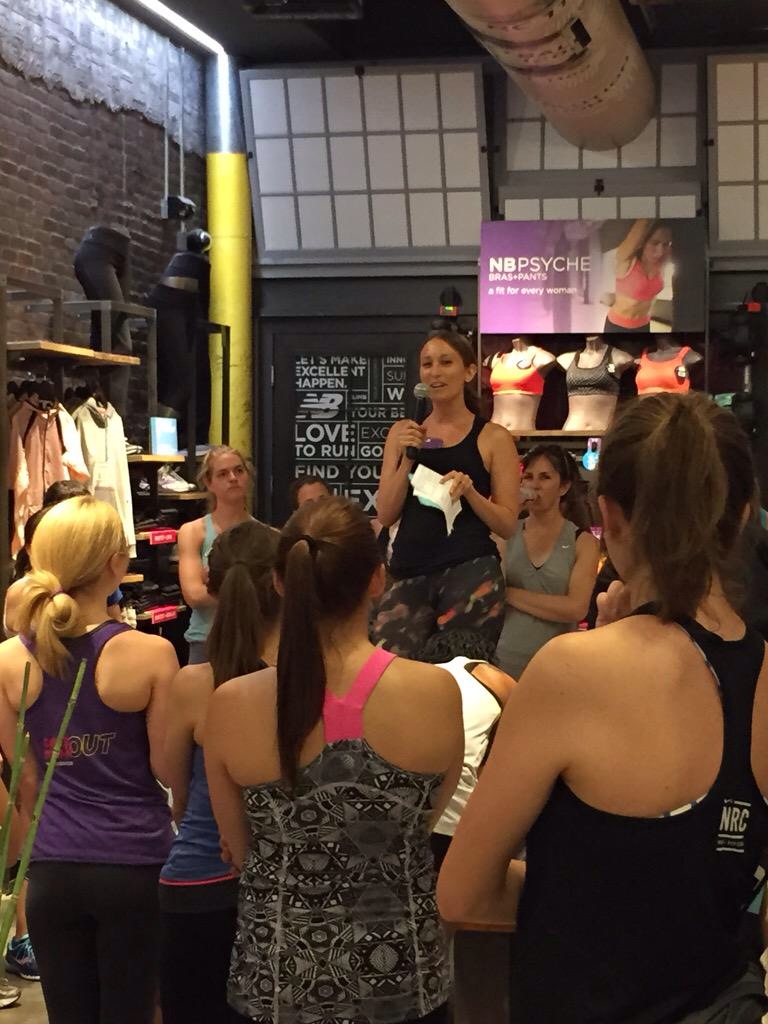 I confessed to the girls about why summer used to give me quite a bit of anxiety, including my hangup on having "fat thighs" and hiding behind baggy shorts at the beach. Thankfully I've now come to realize that it's simply not worth all the dieting, depriving and body shame I put myself through!
I shared with the group my top 4 simple tips for getting "beach ready" this summer:
1. Ditch the diets: no amount of diets or lemonade detoxing is going to make you feel better about yourself or your body. Instead, nourish yourselves with the foods that work for you!
2. Embrace your body: Honor your body, and appreciate your imperfections! Focus on YOU, rather than your best friend, the girl at the beach in the teeny bikini, or the model in the magazine with the "perfect" arms.
3. Believe you can: You can run that mile, take that dance class, get your body stronger. It's all up to you, and the more you tell yourself you can do it, the sooner it'll become a reality.
4. Have fun: I think we take ourselves too darn seriously, sometimes. Make sure to squeeze in some time for play, dinner's out, romance and summer fun!
After my talk, Sarah shared her story with the girls and opened it up for some Q & A, where we learned how she balances her life as a single mom, where she grew up, and how she got into the fitness industry in the first place. We then had the girls sign the "Believe Board" with one promise to themselves they wanted to hold onto until the next GNO! After all, what better way to stick to your intention than by declaring it out-loud and looking at it every day?
[Mine was all about movement, baby!]
Attendees then mingled + enjoyed freshly made juices from Boston's Thirst Juice Company, cocktails and light bites…plus some serious arm candy from TribeTats. New Balance even had an "InstaPrint" booth set up, where all photos from the night with the #NBGNO instantly printed out into tiny little take-home photos. Talk about capturing the moment in real time!
[Smiling for the camera with fellow Boston bloggers Jen + Semirah!]
Before leaving, each gal was given a special GNO tote bag to take home with them. And as always, New Balance didn't disappoint. The bags were stuffed with the latest issue of Women's Health, a sheet of beautiful TribeTats, a GNO bobble, and some special discounted vouchers. (The swag bags make saying goodbye not as hard!)
It was a pretty solid Girls Night Out if I do say so myself. Thanks to all who attended and made the night so fun!
The next GNO event will be held in July — stay tuned for an announcement next month! In the meantime, be sure to check out New Balance's brand new loyalty app MyNB, where you can earn rewards points for different activities to redeem fab prizes like bibs for race entries, swag and more. Pretty sweet, huh?