You know I love a good sweat sesh just as much as the next girl. And with my recent departure from the corporate world, budgeting in the Bean has been my saving grace (in all aspects of my life.) From lifestyle to fitness to grocery shopping, I'm all about keeping my bills low while living it up (even if this means walking to my favorite coffee shop instead of taking the T to enjoy my java!)
So when I found out that The Street in Chestnut Hill was starting up a free summer fitness series, I was sold in a hot second. All summer long, The Street will host complimentary workouts on the green, ranging from yoga to bootcamp. (Fun fact: they'll even be offering baby bootcamp for you mommas!) And I'm all about shaking it up…variety is the spice of life after all!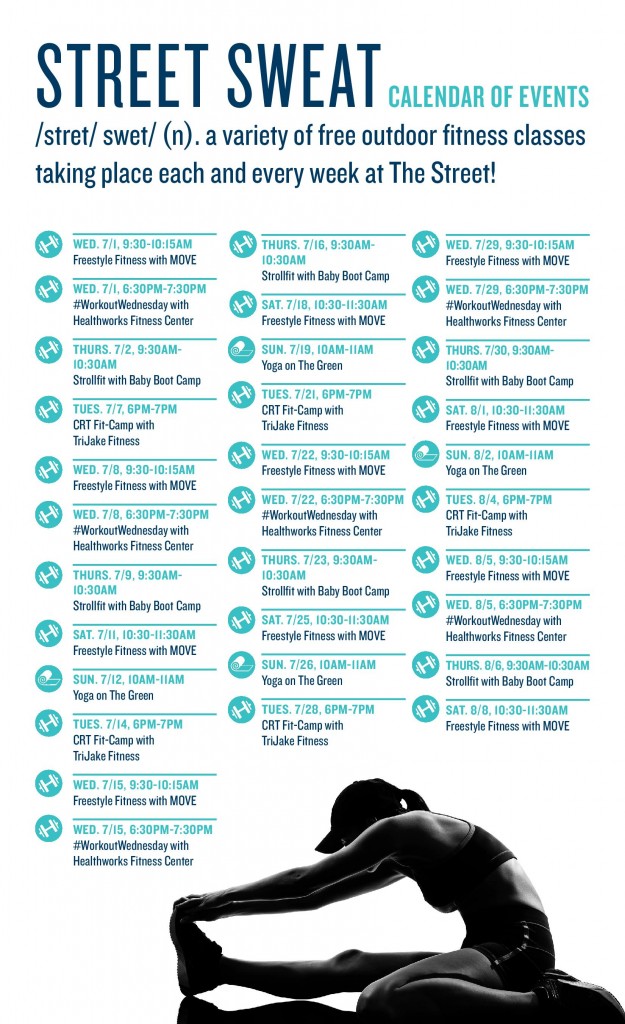 If this sounds up your alley (which I'm sure it does!) you'll want to save the date for THIS Saturday morning June 27th for Street Sweat x Lexi's Clean Kitchen.
Come get your sweat on from 10:30-11:30am with MOVE Fitness, then join other wellness-nuts for an after party at lululemon athletica. You'll sample healthy treats made with love by Lexi's Clean Kitchen, get mini hand facials from skoah, and even get a "VIP" first taste of Juice Press, coming soon to the Street.
In the meantime, I've got some other super exciting news for you fellow Boston ladies! I'm giving away some pretty sick gifts compliments of The Street's fab businesses including:
a $50 gift card for a facial at skoah
a $50 gift card to City Sports
a #StreetSweat workout towel
a free cup of David's tea
To enter the giveaway:
1. Simply comment on this post with your favorite way to MOVE + sweat during the summer
2. BONUS point: Post on twitter "Enter @Healthy_Chicks giveaway and get your #StreetSweat on this summer with @ShopTheStreet http://healthy-chicks.com/2015/06/26/shake-up-your-fitness-routine-this-summer-at-chestnut-hills-the-street-a-giveaway/" and add second comment here once you've posted!
Note: to enter the giveaway you must be Boston-based, and /or willing to travel to The Street in Chestnut Hill. I will choose 4 winners by EOD Thursday, 7/2. To check out other fab events offered at The Street (including live performances and acoustic evenings) you can view their event calendar here.