Happy Friday, ladies! This week has been a whirlwind for me, as lots of positive things begin to flow into my life. For one, myself and my friend Kelley launched Soul Sisters last night, with a fabulous kickoff party at Athleta Newbury St.! More to come soon, but we're going to be hosting outdoor monthly retreats to escape the city, connect with other women, and re-ignite your inner passion & soul's truth! I'm thinking this New Moon came at a good time for me, and can't wait to see what's in store!
Anyway, onto this week's spotlight on Healthy Chicks in the Community (a weekly series that celebrates fabulous women in the community)! This Friday, I am extremely honored and excited to feature the lovely Eliza a.k.a. Kick It By Eliza. This woman truly embodies beauty on the inside & out, and I've always admired the way she carries herself with such confidence & grace. She may be small, but she's fierce, passionate and knows how to get after it! I'm positive this lil curly-haired ball of energy will go far in life with her entrepreneurial ways. Ok…I'll let Eliza take it, er Kick It, from here!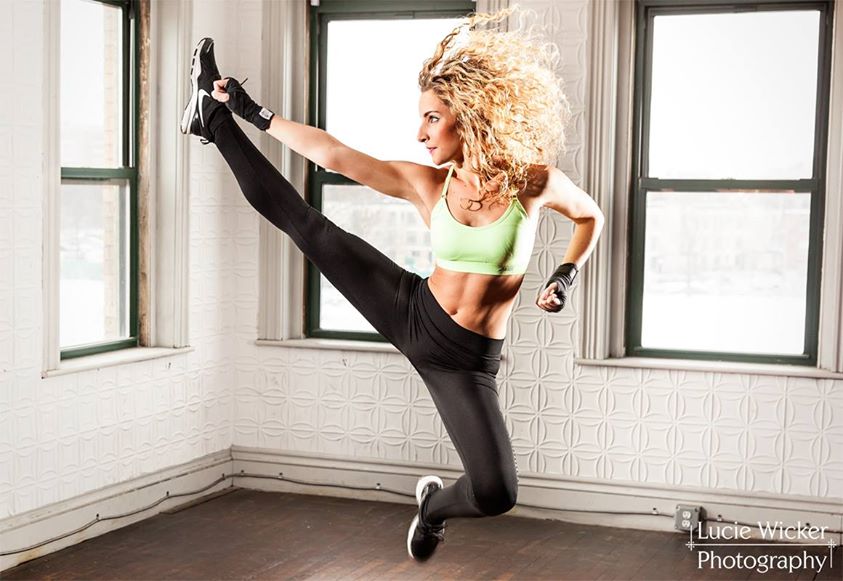 NAME/AGE: Eliza Shirazi/ 24 yrs old
BLOG/TWITTER: KickItByEliza.com / @KickItByEliza
CURRENT CITY: Boston
PHOTO TAKEN: Lucie Wicker's photo studio!
WHAT YOU DO FOR WORK: I'm Eliza from Kick It By Eliza, so there's that 🙂
NUMBER ONE PASSION: Empowering other people — no seriously, this isn't a cliche. Kick It has created an absolute fempire, which pushes females (and males) to use the power they've found in the studio and apply it to pursuing their dreams. It's my passion, my lifestyle, and my dream to do this everyday. When you give love, you get love, and that fuels me.
I FEEL MY HEALTHIEST SELF WHEN I AM: When I am surrounded by people who love and support me. Whether that's teaching and being surrounded by my Kick It Crew or even in simple moments when I am hanging out with my family. I think that going through unhealthy experiences, such as poor eating habits, bad relationships, unhappy working environment, pushes people to realize what is important and healthy for them. You got to go through a taste of the bad to understand the good, and that will be a different experience for everyone!
BUT I AM ALSO A REAL GIRL & SOMETIMES: I've never felt more feminine than I do while sharpening my boxing skills at The Club by George Foreman III with none other than GF3 himself. Hair's whippin, sweat's drippin, and I am proud to say I 'hit like a girl'. That shit's powerful.
TOP THREE KITCHEN STAPLES:
First and foremost, my roommate Niki because she makes the best spin off of KIND Bars, called Kind-Of Bars.
A phone to ask my mom how to cook something if I'm trying to make something other than eggs, quinoa, or fish… but I do make a mean sunny side up egg. Just sayin.
My computer to replicate the super yummy recipes on Stay Healthy Stay Happy!!
NUMBER ONE GUILTY PLEASURE: Chocolate chip cookie from Crema Cafe!! THE BEST. I want one right now.
THREE FAB THINGS ABOUT YOU: I am Iranian!I am the only blonde in my family (thanks mom)! I am obsessed with my nephews Kamron and Caleb!
EXERCISE THAT MAKES YOU SHINE: Kick It, yoga, meditation, shakin' my butt.
FAVORITE COMFORT FOOD: Comfort food has to be the Persian food that my dad makes: kabobs, basmati rice, tadik, shirazi salad (not named after us, but should be), lamb, lamb, and more lamb, with a side of Syrian bread (preferably grilled).
MESSAGE YOU'D LIKE TO SHARE WITH OTHER HEALTHY CHICKS: To my fellow healthy chicks, what an awesome community you are a part of! If there is one thing I have learned, it is that there is nothing healthier than a community of females that lift each other higher. Maybe a healthy choice is having a salad, or maybe a healthy choice is going out with your friends for a wild night.That mixture of work and play is so important and being surrounded by a community that encourages the balance of both is the healthiest! As I venture into starting my own start-up, I have had unhealthy moments, but it is really the community and network of people I surround myself with that gets me back on track every time. Applaud each other, respect each other, and just freakin' love each other. All for now…time to Kick It!
Big THANK YOU to Eliza for taking part in this week's Healthy Chicks in the Community. Be sure to follow along & Kick It with her if you live in the Boston area! Miss last week's? Catch it here! And if you'd like to nominate yourself or a friend in the future, just email me at rachelAThealthy-chicksDOTcom.