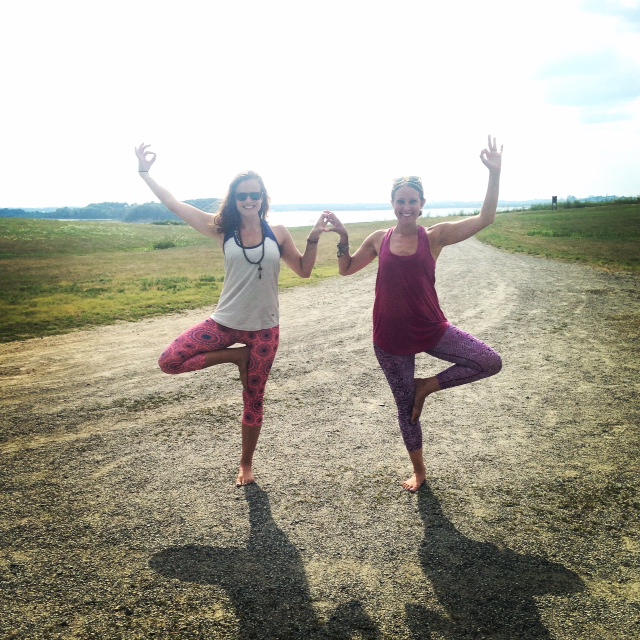 This past Saturday, Kelley & I hosted our first Soul Sisters Day Retreat. Destination? Spectacle Island. For those of you who don't know, Soul Sisters is a monthly retreat for women looking to escape the city, reignite their passion and re-connect with their soul's truth.
Our first official retreat (away from the city!) could not have gone any better, and I think I can speak for anyone who was there that it was purely magical. The theme of our mini island getaway was empowerment & bliss, and we let that shine through in everything we did throughout the retreat.
Here's a quick recap of our beautiful day:
11 a.m. The women joined us at Long Wharf to check-in and meet everyone. Upon arrival, they were given energy squares from Organic Living Superfoods and an organic, cold-pressed juice, courtesy of Cocobeet! Big thank you to Onur from Cocobeet for keeping us hydrated & rejuvenated all day long…my favorite juice was Green Genes, but other creative hits were Kickstart, Watermelon Quench, Forbidden and Black Rose. I think it's safe to say the snacks were a huge hit! We also gifted the ladies vegan lip balms from Hurraw! Balm (my absolute fave) for delicious, smooth lips.
11:30 a.m. All aboard! We boarded our ferry and set sea to Spectacle Island! This was a perfect time to get to know one another a bit better, share some laughs and of course snap some photos. We seriously couldn't have asked for a more perfect day weather-wise, although I will admit: it was a HOT one!
12:00 pm. We landed on Spectacle Island, and lugged our stuff up to land. We took a much-needed bathroom break (which ended up taking much longer than anticipated with 13 ladies!) and filled up our reusable water-bottles to prepare for the heat. It was now time to hike up the hill for our secret yoga destination!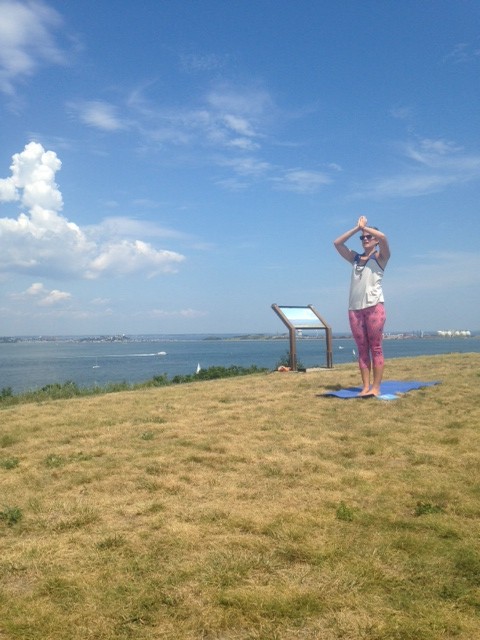 12:40 pm. We reached the top of the hill, with a beautiful view overlooking the city, other harbor islands, and the endless sea. It was absolutely breathtaking! As the ladies set up their yoga mats, I walked around with some invigorating doterra Citrus Bliss essential oil to get the energy flowing.
Kelley then led us in a long, powerful yoga sesh with lots of twists, squats and salutations! Then during shavasana, we went around and placed ice-cold lavender-infused towelettes over the women's eyes. Talk about pure bliss! After yoga, I passed out paper towels and all-natural yoga mat cleanser I had prepared (made with tea tree, lavender and grapefruit essential oils) so we could wipe down our sweaty mats. Namaste.
2:00 pm. Lunch time! We certainly worked up an appetite during the flow, and food was on our minds. A part of the Soul Sisters retreats (and something that makes us super unique and unlike other events or retreats) is that everything is made clean, home-made and as farm-fresh as possible. We believe that what we put into our bodies is super important, and that food changes everything.
Kelley, our in-house "Healthy Cooking Specialist" prepared a beautiful lunch for the group that did not disappoint: a cool cucumber soup topped with roasted chickpeas to start, an authentic Greek salad (with heirloom tomatoes and olive oil straight from Kel's boyfriends' families farm in Greece!) and Spanakopita (a Greek spinach pie.) We also snacked on kale chips that Cocobeet had donated for our group…holy yum! Oh, and did I mention the ginger & lemon infused ice water Kel brought along? Lots of happy bellies over here!
3:00p.m. After lunch, we trekked back down the hill to a grassy area by the gazebo. We set our yoga mats down for our Signature Women's Circle…this is where things get juicy! We started with a quick meditation, a little Singing Bowl action, and then each women was given a journal and personalized Soul Sister pen. It was officially time for our journaling sesh!
I led the women through a series of 12 questions, all with our theme in mind: bliss & empowerment. While the women were told their words were meant for themselves, we did have a mini sharing circle and discussion time. One of my favorite questions to discuss openly with the group was "At the end of the day, how is it that you want to feel?" Oh so juicy!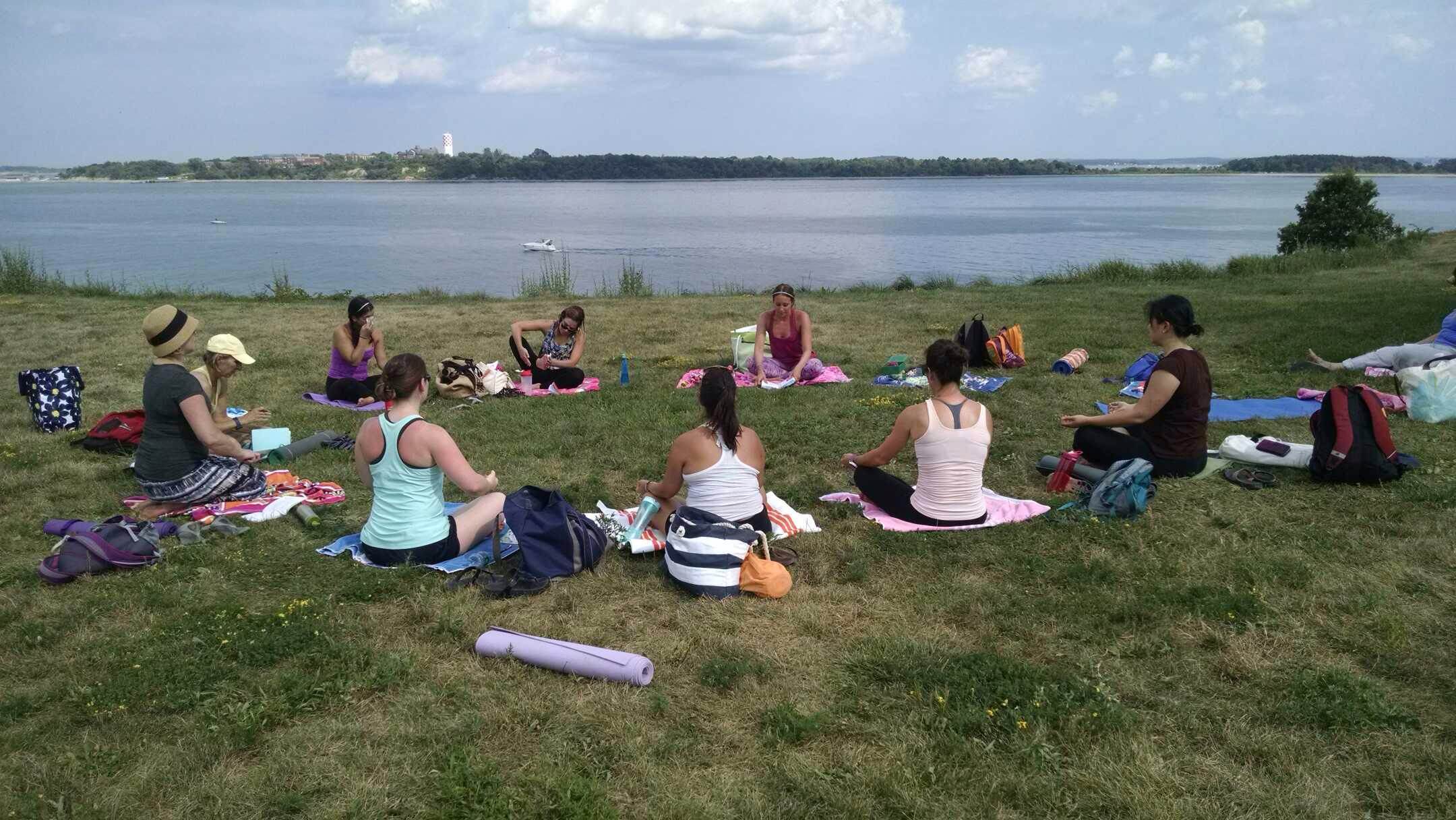 3:50 p.m. Time to get crafty! We head inside the gazebo to take a break from the sun & decorate our "mantra" sea shells. We brought lots of paint, glitter, glue and markers for inspiration! Each women then wrote their word (a.k.a. how they want to feel or a mantra they want to bring into their life) on the inside of the shell. I loved watching how creative the ladies got! While crafting, we were lucky enough to enjoy some raw coconut balls Kelley's mom made for the group…she's seriously the best!
4:15 p.m. Sadly, it was time to start wrapping things up and head back toward the ferry. At this time, we had intended to allow the ladies to take an optional dip in the water, but unfortunately we lost track of time and actually almost missed the boat! I sprinted to tell the captain we had a dozen girls coming down the ramp and begged him to wait for us. Thank goodness he did…we all appreciated it!
4:30 p.m. We set sail back to Boston, making it into the city around 5:00 p.m. for hugs and final goodbyes!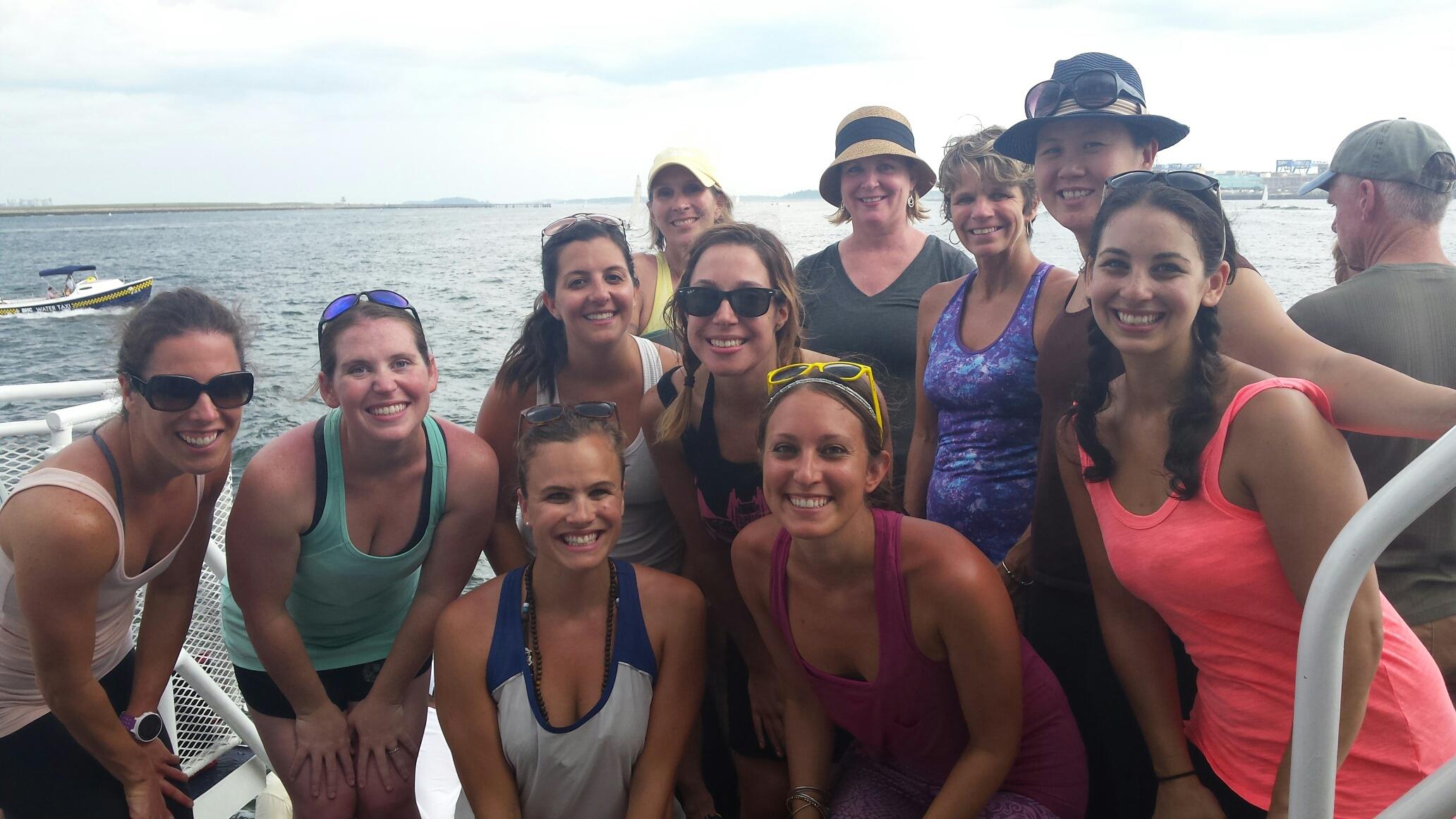 Thank you for everyone who was a part of our first official Soul Sisters Retreat! Stay tuned for the next one coming this fall. I'll be posting updates here, and you can also follow along via our Facebook Page!
XoXo,
Rachel