Happy Friday, ladies! I'm currently writing to you from the lovely San Diego. My dad & I left our spouses at home for a little R & R on the beach. We've been loving our morning runs (training for Reach the Beach!), sea breeze with zero humidity, and fish tacos for days (with a side of margaritas!)
Anyway, it's time to bring you this week's Healthy Chicks in the Community! I couldn't be more thrilled to introduce you to the lovely Caroline Earle, the beautiful blogger behind Trendy Trainer. I met Caroline a couple years ago through work and always being invited to the same fitness blogger events. I was instantly wowed by her glowing, bubbly personality and positive attitude. I'm telling you, this gal is ON FIRE! She's also one of the most genuine people I've ever met, totally speaking from the heart and walking the walk. Not to mention she's drop dead gorgeous (from the inside out!) I'll let you meet her for yourself!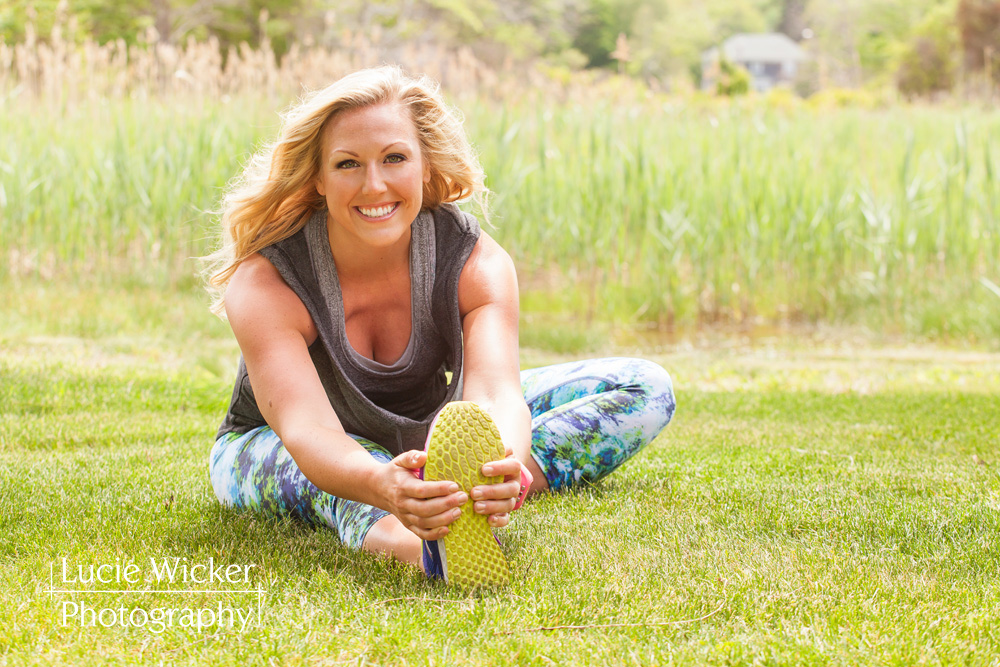 NAME/AGE: Caroline Earle, 28
BLOG/TWITTER: The Trendy Trainer / @trendytrainer
CURRENT CITY: Somerville, MA
PHOTO TAKEN: Cohasset, MA / June 2015 (cred: Lucie Wicker Photography | Makeup by Laura Mucci)
WHAT YOU DO FOR WORK: Group Fitness Instructor, Indoor Cycle Instructor, Personal Trainer and Healthy Living Blogger
NUMBER ONE PASSION: My #1 is helping others. Regardless of the mode in which I do it — talking, training, teaching or writing — if I can have a positive effect on someones life, I'm whole-heartedly happy.
I FEEL MY HEALTHIEST SELF WHEN I AM: Strength training regularly and not eating sugar!! I tend to eat a 80/20 lifestyle: 80% whole foods, 20% less nutritionally dense choices. Don't get me wrong, it's tough … but in the end my body feels so much better and trains so much harder!
BUT I AM ALSO A REAL GIRL & SOMETIMES: Get my nails done … once a month 🙂
TOP THREE KITCHEN STAPLES: Great question!! Currently, my zucchini spiralizer, shaker bottle and paring knife.
NUMBER ONE GUILTY PLEASURE: FroYo (tart) with raspberries and chocolate chips!
THREE FAB THINGS ABOUT YOU: I have run a marathon, I am an Athleta Brand Ambassador, I lived in Italy (Ciao, bella!) for a year in college!!
EXERCISE THAT MAKES YOU SHINE: Teaching indoor cycling!
FAVORITE COMFORT FOOD: Brownies … there's that sweet tooth again!
MESSAGE YOU'D LIKE TO SHARE WITH OTHER HEALTHY CHICKS: Be patient with yourself. Whether you're struggling to find a fitness routine that works or you simply can't shake a bad diet … stop beating yourself up. The moment you allow yourself space and become patient is when you'll start to clearly see how to make strides to a healthier lifestyle. Far too often we stress ourselves out trying to get to the next best thing: a smaller jean size, more chiseled arms or six-pack of abs.
Instead, let's take a different approach. An internal conversation that allows you to take a step back, evaluate what you want and purposefully decide how you're going to make it happen. Chances are, you'll be there in no time 🙂
Big thank you to Caroline for taking part in this week's Healthy Chicks in the Community. Miss last week's? Catch it here! And if you'd like to nominate yourself or a friend in the future, just email me at rachelAThealthy-chicksDOTcom.