Is it fall yet?
Seriously, I'm so ready.
With this 90+ degree heat wave in Boston, I've been daydreaming about boots + leggings, pumpkin (everything) and crisp afternoon strolls in the park.
Unfortunately, my daydreaming isn't making the season change any faster, so I decided to bring fall to me! Try these 2 pumpkin-themed recipes for a little taste of fall in your summer home.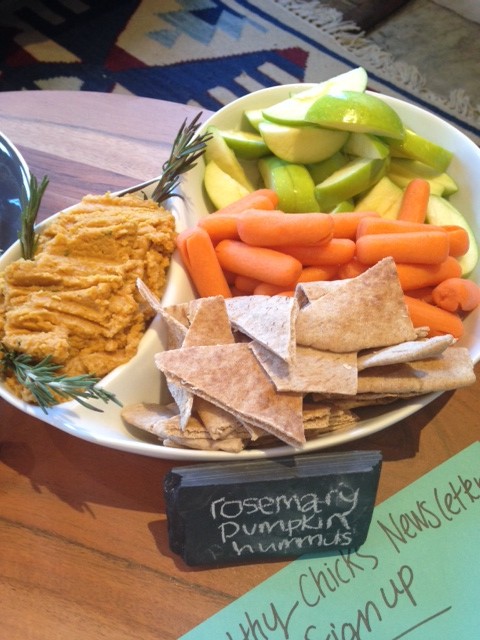 Autumn Rosemary Pumpkin Hummus
1 clove garlic
2 TB olive oil
1 can chickpeas, drained and rinsed
½ c. pumpkin puree (unsweetened)
dash of maple syrup
1 tsp. fresh rosemary (finely chopped)
1 tsp. cumin
1 tsp. pumpkin pie spice
pinch of sea salt
Blend all ingredients except rosemary in food processor until smooth.
Stir in the rosemary, and add any additional spices or salt to taste.
Serve with warm pita bread, apple or pear slices, crackers, carrots or other fave veggies!
Pumpkin Pie + Dark Chocolate Energy Balls
12 Medjool dates, pitted
1/2 c. raw pecans
1/3 c. pumpkin puree
1/4 c. unsweetened coconut flakes (+ another ¼ c. for rolling)
2 tsp. vanilla extract
1 tsp. pumpkin pie spice
1/2 tsp cinnamon
¼ c. chia seeds
dash of raw honey or maple syrup, optional
¼ c. dark chocolate
Pinch of sea salt
Place dates in small bowl and cover with water. Allow to soak for 10 minutes, then drain.
Pulse pecans in food processor until finely ground. Add in the rest of the ingredients, including the soaked dates. Pulse until combined.
Form the "dough" into small balls & roll in mixture of ¼ c. coconut flakes with ¼ c. chia seeds. Chill in the refrigerator in an airtight container & enjoy as a sweet guilt-free pick-me-up!
What are you most excited about for the new season? What are your go-to fall recipes?