Happy Friday, loves! I couldn't be more excited for the weekend. One of my best friends is getting married tomorrow, so I'm heading home to good ol' Connecticut for the rehearsal dinner to begin the festivities tonight! (They are getting a pizza truck tonight…how cool?!)
Anyway, it's time to bring you this week's feature for Healthy Chicks in the Community! I am overjoyed to introduce you to one of my oldest friends Eliza…who goes by Liza but some — including me — call her Lizey 😉
I met Liza way back during the days of our pool club & swim team. She was a super-fast freestyler and absolutely gorgeous…and I thought she was super cool (and still do)! We were obsessed with random dance parties, The Back Street Boys, at-home karaoke, late-night sleepovers, oh and of course BOYS.
While much has changed since our childhood years, our friendship still remains the same! Liza is always one of those friends I can go months (or even a year!) without seeing, and we pick up like it was just yesterday. I truly admire her bubbly glowing personality…she's simply a fun-loving gal you always want to be around! I'll let you meet her for yourself…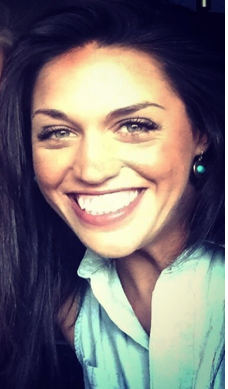 NAME/AGE: Eliza Welling, 27
CURRENT CITY: Manchester, CT
PHOTO TAKEN: This photo was taken in West Hartford, CT this summer while enjoying dinner with a friend.
WHAT YOU DO FOR WORK: I am a Special Education Preschool Teacher
NUMBER ONE PASSION: Teaching
I FEEL MY HEALTHIEST SELF WHEN I AM: Doing yoga
BUT I AM ALSO A REAL GIRL & SOMETIMES: Go shopping
TOP THREE KITCHEN STAPLES: kale, coconut milk, and veggie burgers
NUMBER ONE GUILTY PLEASURE: Chocolate
THREE FAB THINGS ABOUT YOU: I am a very proud aunt to my niece Aubrey, I like my green eyes, and I think my family and friends are pretty fabulous 🙂
EXERCISE THAT MAKES YOU SHINE: Yoga
FAVORITE COMFORT FOOD: Anything salty
MESSAGE YOU'D LIKE TO SHARE WITH OTHER HEALTHY CHICKS: Do what makes you happy 🙂
Big thank you to Eliza for taking part in this week's Healthy Chicks in the Community. Miss last week's? Catch it here! And if you'd like to nominate yourself or a friend in the future, just email me at rachelAThealthy-chicksDOTcom