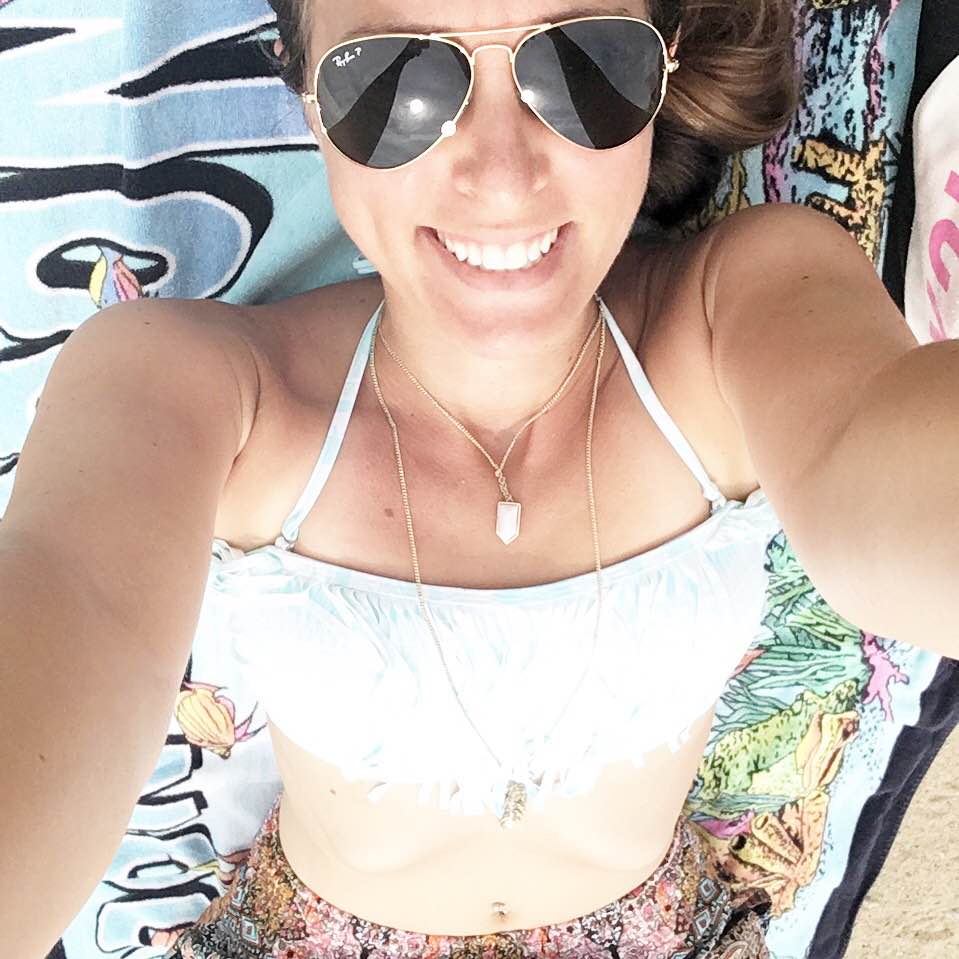 Hello beautiful ladies! Hope you're off to one heck of a summer; I know I am. I left my full-time job, celebrated my 29th birthday, camped with some of my faves, chilled by the ocean, took an incredible calligraphy class, and have been eating all the food. Um, hello wine + cheese.
One of my favorite parts about summer is being outdoors and staying active — be it hiking, long walks on the beach collecting sea glass, morning runs or standup paddleboarding.
Fitbit makes it easier than ever to track all of your activities in a stylish, simple way. With the latest and greatest member of their active line — the Fitbit Blaze — they've totally pumped it up a notch. I absolutely love the plum wristband on the one I was given (my fave color!) but it also comes in blue and black if purple's not your thing.
Check out these sleek features to see why I'm lovin' the Blaze:
Connected GPS™ maps routes and delivers real-time exercise stats on device like distance and pace (using the GPS from your connected smartphone).
Cool one-of-a-kind screen features like color touch screen and music control. Ya gotta have those beats!
PurePulse® continuous, wrist-based heart rate tracking helps maximize training, maintain workout intensity, and better track calorie burn and optimize health without the need for an uncomfortable chest strap.
Multi-sport mode records your core workouts like runs, cardio, cross-training, biking and more while providing relevant, real-time performance stats on display. PurePulse is enhanced while in Multi-sport mode for even better heart rate tracking, especially during high intensity workouts.
SmartTrack™ automatic exercise recognition effortlessly records workouts and gives you credit toward weekly exercise goals in the Fitbit app. It automatically recognizes and records continuous movement activities like biking, hiking, running and sports including basketball, soccer and tennis, and more.
FitStar™ on-screen workouts with guided instructions and images provide on-the-go exercises right on your wrist to coach you along. This is great for cross-training in between runs, for example.
All-day tracking of steps, distance, calories burned, floors climbed, and active minutes.
Automatically track how long and how well you sleep, and set a silent, vibrating alarm.
Stylish from work to workout: Fitbit's most stylish tracker yet has you covered throughout your day. In fact, you can even change out the band with one of their leather bands to seamlessly take your Fitbit from work to workout.
I'm super excited to take my new blazin' bff out for a run, and test out all the cool new features! It'll pair perfectly with my brand new purple Nike sneaks 😉
Ready, Set, GO…It's giveaway time!
Lucky for you chickies, I'm giving away a brand new Fitbit Blaze to one of my readers. To enter, simply:
1. Leave a comment with your favorite way to stay fit during the summer.
2. Bonus point for tweeting: "It's one blazing summer! Enter @healthy_chicks giveaway for a chance to win a @Fitbit Blaze http://healthy-chicks.com/?p=7310″ (just be sure to leave another comment over here)
P.S. Fellow Boston babes, stay fit all summer long with Fitbit Local. There's some pretty great events coming up (Outdoor Bootcamp or Hiphop Yoga, anyone?) to keep you moving & shaking as you continue your blazin' hot summer.
Giveaway ends Tuesday, July 26 at 5PM, and is open to residents in the US. Note: I was given a Fitbit Blaze to review on the blog, but all opinions are my own.