Happy Friday, ladies! I'm like a little kid on Christmas right now for 2 reasons a.) because it's almost Christmas and b.) my Kickstarter campaign for my "Spark Your Bliss" affirmation cards is just $75 shy of my goal. Since Kickstarter is all or nothing, I have until 2pm EST to raise the funds! If you'd like to snag your own deck (while supporting me!) you can do so here.
Now onto this week's feature for Healthy Chicks in the Community, a weekly series highlighting badass women doing their thang. I'm thrilled to introduce you to Meg. This gal's got a huge heart, and I love her ability to take risks & go after what makes her feel good. In fact, she's got such a big heart that she actually said to me earlier this week that one of her goals for 2017 is to do more good with her money. How rad is that?
Without further adieu, here's Meg!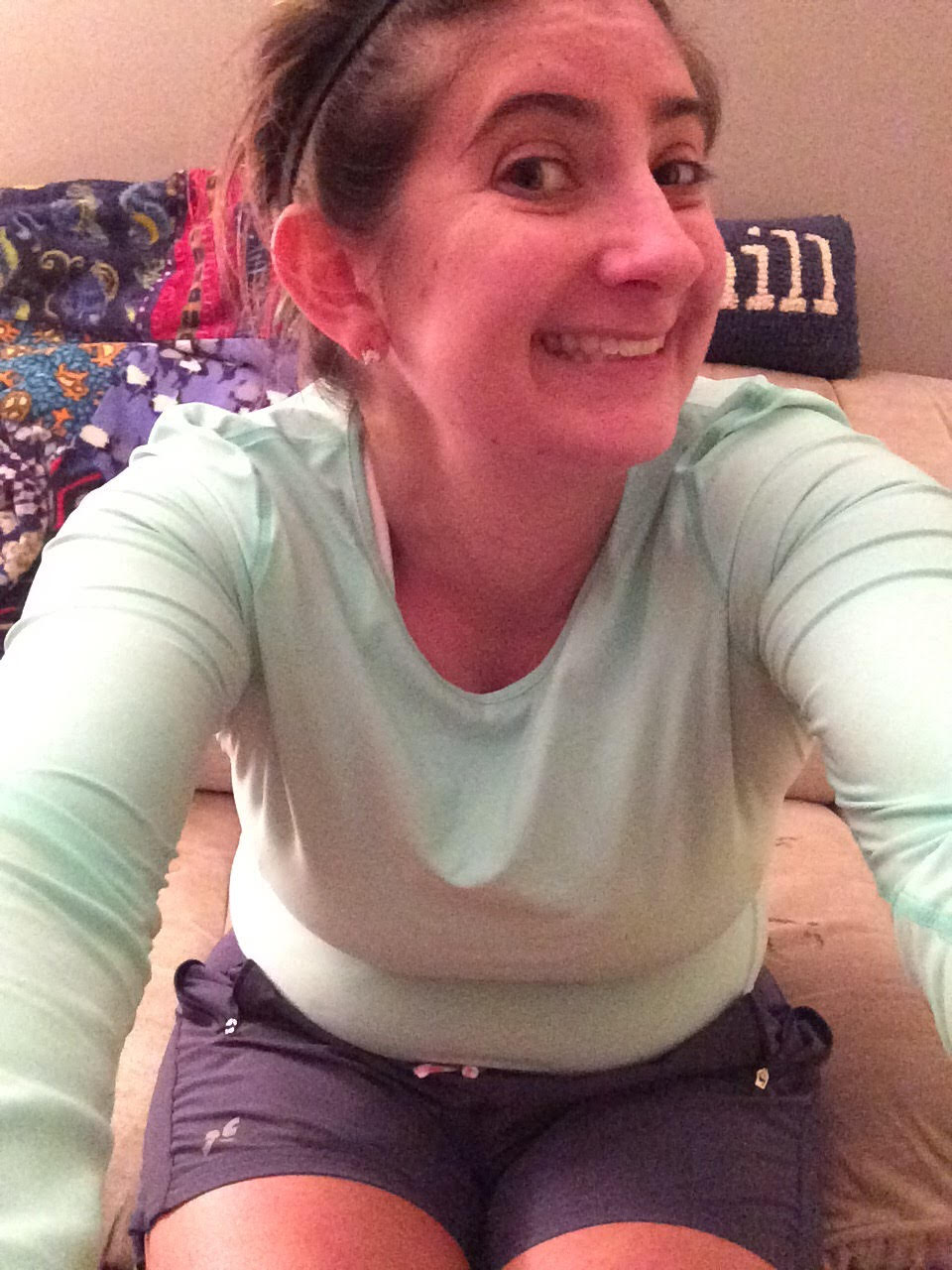 NAME/AGE: Meg McClafferty/32
TWITTER: @megariana84
CURRENT CITY: Boston
PHOTO TAKEN: Sitting on my couch before a long run!
WHAT YOU DO FOR WORK: Marketing and Client Service at a small boutique investment firm
NUMBER ONE PASSION: One of my top strengths is the ability to make people feel welcomed and included. I was bullied relentlessly in elementary and middle school, and I never want someone to feel that same way.
I FEEL MY HEALTHIEST SELF WHEN I AM: When I eat well and exercise!
BUT I AM ALSO A REAL GIRL & SOMETIMES: You need a pint of J.P. Licks!
TOP THREE KITCHEN STAPLES: Butter, eggs, coffee!
FAVORITE COMFORT FOOD: Chicken Parm, with little to no sauce (and no, TB12 didn't inspire me to!)
SONG THAT MOVES YOU: I run on music! "I have Confidence" from the Sound of Music has been my power song since I was 5. "Electric Feel" by MGMT is my most played iTunes song, "You can do it" by Ice Cube is my "Get through this last half mile!" song, and "Girls just wanna have fun" is just a great song all around!
THREE FAB THINGS ABOUT YOU: I'm loyal (sometimes to a fault), kind (voted most friendly in high school), and determined!
FAVORITE BODY PART: Arms and Shoulders. I had an elementary school music teacher who made a comment on my skinny "chicken" arms. I still think about that 23 years later. I've worked hard to have shoulders I'm proud to show off!
EXERCISE THAT MAKES YOU SHINE: Running (quite literally!)
MESSAGE YOU'D LIKE TO SHARE WITH OTHER HEALTHY CHICKS:
"Don't compromise yourself, you're all you've got" -Janis Joplin. That was my high school yearbook quote, which has turned into my life's motto. If I'm not comfortable or happy where I am, I'm not afraid to take a breather. If something in your life isn't working the way you thought, stop, let it go. You have to trust something: God, Allah, the old Willow in the Public Garden. You'll be surprised at what happens when you trust the universe. I quit my big corporate job last year. I was becoming someone I didn't like, angry, not sleeping, etc. So I quit, worked at a small shop on Charles St that paid just enough for my rent and student loans. Then a job opened up at a smaller firm, and I took it. And I've never been happier. I love the quote "Change is scary, but not changing is even scarier."
Also, once in your life either cut your hair short or sit in your hair dressers seat and say "do whatever you want today". Trust me when I say, it will change your life. It's hair, it'll grow back. Before every single major change in my life, my hair was the first to go. And it has made me stronger and more confident in more ways than there are words in the dictionary.