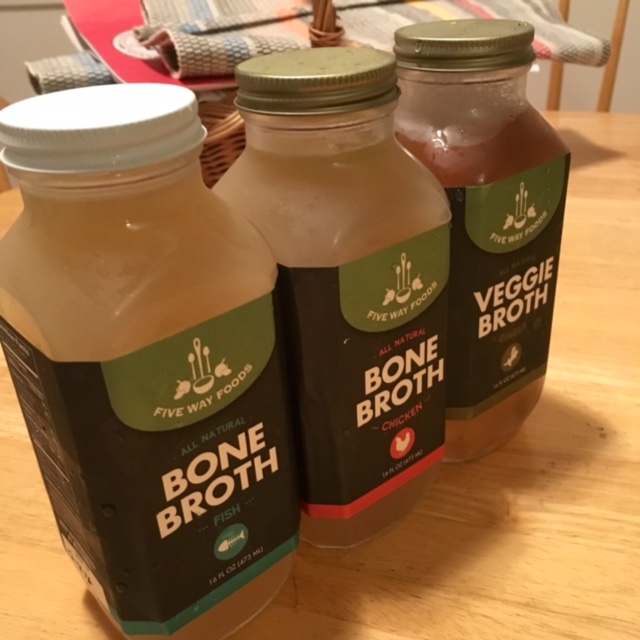 Bone broth has become quite the hot topic in the natural food world of late. But despite all the hype, I had yet to try it myself.
"It's just such a pain to make…I'll have to buy a whole chicken…make a roast…save the bones…it's just too hard!" (excuses, excuses!)
MEET FIVE WAY FOODS
Fortunately, Five Way Foods reached out to me, offering to send me a few bottles to try. I was sold. Five Way Foods is an MA-based startup, specializing in locally-sourced broth with delicious flavor. All of their products are gluten and dairy free with no added sugar or chemicals. You can use their broth "5  ways" — as a beverage, in a stir-fry, as part of a sauce, in a soup/stew, or to make risotto. Or you can come up with your own unique way! I especially love that they source from local farms & purveyors like Red's Best Seafood, Walden Local Meat Co., and Russo's Market. Knowing where my food is coming from is extremely important to me!
The crew at Five Way Foods ended up sending me a bottle of each of their flavors: Chicken Bone Broth, Fish Bone Broth and Veggie Broth. All of them were absolutely delicious & full of flavor, though the chicken was my personal favorite! The secret ingredients? They keep it simple with real ingredients (just how I like it!) with just water, chicken bones, celery, onion, carrot, parsnip, olive oil, fresh herbs, sea salt & whole peppercorn. So much flavor! Shop local and get a bottle of your own here.
BENEFITS OF BONE BROTH
Other than the fact that bone broth is absolutely delicious (especially during the chilly Boston winters), it also helps to boost the immune system, improve digestion, support a healthy gut & promote detoxification. Plus it's packed with good-for-you minerals! You can read all about its many health benefits in this great article by Dr. Axe.
NATURAL WAYS TO IMPROVE DIGESTION + CLEANSE THE BODY
Ever since my hypothyroidism diagnosis, I've been working hard to nourish my body through real food, while simultaneously loving up my sluggish thyroid. A big part of that is incorporating nourishing foods & techniques that help cleanse and improve digestion naturally. Here are a few of my favorites so far:
1. Bone Broth: As I mentioned above, I'm a huge fan. Buy it locally through a trusted provider like Five Way Foods, or try making your own! Luckily my hubby is a connoisseur in the kitchen, and loves making bone broth from scratch. He made a batch for me this week after we cooked an organic chicken the night before, and I've been loving sipping on it each day. Note: beware of some of the store bought varieties that are packed with sodium & other additives!
2. Morning Lemon Elixir: I love starting my day with a mug of hot water, with the juice of 1/2 lemon, cinnamon, a TB of apple cider vinegar if you can handle the taste/affect on your body, and a dash of honey if you want some sweetness. It really energizes me in the morning & gets my digestion going! Since I'm currently taking a month off coffee as part of my thyroid healing journal, this is a great alternative.
3. Dry Brushing: This past month, I've made dry brushing a part of my morning routine! You simply purchase a long natural wooden brush, and brush toward the heart. I like to do it right before a shower, followed by blanketing my skin in a nourishing body butter like Stress Less by Organic Bath Company. It's been said to help increase circulation, improve digestion, and invigorate the body just to name a few of the many benefits. Personally, I've become addicted!
4. Infrared Sauna: Fortunately, my husband & I have a pop-up infrared sauna in our bedroom. I enjoy using it every morning for about 10-15 minutes, as it's a great way to sweat out those toxins & get the blood flowing in the morning! I know I've been feeling much more energized and vibrant since making this a part of my daily routine.
5. Fermented foods: Fermented foods are naturally packed with probiotics, which add good bacteria to your body while encouraging a healthy digestion & gut function. My current favorites are Kombucha and sauerkraut!
6. Chew Chew Chew: Chew your food! It's super hard to digest a meal when we're eating like we're in a race. Slow down & enjoy, so your body can properly digest what your feeding it.
7. Slow Down: Speaking of slowing down, I don't just mean during your meal. Slow down your life! Spend some time journaling, meditating or taking a cozy bath. By slowing down, you can reduce stress and tension and give your body the love it needs.
Note: I received product & compensation from Five Way Foods, however as always all opinions and writing are my own. It's important to note that this is my personal experience, and I am not a medical doctor or nutritionist. Please seek medical advice from your Doctor before making any big changes to your diet or lifestyle.