I am over the (new) moon excited to introduce you to this week's feature on Healthy Chicks in the Community, a weekly series celebrating rockstar Girl Bosses doing their thang in the wellness world.
Before Lucy became the Queen of Pantone Posts (stalk her Instagram if you don't know what I'm talking about), her and I met at our company retreat when we both worked for sweetgreen. We instantly bonded sitting next to each other on the bus ride home, shamelessly admitting that while the rest of the bus wanted to party on, all we wanted was a solid nap sesh (#grandmas).
When I visited the sweetgreen Treehouse (HQ) for the first time in D.C., Lucy took me in under her wing, continuously feeding me with office snacks and homemade colorful smoothies, and even brought me as a guest to her gym. Even back then, her joy for life and love for food was obvious.
Now, Lucy lives out in California, and has created quite the buzz online with her beautiful #pantoneposts that inspire people to think of food as fun and playful, rather than shameful and caloric. (This recent post where she opens up about a past eating disorder really spoke to me.) I seriously dig what she's doing for the community, and know you will too. Alright, enough talking, I'll let you meet this avocado-loving babe for yourself!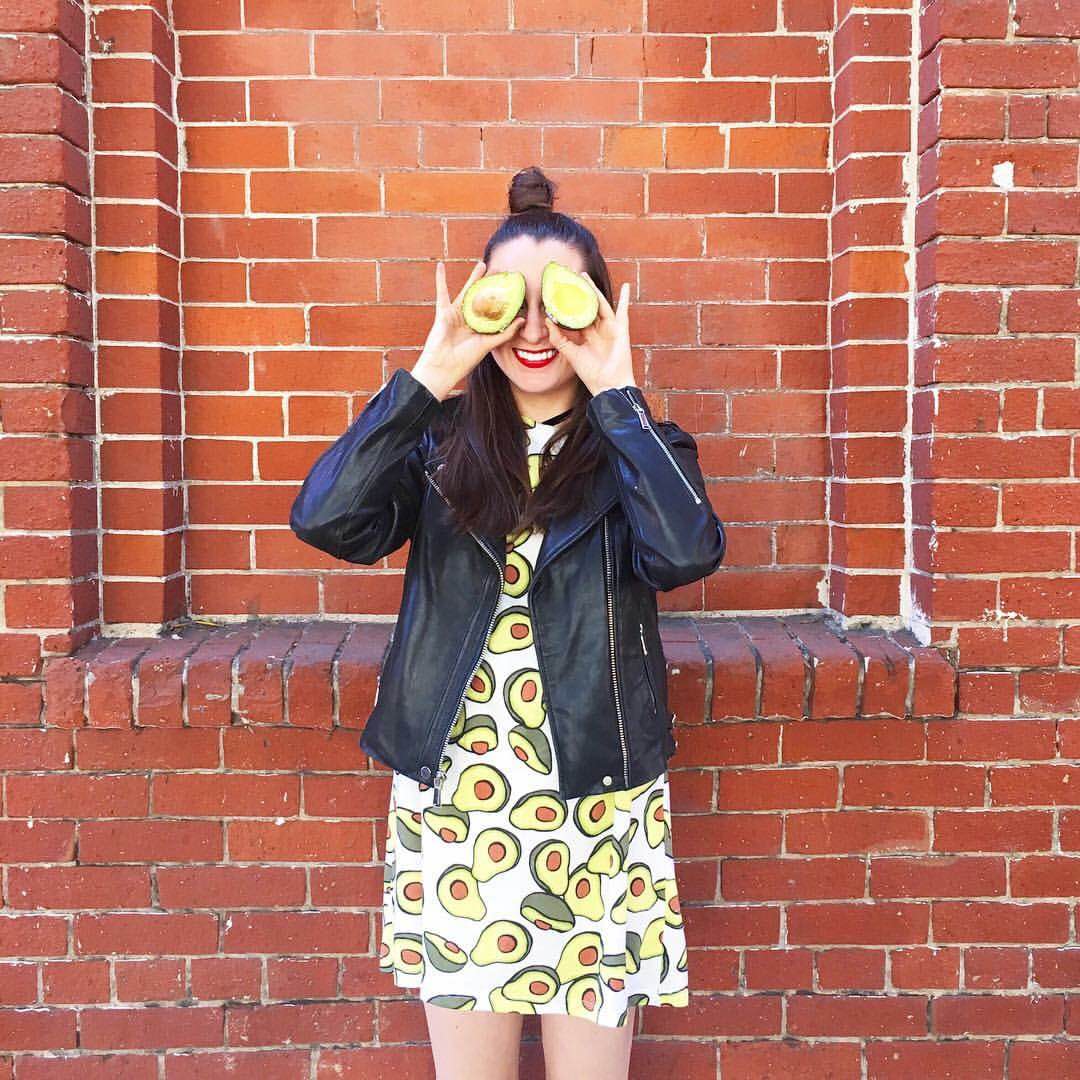 NAME: Lucia Litman
DESCRIBE YOUR BUSINESS/LINE OF WORK: I play with my food 🙂
WHERE YOU LIVE: San Francisco
HOW YOU SERVE THE COMMUNITY THROUGH YOUR WORK: I try and change what people think about when they see food, and get them thinking about colors instead of calories!
NUMBER ONE PASSION OUTSIDE THE JOB: Driving…I love a good road trip.
INTENTIONS/GOALS YOU HAVE FOR YOURSELF IN THE NEXT 3 YEARS: Travel more. Someone once told me that the only thing you can spend money on that makes you richer is travel and that really resonated with me.
ONE PIECE OF ADVICE YOU'D TELL YOUR CHILDHOOD SELF: Do what makes you happy, and stop trying to fit in and be cool.
FOODS THAT MAKE YOU FEEL ALIVE & BRING THE MOST JOY: AVOCADO!!! And uni
SONG THAT MOVES YOU: Semi Charmed Life by Third Eye Blind
THREE FAB THINGS ABOUT YOU: I can rap along to every Drake song, I've been known to eat a pint of ice cream on my walk home from work, and I recently rescued a baby goat.
FAVORITE BODY PART & WHY: Boobs 🙂 I used to hate them and wanted a flat drag queen chest, but recently have learned to love them (maybe a little too much) and use any opportunity to risk a good nip slip.
I GET MY INSPIRATION FROM: Rupaul's Drag Race, walking around the city, long drives
EXERCISE THAT MAKES YOU SHINE: Hiking
SOMETHING IN YOUR "WELLNESS TOOLBOX" YOU CAN'T LIVE WITHOUT: Supportive friends and avocados
GREATEST ACCOMPLISHMENT: Recently, I'm really proud of saving a baby runt goat from becoming tacos and finding him a safe home on a rescue farm.
FEMALE LEADER(S) YOU LOOK UP TO: Ilana Glazer and Abbi Jacobson
IF YOU COULD PICK ONE PERSON TO HAVE DINNER WITH, WHO WOULD IT BE & WHAT WOULD YOU MAKE THEM: Drake, and I'd probably get takeout from Nobu
GO-TO MANTRA OR INSPIRATIONAL QUOTE: you do you
MESSAGE YOU'D LIKE TO SHARE WITH OTHER HEALTHY CHICKS: the above mantra 🙂