When I traveled abroad in Italy the summer of my sophomore year of college, I was scared to death I'd gain weight by eating all the carbs and fat. To my surprise, I had lost about ten pounds and hadn't felt that good about my body in years.
One of the things that really stood out to me was their dedication to high-quality food, particularly the rich flavors of Extra Virgin Olive Oil (EVOO) doused onto nearly every meal — from caprese salads and pasta to ceviche and stir-fried veggies.
Since it clear I'm obsessed with EVOO, I was thrilled to partner with The Flavor Your Life campaign, whose mission is to educate US-based consumers to make informed decisions when purchasing European EVOO back at home. The campaign is supported by the European Union and Italy, and genuinely spreads the love and awareness around good quality, authentic olive oil, or as they like to refer to it as "liquid gold."
The Extra Virgin Olive Oil Difference
You hear Rachael Ray talking about EVOO all the time and maybe have it stocked in your cupboard, but what the heck does it mean anyway? Put simply, it's a fancy way of saying that the olive oil was pressed without the use of heat or chemicals. That leaves us with that fresh, pure flavor we've known to love. Score!
Another amazing perk is that it's pretty much got zero acidity — below .8% to be exact –whereas processed, lower quality oils contain higher level of acids. Did you know that experts actually test the oils for flavor standards and taste defects? They're looking out for authentic attributes such as fruitiness, bitterness and spice. If it's lacking, it actually won't receive the acclaimed "Extra Virgin" rating.
Lastly, one of my favorite things about EVOO is its high smoke point, making it the perfect ingredient for everything from salad dressing to stir-frying up seasonal veggies. Gotta squeeze in those healthy fats!
EVOO Storage, Cooking & Shopping Tips
We cook with EVOO all the time in our home, particularly for stir-fried greens, salad dressings, and sauces (like the Creamy Garlic & Ginger Tamari Sauce in my Bowl of Goodness.) It's super versatile, and I honestly don't know what we'd do without it.
When looking for a quality olive oil, note that European oils vary depending on the region they're from. Now that I've been to both Italy and Greece, I can totally vouch for this!
For example, while Italian olive oil is dark green with herbal, grassy notes, Greek oil has a stronger, bold flavor. Fun fact: I went to Greece for a good friend's wedding last year, and we enjoyed authentic olive oil, olives and figs harvested by the groom's family. 
For this pizza recipe below, I used Zucchi Sweet & Fruity Extra Virgin Olive Oil. I LOVE that the company is family-run by the Zucchi family, and is dedicated to using only the highest quality oils from olive growers they trust. In fact, every bottle is 100% traceable with a unique QR code. How freakin' cool?
Important note: be sure to store your bottle in a cool, dark place to maintain its integrity. (We keep ours in a dark cabinet above the stove in our kitchen.) Also, you'll want to seal tightly and use your oil ideally within six months of opening.
Chicken Sausage Pizza with Spinach & Basil Cashew "Ricotta"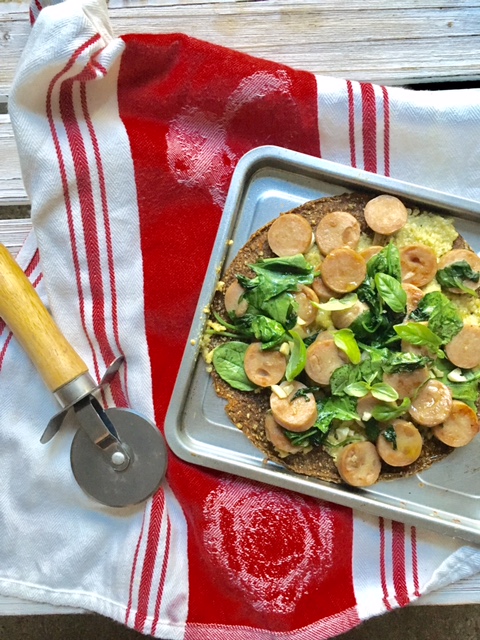 Ever since I cut out gluten and dairy when diagnosed with Hasimoto's (you can read why over here), I'd be lying if I said I didn't miss pizza…badly. 
That's why I came up with this healthy version, featuring paleo pizza crust, chicken sausage, a cashew basil "ricotta," and of course Extra Virgin Olive Oil.
Chicken Sausage Pizza with Spinach & Basil Cashew "Ricotta"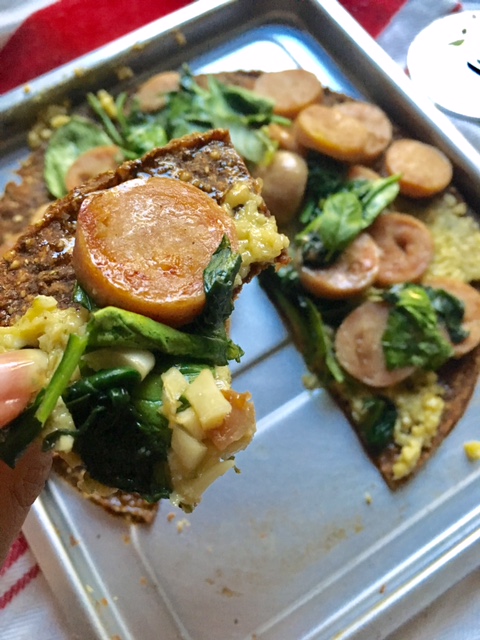 1 Paleo Pizza Crust from WrawP
1/4 c. homemade Cashew Basil "Cheese" (Get the recipe here.) Note: Blend in 1 TB of EVOO for a flavor boost! 
Handful fresh baby spinach
2 chicken sausages, sliced (I used Trader Joe's Sweet Apple)
1 TB Zucchi EVOO for drizzling on top
salt & pepper to taste
Fresh basil (it's used in the "cheese," but save some for topping pizza)
2 cloves garlic, chopped (in addition to garlic in cashew "cheese")
Make the cashew basil cheese in a food processor or blender according to recipe. Set aside. In the meantime, cook up 2 sliced chicken sausages in olive oil on medium heat, adding in spinach and garlic once sausage has started to brown.
Top paleo pizza crust with the cashew "cheese," until all of the crust is covered. Then top with the sausage, spinach & garlic mixture. Drizzle EVOO on top.
Bake in toaster oven or conventional oven for about 5 minutes, or until the "cheese" starts to melt a bit. Be sure note to burn the crust. Slice & enjoy!
I collaborated with Moms Meet & Flavor Your Life campaign for this post, and received free product. As always, all opinions are my own and I take great pride in the quality brands I choose to partner with.