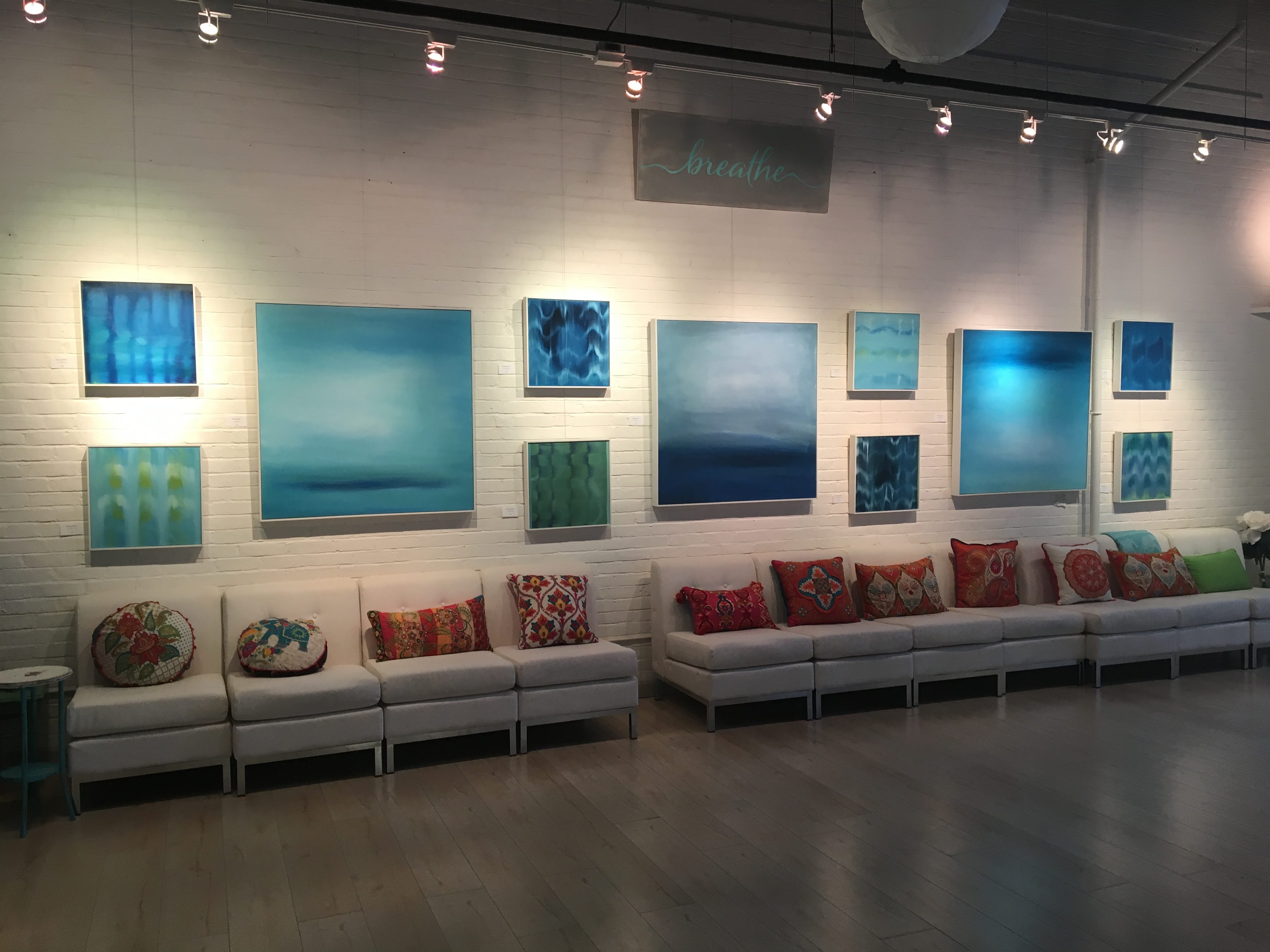 SheBreathes Balance & Wellness Studio, Walpole, MA 
I've written about this before on the blog, but for those of you who don't know I made some pretty massive life changes about a year ago. Within a couple months, I quit my full-time job, dove full force into the whole "work from home" thing, and moved out of the city of Boston to the good ol' suburbs of Massachusetts.
Suddenly, this city chick had to get used to the fact that I couldn't just walk down the street for a cup of coffee, go to all the cool city networking/fitness/foodie events my little heart desired, and take the T or an uber anywhere I wanted. Oh, and then there was the whole getting a car thing…what even is that?!
Don't get my wrong, we wanted to move and it was super intentional. In fact, to be honest, I think it was needed for my own sanity. My body was screaming at me to "Slow down!" and finally I decided to listen to it, and a move out of the city was a part of that lesson. But just because this is what we wanted doesn't mean it was easy.
I struggled the first few months of the move with feeling pretty isolated and lonely. Coming from a super demanding marketing position and being a blogger in the city, my schedule was packed with events and I worked nearly every weekend. While I definitely didn't miss that, my heart deeply longed for that sense of connection and community that came so naturally to me in Boston.
That's when I discovered SheBreathes Balance & Wellness Studio, a women's empowerment space in Walpole, MA designed to bring like-minded gals in the wellness industry together. From yoga and meditation to self-care workshops and belly-dancing, SheBreathes offers up everything I had been craving and more, but most importantly that sense of tribe.
Since I joined last September, I've taught journaling workshops, Essential Oils 101, and even sell my Spark Your Bliss affirmation cards there! But more than anything, what I've gotten out of this collaborative is that special connection with other amazing, shining women. Founder Jennifer Gulbrand is one of the many friendships I've made at the studio, and I'm honored to feature her on the blog today — as part of the weekly Healthy Chicks in the Community series –for you to see what a special, magical place SheBreathes truly is. I'll let Jenn take the floor from here!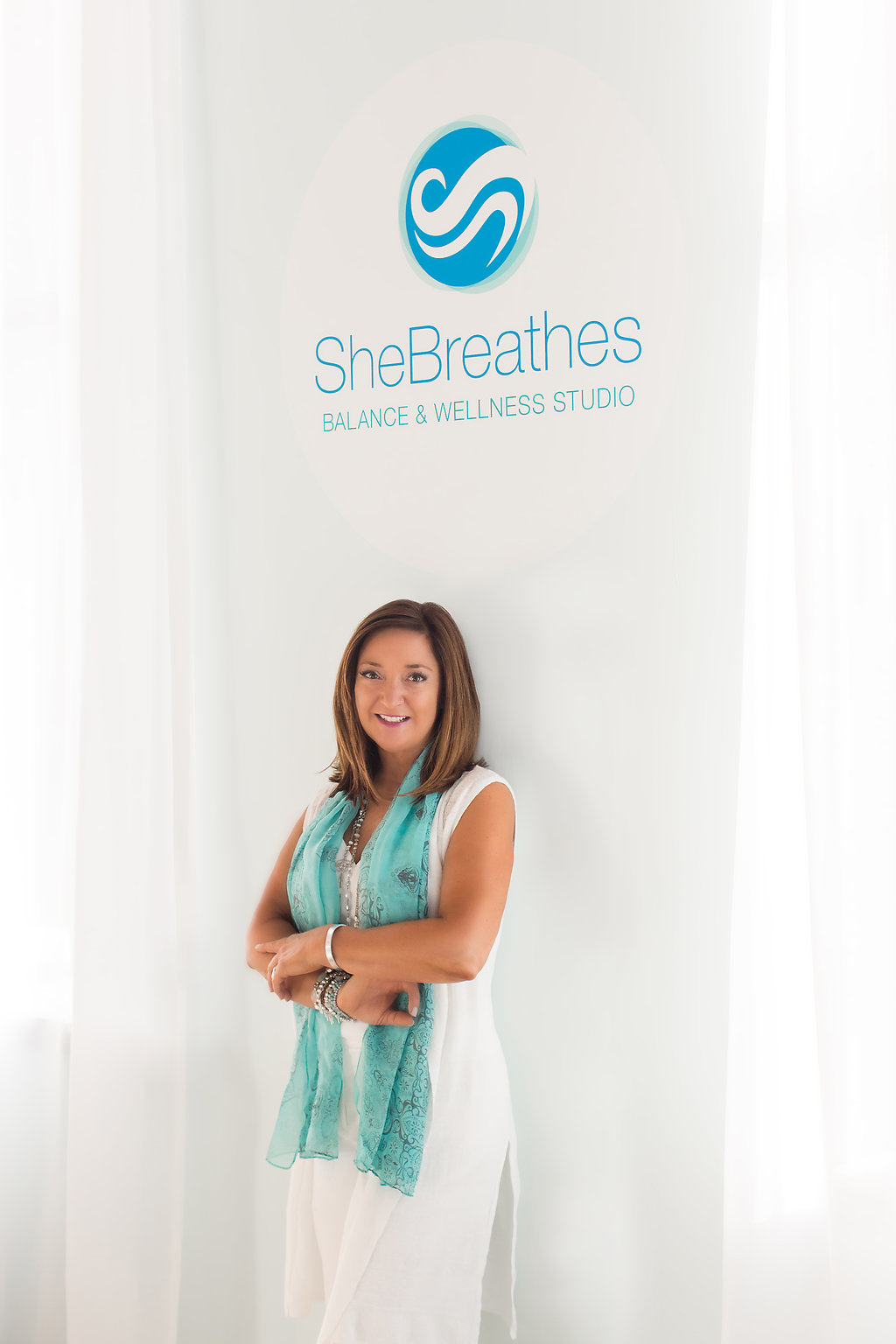 NAME: Jennifer Gulbrand
DESCRIBE YOUR BUSINESS/LINE OF WORK: I am proud to have followed by heart and launched SheBreathes Balance & Wellness Studio last September. It's been a long- time dream of mine to create a women's empowerment, education and advocacy initiative dedicated to the complete renewal of women in body, mind and soul. Women today are programmed to nurture and care for others, which is a wonderful thing! But at times, we deplete our energy by sending all of it outward, often neglecting our own needs. At SheBreathes, we tap into our feminine energy to encourage women to "learn to receive" – put themselves back on the list – and grant themselves permission to practice self-care, find their center, and accept goodness and possibility into their lives.
WHERE YOU LIVE: Born in the Midwest but currently live in Walpole, MA.
HOW YOU SERVE THE COMMUNITY THROUGH YOUR WORK: Creating SheBreathes was my way of supporting a modern evolution of the women's movement. We offer the venue and opportunity for sisterhood and support, while giving back to one another and to our community.  When women come together, we can move mountains!
NUMBER ONE PASSION OUTSIDE THE JOB: I don't consider running SheBreathes a job; it's my true passion to be committed to reminding women of all ages and backgrounds to lift one another up personally and professionally. That's when the magic happens.
INTENTIONS/GOALS YOU HAVE FOR YOURSELF IN THE NEXT 3 YEARS:
1. Open SheBreathes Studio's around the country so we can spread our mission of offering love, acceptance and support around the country.
2. Live near the ocean and write for enjoyment.
3. Live a balanced, healthy existence with people I love & respect.
ONE PIECE OF ADVICE YOU'D TELL YOUR CHILDHOOD SELF: You are MORE than enough just the way you are. Stop doubting yourself. Take a deep breath and jump feet first into your dream.
FOODS THAT MAKE YOU FEEL ALIVE & BRING THE MOST JOY: Anything green and fresh…but I also like salty popcorn and a good red wine.
SONG THAT MOVES YOU: I love SO many types of music and it totally depends on my mood. But recently discovered a performance by India Arie, "I am Light" and it really spoke to me and the work we're doing.
I am light, I am light
I am not the things my family did
I am not the voices in my head
I am not the pieces of the brokenness inside
I am light, I am light
I'm not the mistakes that I have made or any of the things that caused me pain
I am not the pieces of the dream I left behind
I am light, I am light
I am not the color of my eyes
I am not the skin on the outside
I am not my age, I am not my race, my soul inside is all light
All light, all light
I am light, I am light
I am divinity defined
I am the God on the inside
I am a star, a piece of it all
I am light
THREE FAB THINGS ABOUT YOU:
Mom on a mission to create a better world for our daughters
Late blooming Yogi on a life-long spiritual journey to find zen.
Warrior Goddess following my dream to give back to all the women who inspired me to stand up for what I believe in.
FAVORITE BODY PART & WHY: My eyes…they still sparkle after 5 decades.
I GET MY INSPIRATION FROM: Other incredible women – my soul sisters – who are standing up and speaking out to embrace positive change and make the world a better place.
EXERCISE THAT MAKES YOU SHINE: Yoga and long walks on the beach
SOMETHING IN YOUR "WELLNESS TOOLBOX" YOU CAN'T LIVE WITHOUT: My morning smoothie, meditation, a journal, and loads of coconut oil.
GREATEST ACCOMPLISHMENT: Being a Mom
FEMALE LEADER(S) YOU LOOK UP TO: There are so many badass women who inspire me — Elizabeth Warren, Michelle Obama, Malala Yousafzai, Ellen Degeneres, Meryl Streep, Sheryl Sandberg, Maya Angelou, the list goes on and on. But really it's the everyday ordinary women with whom I stand side-by-side every day that impact me most. It's the relationships with these women that I am most grateful for.
IF YOU COULD PICK ONE PERSON TO HAVE DINNER WITH, WHO WOULD IT BE & WHAT WOULD YOU MAKE THEM: Michelle Obama – she is the bomb! My guess is we'd go out because I don't cook 😉
GO-TO MANTRA OR INSPIRATIONAL QUOTE: "Your Vibe Attracts Your Tribe" is top of mind for me these days.
MESSAGE YOU'D LIKE TO SHARE WITH OTHER HEALTHY CHICKS: Learn to love and accept yourself just the way you are!  Make your own self-care your #1 priority. It's not selfish. You will be able to serve others more fully if you are loving yourself in the process.  Beautiful Rachel, you're an inspiration to all of us – keep up the authentic work you're doing to educate young women about health & wellness. I'm honored to call you my Soul Sister.
Thank you Jennifer for taking part in this week's Healthy Chicks in the Community series! Be sure to check out the beautiful She Breathes space here, and reach out with any questions!