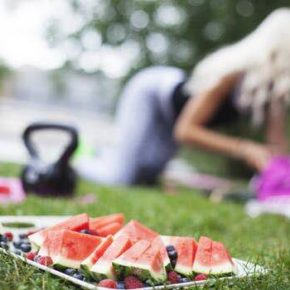 All the magazines and trainers are talking about losing 10 pounds for the summer and getting that "Bikini Body," and quite frankly I find it super annoying. Meanwhile, I'm over here like, "How can I FUEL my mind, body and soul this summer?"
Don't get me wrong, I get it and didn't always have such a carefree attitude about summer. I used to live a life of deprivation, where I counted calories, avoided bathing suits like the plague and restricted myself from having "too much fun" by skipping margarita night and going out with friends.
Blah. Is there even such a thing as too much fun?
There comes a time when dinner parties with friends, adventures to the beach and seeing how many minutes you can hoola hoop without it falling to the ground becomes so much more gratifying than obsessing over cellulite, the calories in your Caesar salad and how many minutes you can squeeze in on the elliptical.
This past weekend, I went camping, hoola-hooped my butt off (and was actually really good, and seriously now want one for my 30th birthday), ate salmon straight off the grill and sipped on a vodka seltzer in a pink solo cup with a fresh strawberry around the rim. 
I felt NOURISHED. I felt FREE. I felt ALIVE.
I thought, "This is what summer is supposed to feel like." After all, summer is the season of love, self-expression and buzzing, vibrant energy.
That's why when my Soul Sistah Kelley and I run our seasonal self-care challenges it's more than food and working out. It's about PLAY, PLEASURE and SELF-EXPRESSION too. Oh, and did I mention we'll all be pampering ourselves with FarmHouse Fresh Goods guac star avocado facials for our Summer Challenge? Um, yes please.
Our Summer Challenge starts 7/17. Sign up & get more info here.