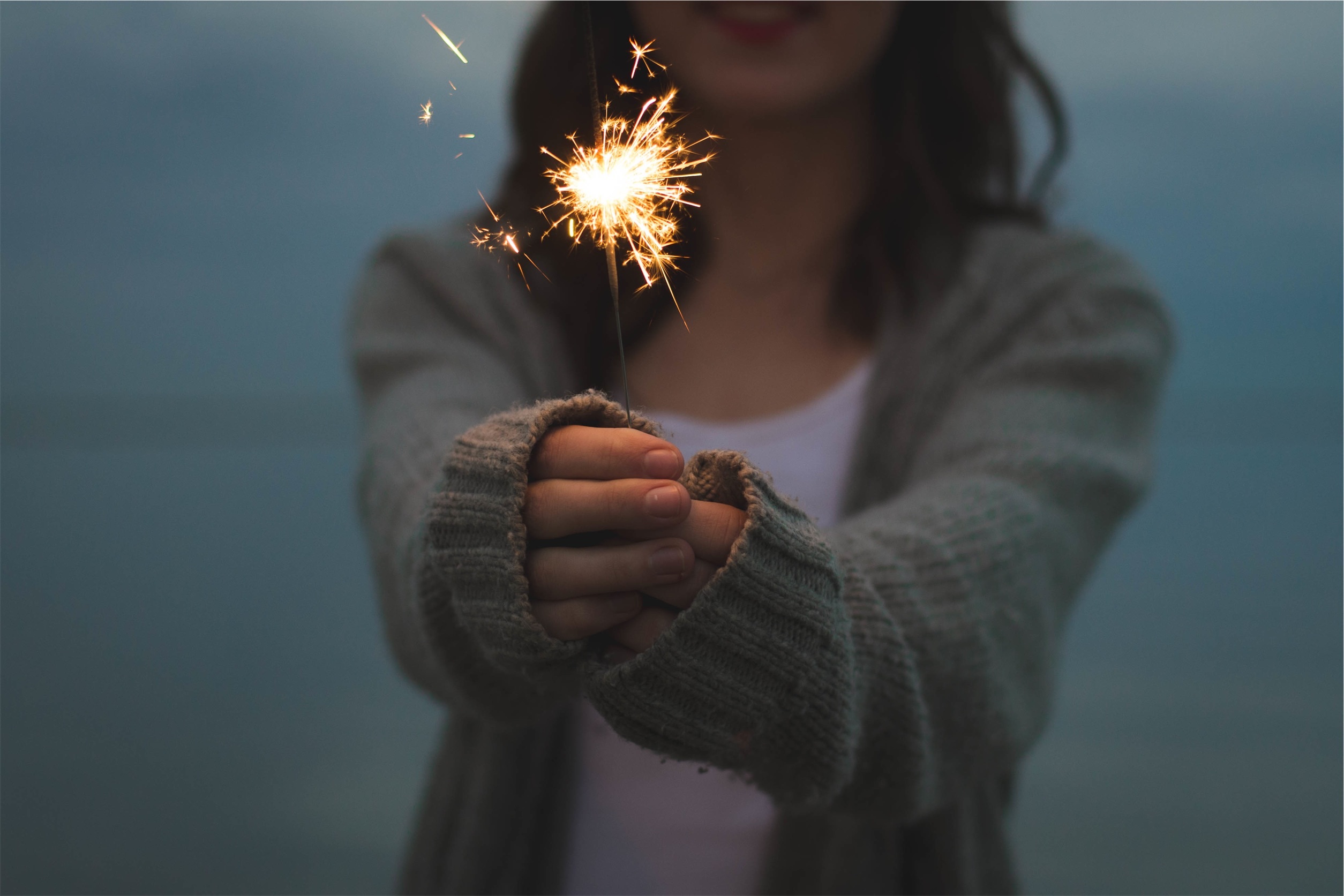 "New beginnings are often disguised as painful endings" – Lao Tzu 
It was the Fourth of July, the day before my 30th birthday, and I was with my family celebrating and watching the fireworks at our happy place in New Hampshire. Beautiful colors burst through the dark sky forming different magical shapes — my favorite being the "weeping willow." My mom reached over and held my hand tightly, and said "I was just thinking 30 years ago today I was in the hospital watching fireworks about to give birth to my little girl."
My eyes began to swell with tears, not just because of what my mom said but also because I knew this would be the month — the month we were pregnant. We had been trying for five months now, and I just knew this was it. I felt it.
The next morning, I got up bright and early on my 30th birthday so I could sneak into the bathroom and take a test while the rest of the family was still asleep. While hubby showered, I sat their on the toilet waiting for the long, slow three minutes to go by. At three minutes, I lifted the washcloth I had covering the stick to see blank white. Negative.
"Wow, not even a glimpse of a line," hubby said let down but with a smirk. I laughed, but inside I was hurting. Another month of nothing. 
I cried most of the way home that day all the way from New Hampshire to Massachusetts, and when I ran into some friends who asked me how my birthday was the next day, I cried again. "Being 30 sucks!" I said dramatically to my husband as we headed to our best friends for a home-cooked dinner.
After a few more days of sulking, I realized my period never came, even though I felt it coming. I had my usual light spotting, sore boobs and of course monstrous PMS. I tried to forget about it by buying some new plants for the home, cooking hubby some dinner and cleaning out the apartment.
When the next morning came and still nothing, I took the last over-priced pregnancy test "for fun" even though I already knew the answer too well. Within seconds, I saw two bright pink lines appear. Pregnant. In disbelief I ran into our bedroom screaming to hubby, waking him from a deep sleep, "You're going to be a dad! You're going to be a dad!" Hubby was excited but cautious, reminding me he wanted to protect my feelings in case something went wrong.
"Trust me," I said. "We're having this baby. And even if you don't fully believe it, I need you to believe it for me." I obviously knew the risks, but I had to think positively. It was the only way to keep my mind at ease. When the doctor gleefully called me the next day, saying "Well, you're definitely pregnant, congratulations!" we believed it a little more. She also scheduled out my first ultrasound, discussed the estimated due date (March 16th), and gave me the rundown on what to expect. It suddenly became real.
The whole week, I avoided my parents like the plague because I wanted to tell them in person on 7/21 (our family's lucky number), which also happened to be the day before my big 30th birthday bash. Hubby and I talked about our favorite baby names, laughed about my crazy hormones (seriously, that kicks in soon!) and even picked up the book "What to Expect When You're Expecting" staring right at us at a free library stand. I thought it'd be a boy, while hubby guessed girl, as we stayed up late chatting under the stars. All the signs pointed to this is really happening, and we were beyond ecstatic.
We just didn't realize how quickly that feeling would be taken away from us.
At around 4:00 a.m. later that week, I woke up to go to the bathroom and felt sharp cramps. When I wiped, I saw a little speck of blood, and while I knew this could be normal, deep down I already knew what was happening. The next two hours I was up tossing and turning, the pain becoming a bit more severe and now bleeding heavier. I was crying so hard that I could barely breathe, while hubby held me tight, gently telling me "It's going to be OK. You are OK."
While I lay there in agony, all I wanted to do was talk to my mom, and so I waited until 7:00 a.m. to call her. She made me laugh and cry and laugh and cry but especially laugh when she asked me if I ate anything then said, "You should go eat some blueberries."
The triage nurse had me go in for bloodwork right away, reassuring me this could go either way even though in my heart I knew what way it was going. And later that day she called me back to tell me my levels have dropped to a 24 which is extremely low and that the doctor presumed it to be a very early loss. My heart sank, and I cried the few tears I had left in me and just laid there frozen.
Early loss. 
Was it my fault?
Could I have done anything differently?
Was it that glass of wine I had last week before I knew?
Could I have prevented it if my thyroid was healthier? 
Why me?
Why does my body keep failing me? 
I was dumb to get so excited over this so soon, I should have been more "practical."
Where do I even go from here? 
The conversations I had in my head were endless and for the first time in my life I felt truly heartbroken. I stayed in bed most of the day, and the following day didn't get out of the house until I had to go shoot some photos for work. I smiled and was my usual perky self, but inside I felt this emptiness as I kept the big Dark Secret to myself.
As I opened up about it to some family and close friends, I started to realize miscarriages are way more common than I had thought. Even women I look up to with seemingly perfect lives and families revealed these secret stories of loss that I never would have known.
During this time of grieving, I began to experience an extreme feeling of gratitude for all that I do have, mostly for the fact that my body can get pregnant and knows what to do, and that I am blessed with an amazing, patient husband who I had never felt closer to than now. I made sure to keep up with writing in my gratitude journal even on days where I could barely get out of bed:
7/13 knowing I CAN get pregnant, and for being able to work from home during this tough day, also for hubby bringing home a new plant and Thai food
7/14: a full night's sleep
7/15: coffee and Jay's homemade breakfast
7/16: working for myself, Brigg's coffee, and our patio almost being finished
7/17: kicking off our challenge, my dad & I both finding a white feather and jumping in the pool with Kelley
I have also been filling my time with major self-care including:
meditation
affirmation cards especially my Spark Your Bliss deck and Doreen Virtue's Goddess Guidance Oracle Cards (Fun fact: I pulled the Ending and Beginnings card twice the days following my miscarriage. "The old must be released so that the new can enter.") 
At-home facials and essential oils
Cooking
Reading: I scooped up Firefly Lane at the library, and it's been refreshing to read some fiction since I've been so in my head lately
Talking with friends and family whenever I start to feel sad
Going to bed earlier for a good night's sleep
As the week went on and I took time for myself, I slowly began to heal (and still am healing). At the same time, it also seemed as though suddenly everyone I knew — from friends to strangers — was pregnant, and while of course I was over-the-moon excited for them, I had this pit in my stomach of That could have been me. That was me. 
Ever since this first happened to me two weeks ago, I've been wanting to write about it but not sure how. In fact, I haven't been able to write anything else since then as this has been weighing so heavily on my mind.
At first, I was going to wait until I was happily pregnant again or had a healthy baby. I also hesitated because then the whole world would know we're trying to get pregnant, it may make grandma upset, and my loss was so early (only 5 weeks) when I knew women who have had more serious losses. But then I realized I don't care who knows, I in fact had a beautiful conversation with my grandma who opened up to me about her own miscarriage, and this was my story and any loss is a loss.
As I contemplated what to do, a good friend encouraged me to share my story now. "Everyone always waits until after they get their happy ending, but think about how many other women this very minute are going through the exact same thing." 
He had a good point, and the truth is I knew in my heart that I was meant to share this story and that I had to share this story — for me, for other women. Because the thing is, you are not alone and this is not your fault and there is nothing wrong with you. It's all just a part of your bigger story, your next chapter, your new beginning.
As I am about to hit publish, I feel a sense of relief and look over to see a white feather (my sign) carefully placed on the carpet under our couch. While I don't really know what to expect from the future or what's next, I know in my heart it's going to be OK, I am being watched over and I have a whole lot of love in my life. That's for sure. And so I choose to trust in the process — the universe, my body, everything. I know it's on my side (and yours too).