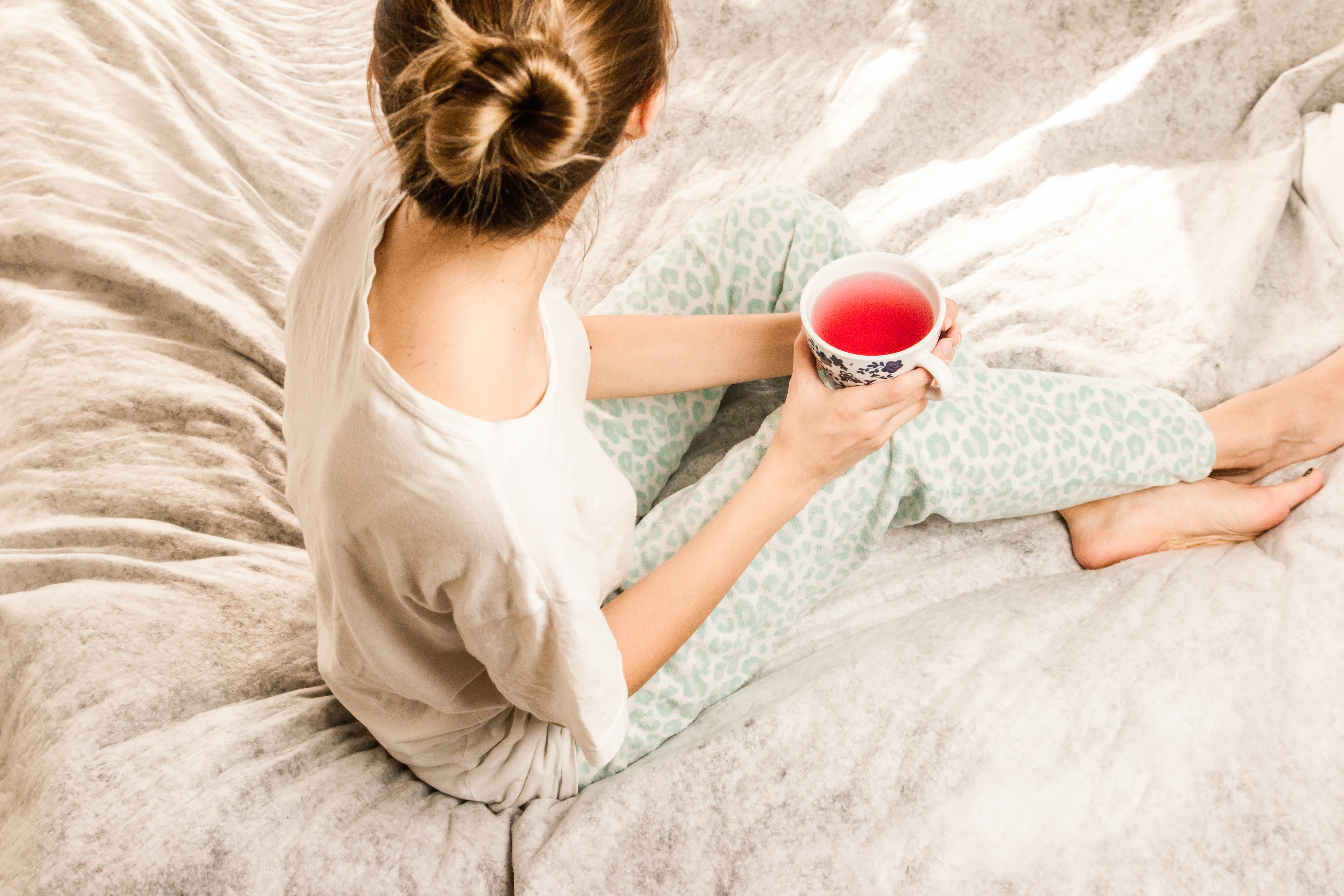 Let's have some real talk for a minute: How do you spend your final two hours before bed? 
Do you watch Netflix?
Are you up late working on your computer?
Texting your friends?
Social media stalking?
Are you stressed out? Rejuvenated? Tired? Energized?
Do you fall asleep easily or does it take some time?
Do you feel your best self?
If you asked me this question a couple months ago, my answer would have been completely different, and I would have sheepishly said "yes" to the first four questions. In realty, my evenings were spent zoning out with my husband binge-watching Netflix episodes, while simultaneously finishing up work, checking my instagram and texting my friends the latest and greatest.
To be completely honest, it didn't feel good. My "evening routine" was actually pretty darn draining, and that's so not what we want right before bed.  
With a little bit of trial and error and listening to my body, I have developed a new routine that works for me. Below I outline my evening ritual, which you can feel free to pull from to get started on your own!
7 Evening Ritual Tips for Mindful Sleep
1. Play With Essential Oils + Create an At-Home Spa
I love lathering up with products infused with essential oils like Organic Bath Co.'s PeaceFull Body Butter or their Stress Less Body Oil. Lately, I've also been loving Malaya Organics Woods Body Oil which contains rosehip oil, lavender and chamomile to name a few, all perfect for relaxation. Sometimes I'll just breathe in lavender essential oil, keeping it by my bedside to help me fall asleep.
If you'd like to take it to the next level, turn your home into a spa by giving yourself a facial! If I sense a breakout coming on, I love Aztec Secret's Indian Healing Mask made with Bentonite Clay. I mix it with half filtered water and half apple cider vinegar to really cleanse the pours. While I'm waiting for my mask to dry, I like to light a candle or some incense and breathe to really set the scene. Follow the mask with some jojoba oil or healing face oil of choice!
2. Get Back to reading
Remember how joyous reading was as a little kid? There's a reason parents read bedtime stories to their little ones: it puts them to sleep and helps them relax! Same holds true for adults. Take a trip to your local library and scoop up some books that speak to you. Lately, I read Firefly Lane, Big Magic, and I'm in the midst of White Hot Truth and You are a Badass. Get some reading inspiration from this list!
3. Pull an Affirmation Card + Journal it Out
Affirmation cards are clearly a big part of my life, so much so that I even created my own affirmation card deck for women, Spark Your Bliss. I'm also a big fan of Doreen Virtue's Goddess Guidance Oracle Cards, which are always spot on. I like to pull a card, then reflect on it in silence or spend some time journaling. Spark Your Bliss is perfect for those getting started as each card has its own journaling prompt to inspire you! Keep it by your bedside for daily inspiration to start and/or end your day.
4. Be a Little Crafty
Another fun way to relax is to get a little crafty. Spend some time sewing, writing or creating something. I love adult meditative coloring books, which act as a form of meditation while also allowing you to unleash your creativity.
5. Amp up your Melatonin
To amp up your melatonin production which enhances peaceful sleep, try taking a shot of tart cherry juice before bed, a juicy tip I learned from my Parsley Health coach Elisa of Culinary Farmacy. This helps balance your hormones for a more restful sleep, and tastes pretty good too! On this note, I also enjoy a cup of Yogi herbal ginger tea before bed to cozy up and help with digestion.
6. Spend Some Time in Nature
For my 30th birthday, my husband jazzed up our porch area to make it more relaxing and homey — complete with pretty lights, succulents, herbs and a DIY lounge chair made out of pallets. When the weather cooperates, we love laying out there at night looking at the stars and catching up on our days! Long walks after dinner, tennis or any other outdoor activity can also help you wind down before bed.
7. Practice Meditation + Listen to Calming Music
Over time, meditation has become part of my daily practice. Lately, I've been absolutely loving the Expectful app, which has guided meditations for fertility, pregnancy and the journey through motherhood. You can choose between 10 to 20 minute meditations, with different themes like overcoming fear, joy, gratitude and sleep. This app has been a total game-changer in my life, and I've grown to truly adore that special time for myself.
Not pregnant or looking to get pregnant? Try Headspace, Calm or simply taking 5 to 10 minutes for yourself either in silence or with a soothing Spotify playlist.
With just a few minor shifts, I now go to bed feeling inspired, relaxed and full of good vibes.
After all, what we do in those final hours before bed has a huge impact on our sleep, energy and overall wellness! If we're constantly tuned into all this outside noise (i.e. Facebook, iPhone, TV, etc.) how can we possibly tune into ourselves?
Proper sleep also re-sets our hormones and is vital for optimal wellness. The benefits go on and on! And it all starts with taking some time for yourself to unplug. Oh, and full disclosure: some nights are still spent watching Netflix with hubby, and that's totally OK too. It's not about perfection, it's about making strides and feeling your best self.
Now it's your turn! Take a moment to get real about what your current evening ritual looks like, then think about what you'd want it to look like. You can start today!