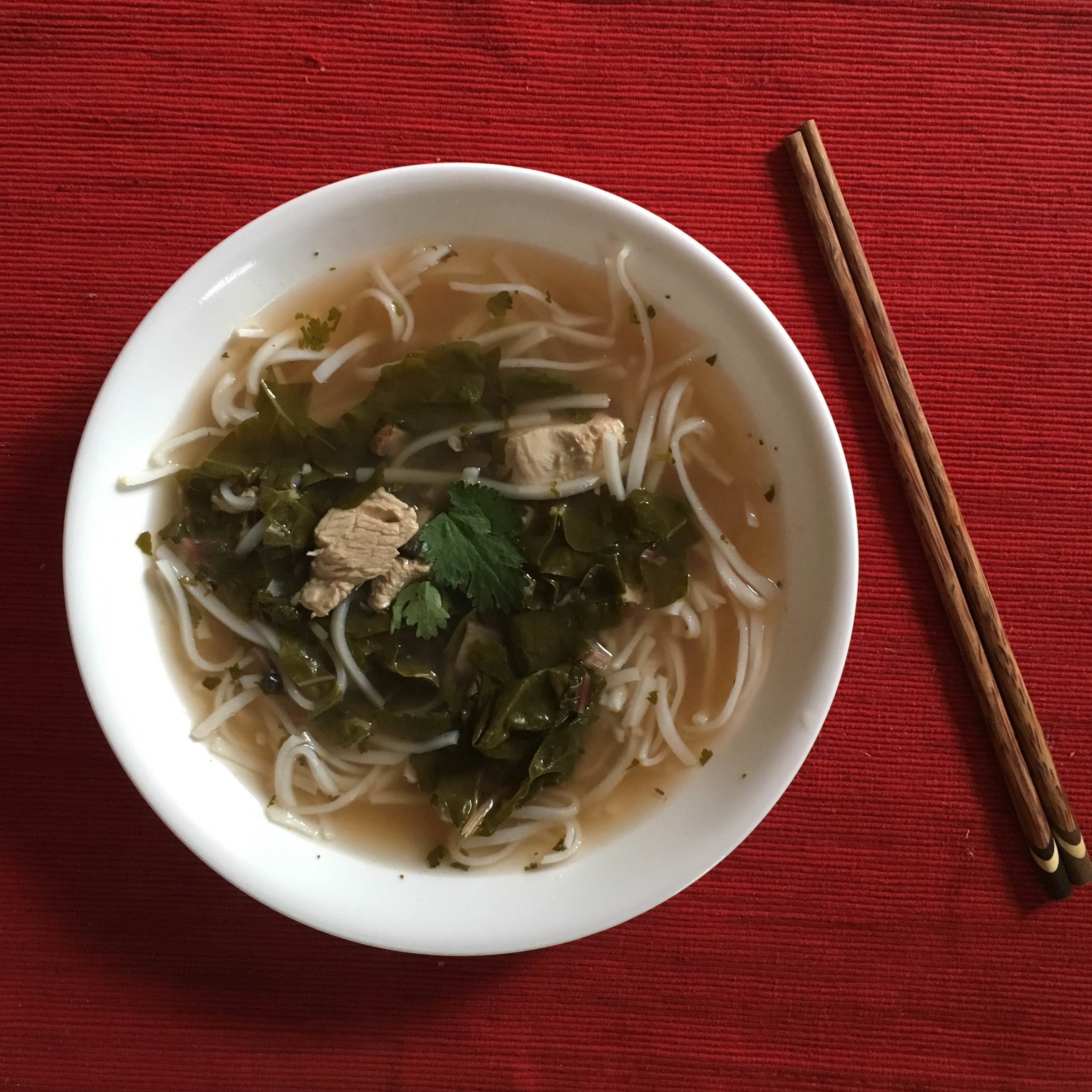 OK, don't get mad at me but I've been ready for fall for like a month now.
While everyone else is soaking up the last bit of summer, I'm over here scooping up pumpkins and playing around with hearty, autumn recipes in the kitchen.
And now that the first day of fall is officially tomorrow, I think that lets me get away with sharing this super cozy, Thai soup recipe. My husband and I absolutely love this chicken soup from our local Thai restaurant, but unfortunately they're not 100% clear on the ingredients and the jury is still out on whether it's really gluten free or not. Unfortunately, that means I have to avoid it to be safe.
On a cooler, rainy night this week, I was craving Thai food in a big way. That's when I got the genius idea of attempting to make it myself. And that I did!
This Thai Chicken Noodle Soup is perfect for cozy fall evenings, or when you sense a bit of a cold coming on. It's super simple to make, flavorful and packed with healing, heart-warming ingredients good for the bod and soul.
I hope you enjoy it as much as I do. In fact, I've eaten it three days in a row now!
Thai Chicken Noodle Soup
1 package organic, free-range chicken, cut into small cubes
1 box Thai rice noodles
4-6 c. organic, free-range chicken broth
bundle of dark leafy greens of choice, chopped (I used Swiss Chard)
1 package portobello or shiitake mushrooms
heaping handful cilantro, chopped
juice of 1 small lime
3-4 cloves garlic
thumb sized piece of ginger root
1 TB Red Curry Paste
2 TB fish sauce
Bring chicken broth and ~ 4 c. water to a boil in one pot. While waiting, finely chop garlic and ginger by hand or with a food processor to simplify.
In a separate pot, bring water to a boil. Once boiling, remove from heat, add rice noodles and let sit for about 8 minutes. Rinse, drain, and set aside.
Once broth is boiling, add in cubed chicken and boil on high for one minute. Bring heat to medium, and add in lime juice, garlic, ginger, mushrooms, curry paste and fish sauce. Cook for another 10 minutes or so, stirring occasionally.
Bring to low heat, and add in chopped leafy greens and cilantro. Cook for another 1-2 minutes, or until greens are cooked through.
Serve atop rice noodles, and garnish with leftover cilantro.