Happy Friday, ladies and welcome back to Healthy Chicks in the Community, a weekly series highlighting rockstar Girl Bosses doing their thang in the wellness community!
One of my favorite things about what I do is that I get to connect with strong, beautiful, like-minded women on the day to day. It was such an honor to meet one of my instagram buddies Aileen (@aspirewithaileen) IRL at a women's conference last month. We instantly connected, bonding over our love for wellness, real food and sushi. When she asked me if I wanted some warm water with lemon at lunch, I knew we'd be besties 😉
I'm thrilled to feature this beautiful holistic career coach today on the blog, whose mission is truly about helping other people. Be sure to check out her BRAND NEW career coaching program here to help you discover a job your passionate about, or schedule a free consultation with her. I'll let Aileen take it from here!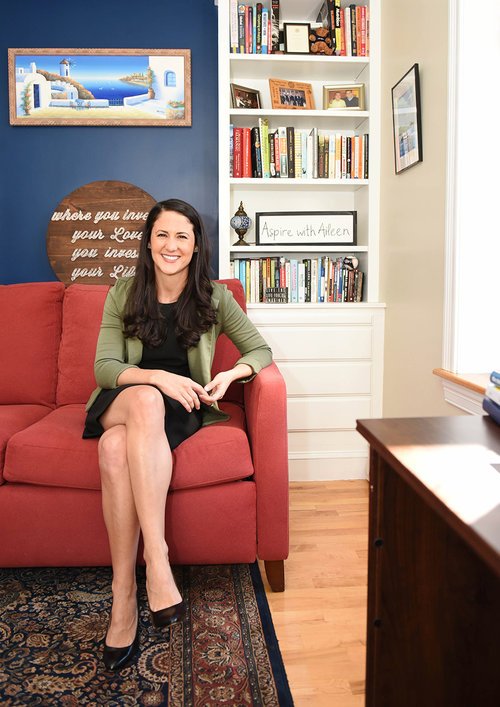 [photo credit: Pure Style Photography]
NAME: Aileen Axtmayer
DESCRIBE YOUR BUSINESS/LINE OF WORK: I'm a holistic career coach who helps people find work they love. I have over 10 years of experience helping people with everything from getting clarity on what job/track they want to pursue to navigating the job search process to land it.  Over the years, I noticed that one of the most common barriers my clients experience in achieving happiness in their careers and success in their job search is the struggle to manage their stress and energy levels. To better help my clients, I complemented my Master's in Counseling from Northeastern with an Integrative Nutrition Health Coaching certificate and 200-hour yoga training.
With these tools, I help exhausted professionals restore their energy so they can feel like their best selves and do more of what they love. I believe that happiness in our careers can make us healthier, and, being healthier can enable us to thrive in our jobs.
WHERE YOU LIVE: After being a resident of Boston's North End for 10 years, we did the 'burbs move and I'm now in Natick, MA.
HOW YOU SERVE THE COMMUNITY THROUGH YOUR WORK: My business is completely centered around helping people: it's guiding people towards finding work they love and helping them manage stress and take better care of their bodies and minds through incorporating holistic wellness and yoga principles.
When we're dissatisfied in our work or not feeling comfortable in our skin, it often permeates other areas of our lives including our relationships. We may not be as kind to ourselves and each other when we're spending our days living out of alignment. In this sense, I serve the community at large by helping people have better relationships with themselves so they can have more energy to foster better connections with others.
NUMBER ONE PASSION OUTSIDE THE JOB: Spending time with the people I love – to me, in the end, that's what it's all about!
INTENTIONS/GOALS YOU HAVE FOR YOURSELF IN THE NEXT 3 YEARS: One goal of mine is to practice more of what I preach: I need to be more intentional about slowing down, doing yoga, and checking in with what my body and mind need instead of getting caught up in the everyday hustle. Another goal is to grow my business to be able to serve more people, since we spend so much of our time at work and so many people are unhappy in their jobs. One way I'm excited to do this is through the new holistic online career coaching program I'm launching this month!
ONE PIECE OF ADVICE YOU'D TELL YOUR CHILDHOOD SELF: I'd tell myself that it's okay to change my mind or deviate from the path I started on, and that doing so is simply part of the process of self-knowledge and growth. I studied elementary education in college and knew in my gut it wasn't the right fit, but waited until senior year (and completing all of the coursework!) to finally acknowledge it to myself and have the courage to make a change. Change can be scary, but fear isn't a sign that something is wrong, just that it's big!
FOODS THAT MAKE YOU FEEL ALIVE & BRING THE MOST JOY: Oooo I love this question, even though it's so hard to be concise in my answer! I'd say sushi is one food that brings me the most joy, as I find myself doing a little food dance every time I'm eating it. I also enjoy finding/creating more nutritious versions of "comfort" or "junk" foods. I love showing people, myself included, that food can feel celebratory and taste decadent while still fueling both your mind and body.
SONG THAT MOVES YOU: Fix You – Coldplay. It brings me back to when my older brother was declared in remission after battling cancer and it gets me every time!
THREE FAB THINGS ABOUT YOU:
I have a positive outlook and am very playful, while still being professional and in touch with reality. I share that energy with my clients and notice how impactful it is when they're going through challenging situations.
I'm resilient, and have used the hard things life has thrown me to learn more about myself and to try to inspire others.
I'm a good listener, and love sitting and actively listening to peoples hopes and fears without judgment (a rare experience in these days of multi-tasking!).
FAVORITE BODY PART & WHY: I've been told I have "expressive eyes" and after watching some of my own career videos I now get it! This is my favorite body part because I really look at people when I'm with them – I pay attention and am present and open, and I think people can feel that genuine connecting for themselves when we make eye contact.
I GET MY INSPIRATION FROM: So many places, but mostly from my clients. Whether someone comes to me because they're finally ready to make a change in their job or they're sick of letting stress run their lives, their courage to show up for themselves and make a change is SO admirable. It's hard work, and it encourages me to push myself and face challenges head on like them.
EXERCISE THAT MAKES YOU SHINE: Yoga! I truly feel that I'm a better person after I practice. Moving on my mat is something I crave, whereas with other exercise, it's more of a feeling of needing to check the box. One lesson I wish I'd learned earlier in my life is to do movement that feels good and not just what I thought I "should" do.
SOMETHING IN YOUR "WELLNESS TOOLBOX" YOU CAN'T LIVE WITHOUT: Warm water with lemon! Even when I travel I can't go without this simple but powerful tool.
GREATEST ACCOMPLISHMENT: It may sound cheesy, but I'd say it's my marriage to my husband. I'd had many experiences that could have led me to completely shut myself off from being vulnerable and opening myself up to a healthy relationship. Fortunately, my commitment to resiliency coupled with meeting a kind, loving, and patient partner led us to where we are today.
FEMALE LEADER(S) YOU LOOK UP TO: Two that come to mind are Ariana Huffington and Sheryl Sandberg. I love that Ariana is advocating for a sleep revolution to counter our culture of over-working and under-prioritizing our health and basic human needs. As for Sheryl, I admire her commitment to helping women achieve their goals and the encouragement and tools she shares in her book Option B: Facing Adversity, Building Resilience, and Finding Joy.
IF YOU COULD PICK ONE PERSON TO HAVE DINNER WITH, WHO WOULD IT BE & WHAT WOULD YOU MAKE THEM: Another killer question! I'd have to say my gut reaction is my late grandmother, Nanny, and I'd sneakily make a healthy version of her favorite, Key Lime Pie (and I'd probably make a less nutritious version too in case she could taste the difference!).
GO-TO MANTRA OR INSPIRATIONAL QUOTE: This has been my favorite inspirational quote and personal mantra since middle school:
"To laugh often and much; To win the respect of intelligent people and the affection of children; To earn the appreciation of honest critics and endure the betrayal of false friends; To appreciate beauty, to find the best in others; To leave the world a bit better, whether by a healthy child, a garden patch, or a redeemed social condition; To know even one life has breathed easier because you have lived. This is to have succeeded." Ralph Waldo Emerson
MESSAGE YOU'D LIKE TO SHARE WITH OTHER HEALTHY CHICKS: If you don't like the way you feel, whether it be in your work or in your skin, know that you have the power to change that and support is within your reach. You know yourself best, so whenever in doubt, try to create space in your life to slow down and check back in with your intuition- it knows more than you think! It may feel like it, but it's truly never too late to ignite change, and prioritizing your happiness is always worth it.