Happy Fri-YAY ladies! I'm extra happy today, as I just got my most recent thyroid bloodwork back, and I'm happy to report my levels have pretty much normalized. I'll likely write a detailed post on this soon, but for now you can catch my instagram stories for the latest updates or read this and this post for the background on my journey with Hashimoto's.
Since it's Friday, we're back for another round of Healthy Chicks in the Community, a weekly series highlighting rockstar Girl Bosses doing their thang in the wellness community. Since I love supporting fellow female entrepreneurs — especially in the wellness space — I'm thrilled to introduce you to Lauren Lampert, the founder of AukaLife. Offering up a slew of nutrient-rich superfood blends in single-serve pouches, AukaLife is on a mission to simplify your morning smoothie routine.
I'll let Lauren, the brains behind the operation, take it from here…I hope you leave feeling as inspired as I am! 😉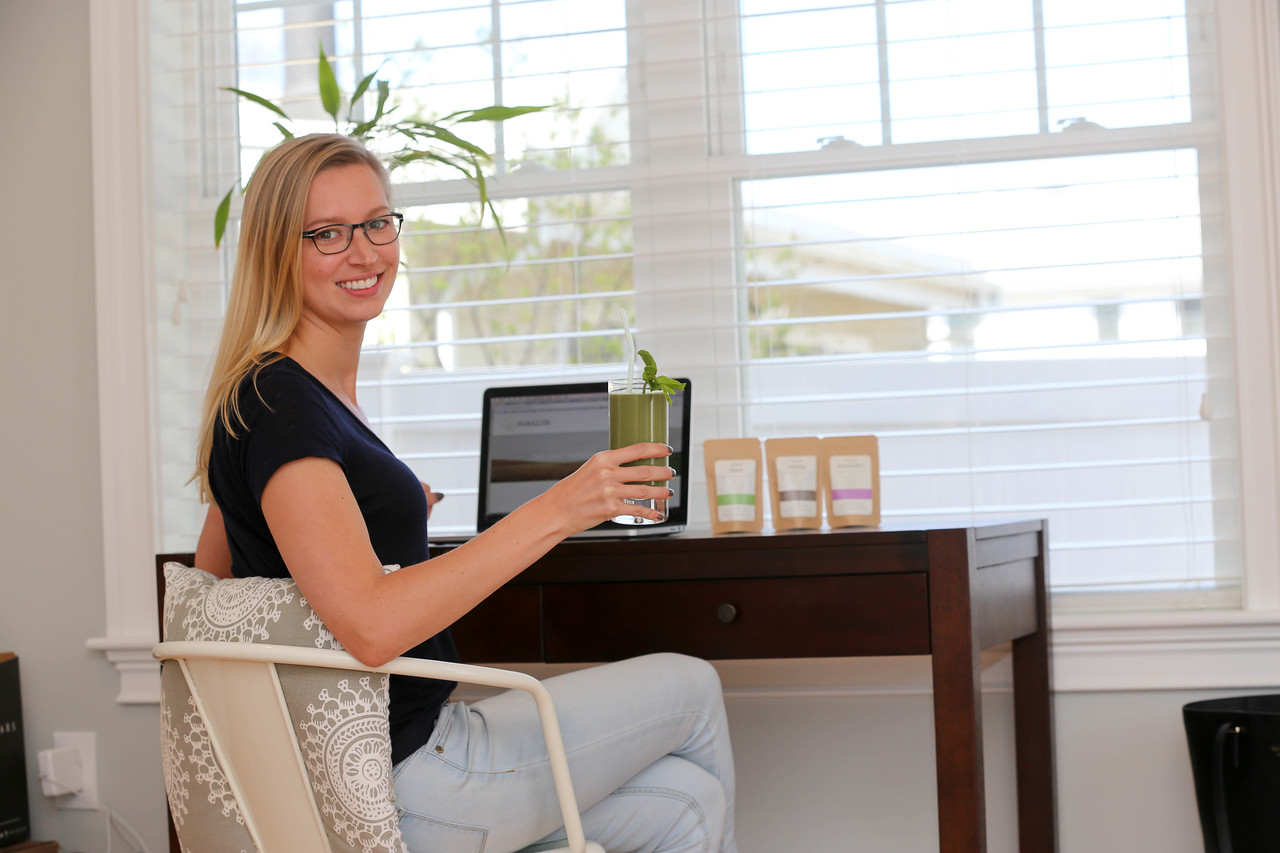 NAME: Lauren Lampert
DESCRIBE YOUR BUSINESS/LINE OF WORK: Simplifying superfood blends one scoop at a time! AukaLife's variety of products are designed to boost meals and smoothies with all-natural, nutrient-rich and tasty organic superfood blends. Convenient packaging and strategically blended products take the guess work out of superfood nutrition. Each blend is crafted with non-GMO, organic and raw ingredients to enhance your diet and promote healthy living.
WHERE YOU LIVE: Arlington, MA
HOW YOU SERVE THE COMMUNITY THROUGH YOUR WORK: Auka, meaning 'to-enhance' is a perfect name to describe the business, as my goal with AukaLife is to enhance the nutritional value of each meal, giving the community a truly natural and healthy product that fosters a fulfilling life. I aim to be an example and empower young women everywhere to pursue their passion and follow their dreams.
NUMBER ONE PASSION OUTSIDE THE JOB: FOOD!
INTENTIONS/GOALS YOU HAVE FOR YOURSELF IN THE NEXT 3 YEARS: To make AukaLife my full time career and into as many local businesses as possible.
ONE PIECE OF ADVICE YOU'D TELL YOUR CHILDHOOD SELF: Don't give up.
FOODS THAT MAKE YOU FEEL ALIVE & BRING THE MOST JOY: chocolate, green juice, and pizza!
SONG THAT MOVES YOU: The Fighter by Keith Urban and Carrie Underwood (But also the one by Christina Aguilera 🙂
THREE FAB THINGS ABOUT YOU: I work a full time job and run a wellness startup. I love to travel and have a rockstar hubby who supports my goals and dreams.
FAVORITE BODY PART & WHY: My hair; I've been blessed with hair that requires very little effort.
I GET MY INSPIRATION FROM: Meditation
EXERCISE THAT MAKES YOU SHINE: Boxing
SOMETHING IN YOUR "WELLNESS TOOLBOX" YOU CAN'T LIVE WITHOUT: Organic maca powder
GREATEST ACCOMPLISHMENT: Starting a business on my own
FEMALE LEADER(S) YOU LOOK UP TO: Any woman who can juggle a family, career, social life and fit life
IF YOU COULD PICK ONE PERSON TO HAVE DINNER WITH, WHO WOULD IT BE & WHAT WOULD YOU MAKE THEM: My grandmother who passed away when I was young. I would cook her my version of a southern home cooked meal: fried chicken, corn, and mashed potatoes and gravy!
GO-TO MANTRA OR INSPIRATIONAL QUOTE: Work hard, play hard
MESSAGE YOU'D LIKE TO SHARE WITH OTHER HEALTHY CHICKS: Define your values before prioritizing what to spend time and energy on. You have to be willing and able to sacrifice during the journey in order to get to the goal. I just finished the book "The Subtle Art of not Giving a F*ck" and it had great advice on how to manage stress and goals.