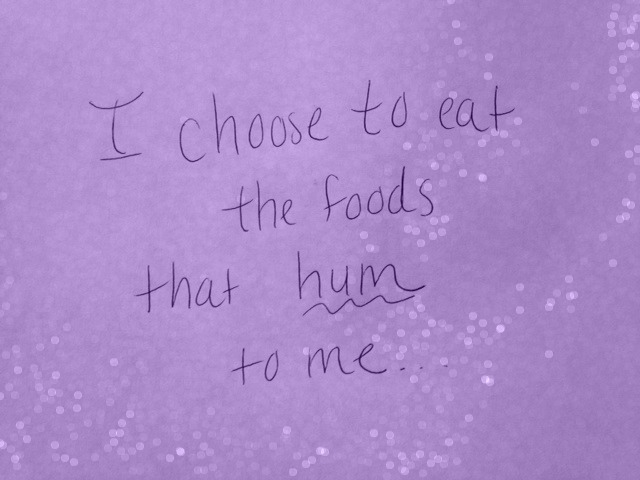 In Emotional Eating Expert Geneen Roth's book Breaking Free From Emotional Eating, she refers to foods as either "humming" foods or "beckoning" foods.
Humming foods? What the heck is that, you ask? Why it's exactly what it sounds like; humming foods are foods that sing (or "hum") to you, that light you up and make you feel good. They can change day-by-day depending on how you are feeling, what time it is and even who you are with. But you know it when you see it.
The most important part about humming foods is that they satisfy you both emotionally and physically. "When you eat a humming food, you don't go looking for more food fifteen minutes or an hour later. After eating a humming food, you forget about food," Roth writes. "You know those people who actually think about things other than food during the day? You become one of them."
To me, eating the foods that "hum" to you means eating according to what your body wants & needs, rather than eating what you think you "should" be eating. It's listening to your body at its best. On the other hand, beckoning foods are those that … Read More!