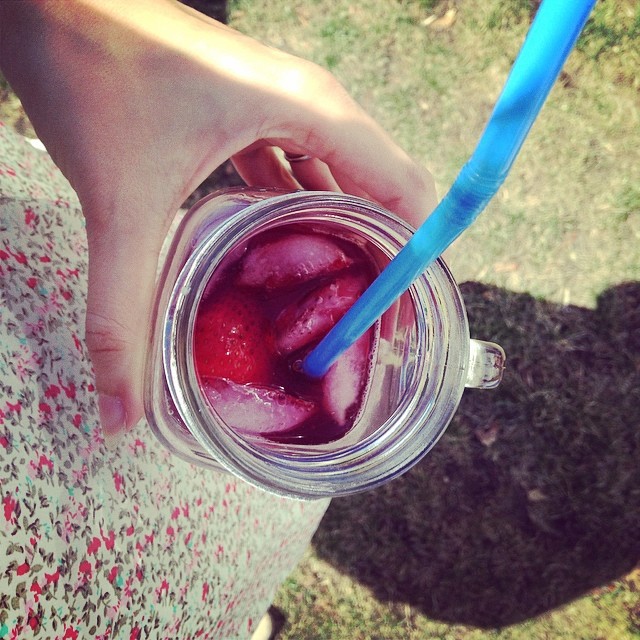 Remember when 100+ days ago I posted about my decision to start the 100 Happy Days Challenge? Well, I am proud to announce that this Monday I celebrated my 100-day mark, and I must say the whole experience was quite enlightening.
When I began this challenge back in the beginning of March, it was freezing cold in Boston, I was stressed with work, and I was struggling to find true happiness.
What this challenge made me realize is that happiness is all around us every day – be it from a hot cup of coffee, a lucky penny, or a magic moment – and sometimes you just need to shift your perspective a tad to see it.
Happiness is not something you have or don't have; there isn't such thing as "happy people" or "unhappy people." Rather, I believe it's something you choose to see…every day.
So in light of the end of my happiness journey (which is just the beginning really), I wanted to share the little moments that made my 100 happy day cut. Since I've already shared through photos here on instragram,  now I choose to share through words. My favorite form of art.
1. A clean home
2. Fresh brewed coffee in my Life is Good mug
3. A green smoothie + avocado toast
4. Tea date + brainstorm sesh with a good friend
5. My man's famous Western breakfast frittatas
6. My fiancé, the love of my life who accepts me for who I am
7. Running in a tank top…in the winter
8. My job at sweetgreen
9. Taco night with J
10. Eating Well + Clean Eating magazines arriving in the mail
11. Snuggling up in my pink blanket
12. Treating 2 of my rockstar employees to a coffee surprise on a snowy day
13. Living the condo life in New Hampshire
14. Snowshoeing
15. A lucky white feather tucked into my phone case
16. My passion x purpose necklace
17. Silver sparkly flats
18. Unplugging before 8 p.m.
19. Wearing flip flops to celebrate spring
20. Cards Against Humanity with good friends
21. March Madness
22. Happy Hour
23. Sun shining
24. Seeing J's co's snacks(Organic Living Superfoods) sold at The Bees Knees
25. New turquoise yoga pants
26. A little hidden gem of a fruit stand on the side of the road
27. Drinks with my best friend
28. The perfect cappuccino from Barrington
29. Yogi tea
30. I found a beer I kinda liked (Big Squeeze UFO)!
31. Pad thai
32. Hard work paying off / celebrating a new store open
33. Boston mornings
34. Breakfast + coffee date
35. Hanging photos at sweetgreen for Lucie Wicker's Boston Marathon project
36. Home sweet home (+ flowers blooming)
37. Wedding planning
38. A 40-minute run ending with Bennie and the Jets playing on my iPod
39. Run club
40. Iced coffee + sunshine
41. Finding a lucky penny in my shoe
42. Sangria
43. Nature walk to dinner with mom
44. Working outside
45. Morning tea
46. Otto pizza
47. Nike sweetgreen sneaks
48. Yellow flowers all over the city for the Boston Marathon
49. Iced coffee en route home for Easter
50. Easter spent on Fisher's Island with family
51. Celebrating + honoring The Boston Marathon
52. Fresh fruit cup
53. Meditating, journaling, essential oils, + lemon verbena rose petal tea
54. Surprise flowers to celebrate 6 months until the wedding!
55. Margaritas on Friday
56. Guacamole
57. The North End + a visit to the sis
58. Practicing yoga with my beautiful friend Cara Gilman
59. Custom rice bowl from sweetgreen
60. Tea time
61. Coming home to J after a long day
62. Lavender herb sangria at Barcelona Wine Bar
63. Mexican food with the fam
64. Hanging with mom + sis in the Bean
65. Zumba
66. At-home mani
67. Allandale Farm
68. Surprise flowers from a sweet coworker (all the way from DC)
69. Wine + cheese
70. Spicy quinoa avocado bowl
71. Mother's Day brunch
72. Runner's high
73. Redeeming my Starbucks reward
74. Coming home to the happiest fiancé
75. Sangria with my best friend
76. Colorful salads
77. New Hampshire de-stressing
78. Celebrating dad's birthday (my #1 role model)
79. Sushi
80. A peaceful walk home
81. Planking in the Boston Common
82. Pilates with Ali B
83. A surprise owl mug + note from a sweet coworker
84. Celebrating my sister's 25th birthday
85. Hanging on The Greenway
86. SoulCycle
87. Cozy bowl of oatmeal
88. A glass of red
89. Visiting my "family" at sweetgreen fort point
90. Rehearsal dinner for our best friend's wedding
91. Outdoor a.m. yoga
92. My famous bowl of goodness
93. Curling up with a magazine + shutting down
94. Photo shoot in Copley Square Farmer's Market with lululemon
95. Crockpot garlic chicken
96. Hot tea with honey on a rainy day
97. An .88 cent chocolate truffle
98. VIP tickets to DMB
99. Kayaking on the lake
100. Gazpacho + Cesar salad pairing at sweetgreen
Now I ask you – what makes you truly happy? How can you shift your perspective to discover your own inner happiness? Start your own 100 Happy Days challenge here.
XoXo,
Rachel