The Event Deets
Last night, I was lucky enough to be invited by Sara Steele-Rogers, the Boston Event Evangelist for Evenbrite, to attend a Boloco Burrito + Samuel Adams Beer Pairing. The event was hosted by Boston Marathon runner  Danielle Pillon to raise money for Jumpstart, a national early education organization that helps children develop adequate language and literacy skills in order to be successful in school.
It couldn't have been a lovelier evening in Boston for the event, which took place at the Boston Society of Architects Space on Congress Street. And what a wonderful idea to pair delectable burritos with refreshing beer, especially on a perfect spring night. Even better, the head chef and cofounder of Boloco, Jason Hutchinson, and Director of Consumer Relations at Sam Adams, Todd Bellomy, were there to offer their expert knowledge.
Everything was extremely organized with a low-key vibe, which is totally up my alley. Upon walking in, we were promoted to simply grab a paper plate and a cup and let the tasting begin! Before I dived into the fun, I entered the raffle to win a dinner for two on the Odyssey, which would be my dream evening for sure (fingers crossed). They were also raffling off a Boloco card filled with goodies, and a Sam Adams Bottle of Utopias.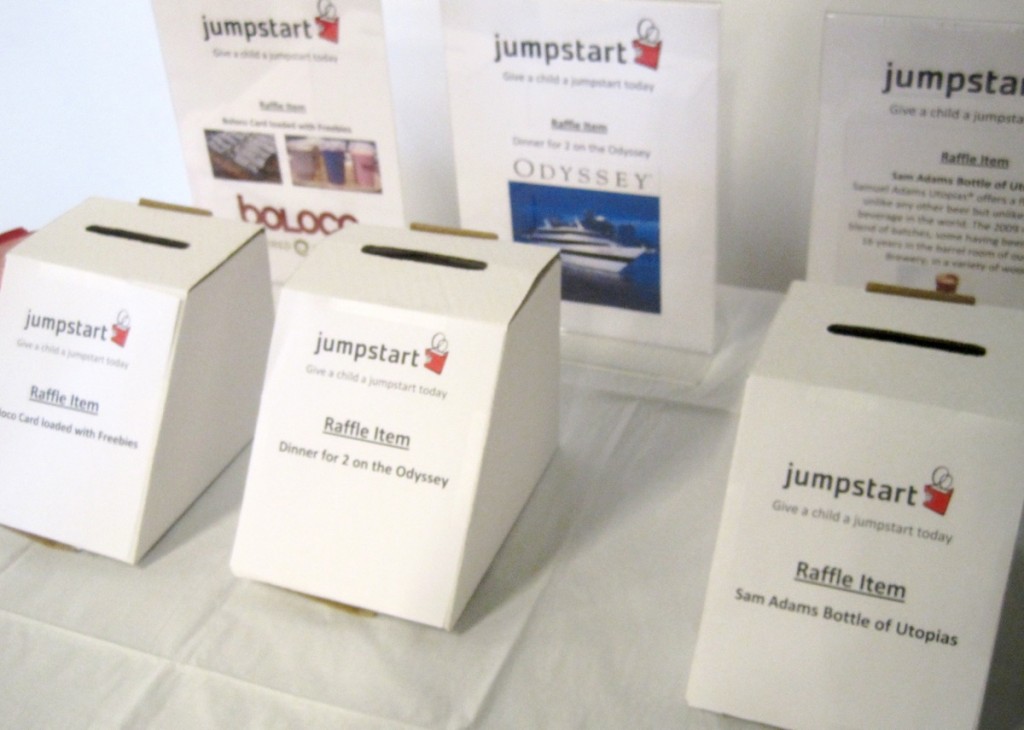 Tasting Party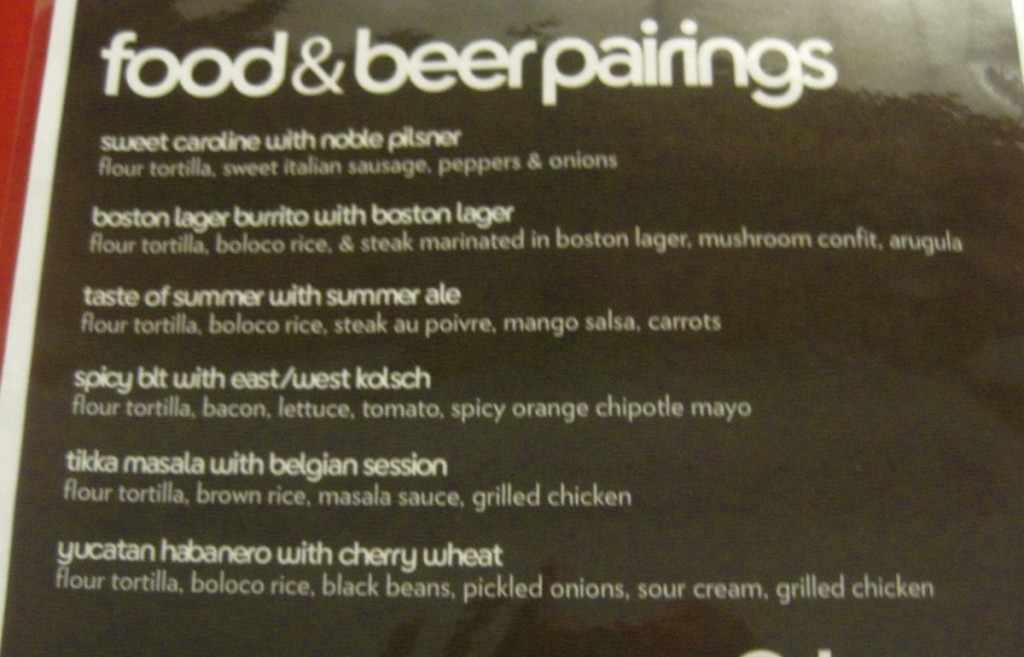 [Sorry for the blur! Check out all the tasty burrito + beer combos]
I loved how everything was labeled including exactly what went into the burrito, along with the suggested Sam Adams beer to pair it with.  As you know, I'm a huge fan of being aware of the ingredients in a meal, and essentially what's going inside your body.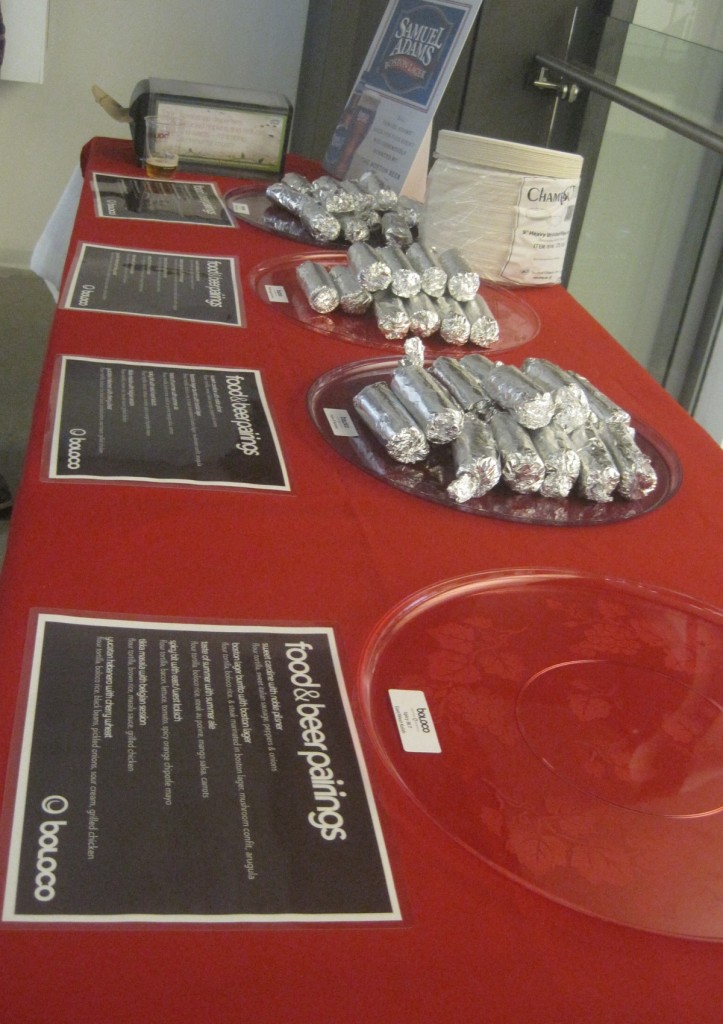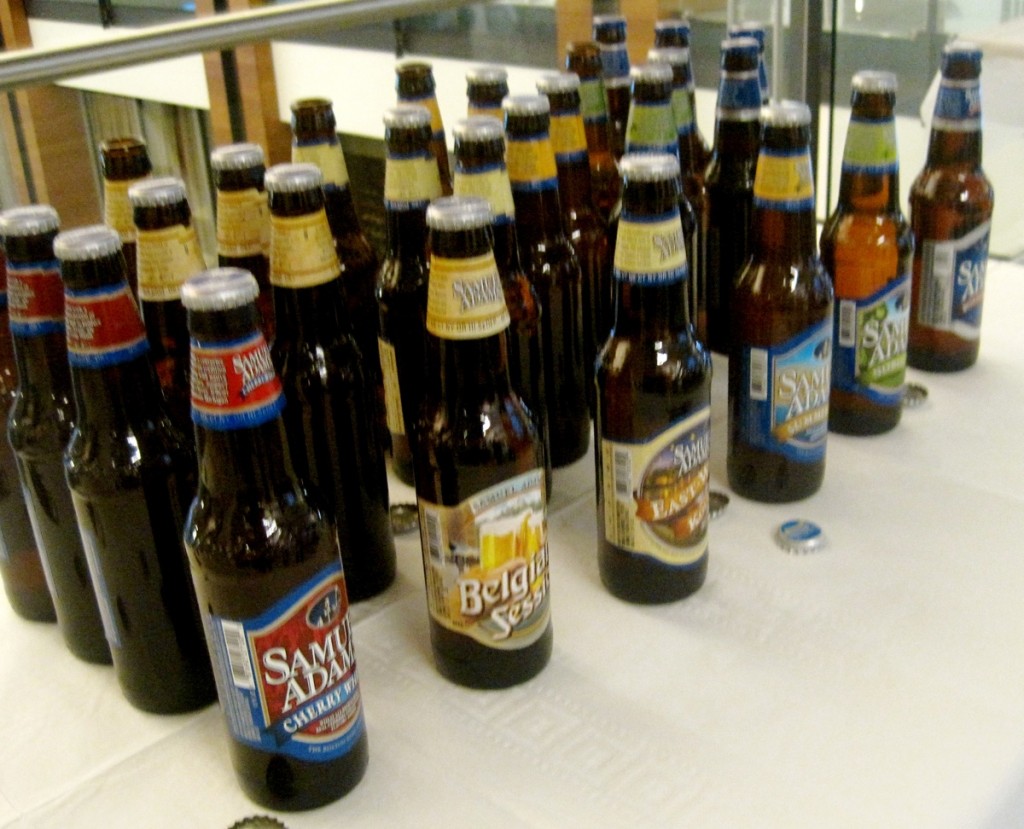 [take a look at the variety of burritos & brews!]
I started off with the Tika Masala Burrito, consisting of brown rice, Masala sauce and grilled chicken all wrapped up in a mini flour tortilla and decided to pair it with the suggested brew: Belgian Session. The Tika Masala was my absolute favorite of the evening, as the sauce had a savory, Indian flare to it which I simply couldn't get enough of. Also, coming from a gal who typically doesn't care for beer, I was presently surprised by the refreshing, spicy finish in the Belgian Session.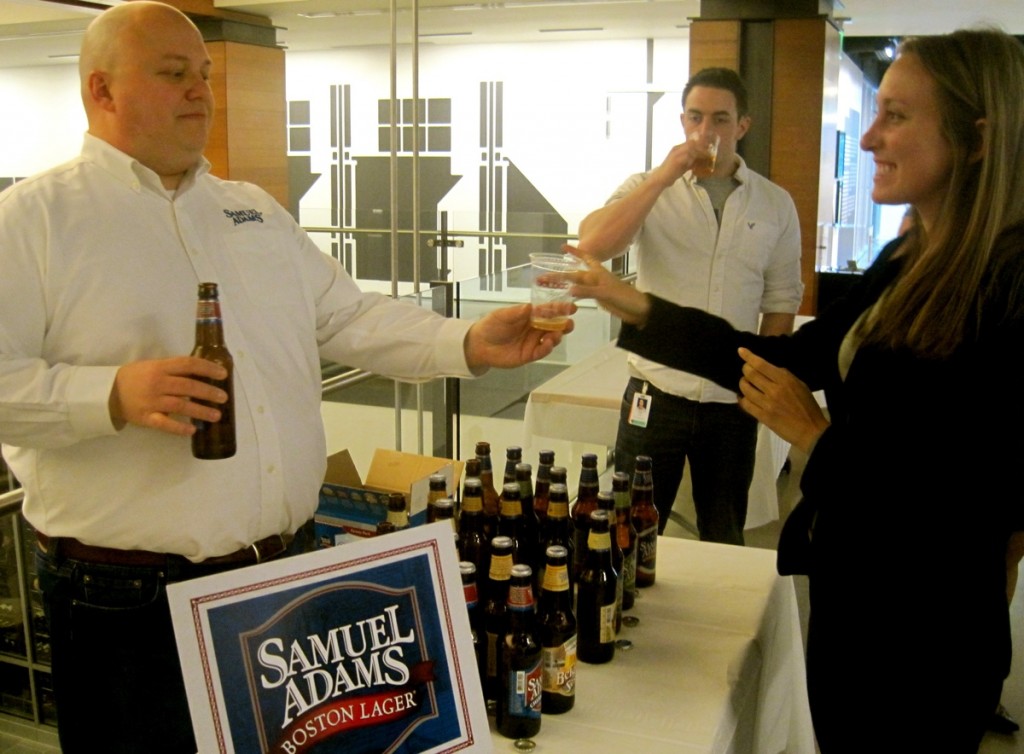 [Slowly becoming a beer connoisseur...]
Next, I decided to give the Boston Lager burrito a try (Boloco rice, steak marinated with Boston Lager, mushroom confit and arugula) but this time I changed it up with the beer and went for the East West Kolsch. With sweet lemon, fruit and flowery notes, this beer was number one on my list, a perfect spring brew if I do say so myself especially in combination with the arugula and mushrooms.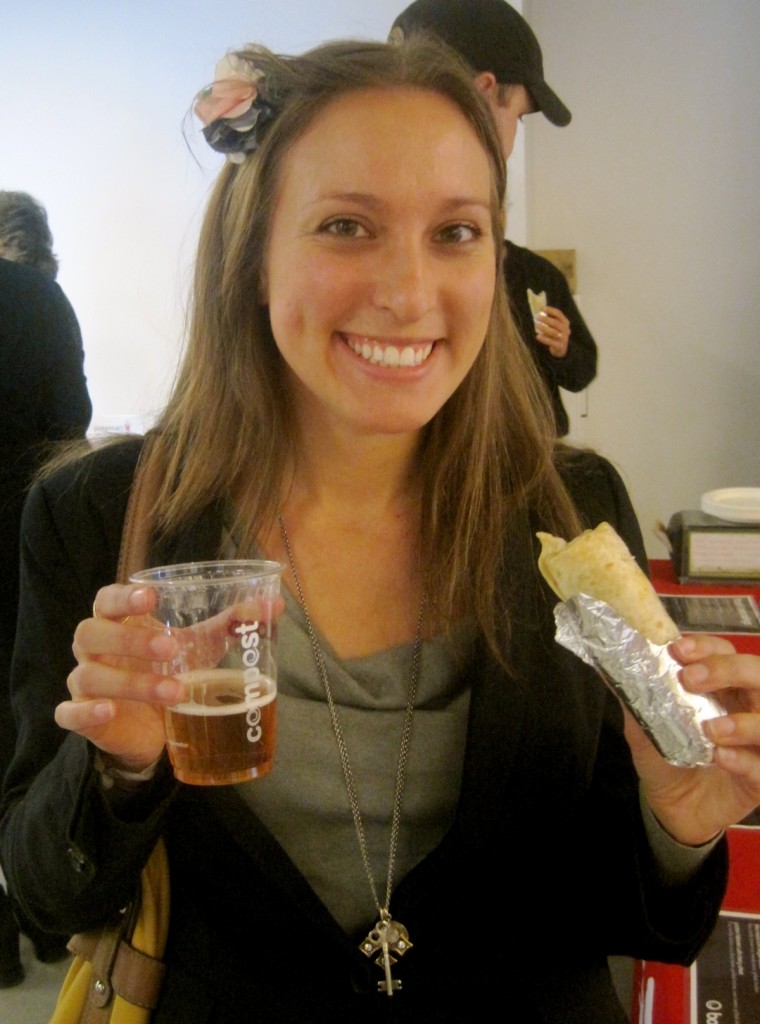 [Cheers!]
Portion Control:
The best part about the pairing to me was the perfect portion sizes. I love that Boloco offers "customizable mini burritos" which you typically can't find at a Mexican food restaurant or chain around here. If you aren't in the mood to indulge on a gigantic larger-than-life burrito, the mini is for you as it's perfect for a hearty snack, or when paired with a smoothie or salad for a light, satisfying meal.
Better yet, Boloco offers a nutrition calculator on their website to add up exactly what you're eating, and modify any existing menu items to cater to your dietary needs. They even include Weight Watchers points for those utilizing the program. Who knew?
Sam Adams did a wonderful job with portion-control as well, as Todd poured small cups of brew so guests could enjoy the flavor without overly indulging or getting sick of just one beer; instead you could sample several to equal one beer which worked out perfectly for a beer-newbie like myself. I even snuck a mini "taste tester" of the Cherry Wheat at the end of the evening just to say I tried it!
As my motto goes: forget deprivation and choose everything in moderation! While I had quite a few savory eats yesterday evening, I left feeling happy, satisfied and most importantly, good about my body.
In my book, it's perfectly OK to eat "forbidden" foods like pizza, beer, burritos, nachos, you-name-it if you do so with a conscious mindset, in moderation, and without guilt.
Thank Yous & Eventbrite News
A big thank you to Boloco, Sam Adams, and  Evenbrite for throwing this fabulous event. If you need to plan an event in the future or are just looking for things to do in your area, I highly recommend using Eventbrite, a great source to discover events in your city, as well as create online registration and ticketing for your own events. If you'd like to learn more, simply attend their Eventbrite 101 online "event" here.
It's so wonderful to see a company that helps organizations, charities, aspiring entrepreneurs and everyday people plan an event of their own with confidence. I myself am participating in Eventbrite Boston's "Week of Wellness" for my business Zesty Living where I'll be teaching a class on Eating Real Foods Plus Natural Health & Beauty Secrets. Stay tuned for more info, as I'd love to have you there!