Good afternoon all. Hope you're all staying safe from Hurricane turned Tropical Storm Irene. It's pretty windy, rainy and eery here in Boston, but nothing too crazy just yet. Speaking of crazy, boy did I have a crazy weekend. I went down to NYC for The DMB Caravan Concert on Governors Island, which ended up getting postponed on Saturday and Sunday. Luckily, I still got to enjoy a full afternoon of live music on Friday, and the entire concert will be postponed to a later date. OAR, Citizen Cope, and Dave Matthews Band really played their hearts out, and we had the best of time.
Needless to say, leaving the city was an absolute mess. We had to reschedule our bus tickets four times, ended up getting stuck in NYC at 4:30 a.m. due to a last minute bus cancelation, and then slept outside Grand Central Station until 5:35 a.m. rolled around to train it back to CT. Twelve hours later, we were finally back to where we came from: Boston. Let's just say, I've never been more relieved to be home.
Anyway, it's Quotable Sunday and in lieu of the fabulous concert DMB put on despite Irene's craziness, I thought this quote was fitting.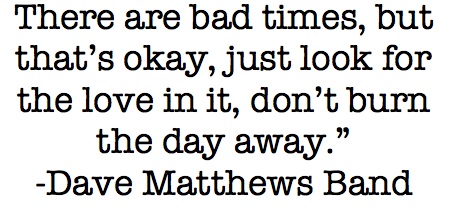 Enjoy & be safe!
XoXo,