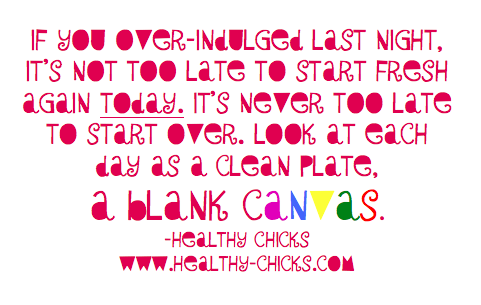 How many times have you told yourself, "Screw it, I already had one brownie, I may as well eat the whole batch!" "I completely 'over did it' last night so I'm just going to starve myself all morning", "I skipped the gym for two days in a row. There goes that plan!" or even  "I destroyed my diet. I am a complete failure!"
Sound familiar? Trust me, thoughts like this pretty much consumed me all throughout my college years, leaving me completely miserable. I felt worthless, FAT, and downright exhausted. These beliefs not only mess with our overall wellbeing (body image, weight loss efforts, positive outlook on life) but they simply aren't true. They are just little lies we tell ourselves to protect us from taking action.
Next time you hear yourself throwing a negative pity party or drowning yourself in guilt, I want you to stop yourself in your tracks. Close your eyes, take a deep breath, and remember that you don't need to be perfect 100% of the time to be 100% healthy & happy.
No matter how many slices of pizza you ate or how many workouts you skipped out on, the good news is you have … Read More!