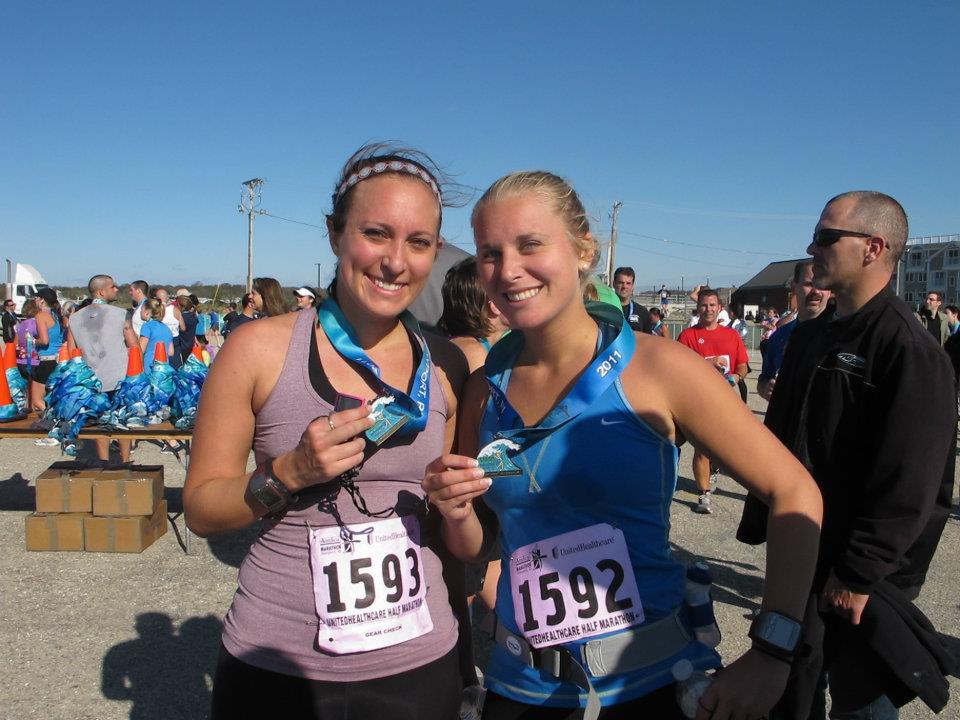 [my sister and I after half marathon #2, both wearing our medals proudly!]
I've never really been a competitive person. During high school I stuck to rec basketball, as the competitiveness of being on the team freshman year kinda sorta freaked me out. I swam on my pool club's summer swim team for several years, although I was always more interested in breaking my own record than showing someone up. This past April, I ran my first half marathon to see if I could do it (and cross it off my bucket list), and then another one in October to keep the momentum going and break my Personal Record (which I did…by a whopping 5 minutes).
I've never been the girl to make a pact with my friends to see who could lose the most weight, and ulta-competitive contests aren't really my cup of tea.   As you can see, personal challenges is where it's at for me. That's why I decided to create my own workout challenge for the week before Christmas. I had been slacking majorly on my workouts lately, and thought this would be a great way to get back into it and jumpstart my metabolism for the holidays. So, starting on Monday I set a goal of taking a core fusion class every day until Christmas.
As you know I'm a huge fan of core fusion, but it's also a killer workout and no matter how many classes I take, my thighs always shake and I'm sore for a good few days. Because of that reason, I've never dared to take three, or even two classes in a row. This would indeed be a challenge for me.
Here's how it's mapped out so far:
Monday 12/19: Core Fusion Body Sculpt DVD (includes four 10-minute workouts: arms, legs, thighs & glutes, and abs)
Tuesday 12/20: Core Fusion Cardio at Exhale Spa (a 60-minute sweat-inducing workout incorporating planks, mountain-climbers, weights, kickboxing moves, and abdominal work)
Wednesday 12/21: Woke up sore, but pushed my way through the Core Fusion Body Sculpt DVD (today I only did arms, legs and abs as I was pressed for time) but made up for it later by taking Core Fusion Yoga at Exhale Spa (an amazing 60-minute workout incorporating sun salutations, core strengthening, stretching and toning all guided by upbeat music!) I must say, I absolutely loved this class, and it was a huge treat because I'd never taken it before. I'm totally adding this to my weekly schedule!
Thursday 12/22: I'm feeling good today, so tonight I'll be taking Core Fusion Cardio again at Exhale. Bring it on!
What's on my Plate the next few days?
Friday 12/23: Core Fusion Open at Exhale (a signature Core Fusion class that tones and sculpts your arms, legs, thighs, glutes and abs) This is by far the most difficult Core Fusion class for me, as you really feel the burn, but I'm going to push through because the results are absolutely incredible!
Saturday 12/24: MY LAST CLASS!!!!! Core Fusion Open at Exhale (the perfect way to bring on the holidays!)
I'll keep you posted on how the rest of the week goes? Have you ever created a workout challenge for yourself? What did you do to keep yourself motivated?