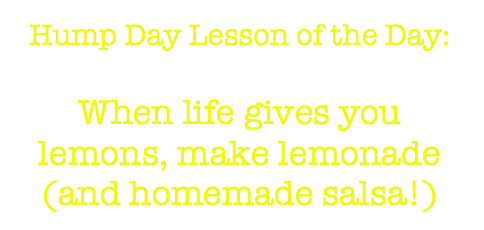 As I mentioned on Friday, things are looking up for this here Healthy Chick. I'm making it a point this week to give myself a break, be a little easier on myself, and have a little more faith in all things in life: my relationships, my job outlook, my future writing career, myself. Yesterday's 75 minute yoga class definitely helped me get to a place of calm…a place of belief. I've decided I'm going to make practicing yoga a regular part of my life again…I've missed the way it makes me feel. It's an indescribable feeling of being on top of the world, like the entire world is at your finger tips for you to control.
Anyway, when things got a little sour last week, I decided to make the best of the situation and make lemonade for the boy and I. Yes, homemade lemonade (I actually squeezed all the lemons myself…what a workout!) Then I created a delicious Mango & Black Bean salsa to pair with our lemonade for a little outdoor picnic of sorts. It was much needed, and we both agreed I nailed the two recipes:
When Life Gives You Lemons Lemonade
–3/4 c. organic sugar … Read More!