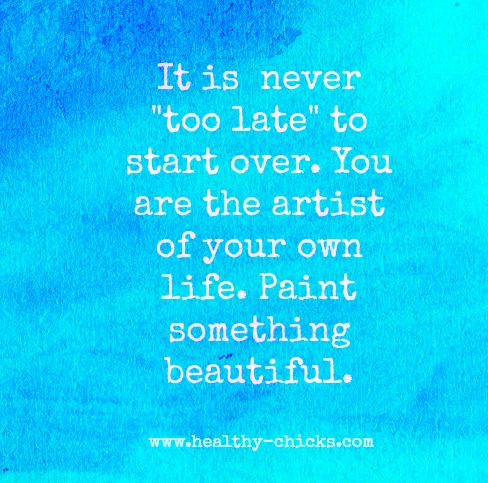 I used to think that starting over was impossible — it seemed completely out of my reach.
If I over-indulged for a weekend in college, I'd punish myself for being "bad" and "ruining" my diet by starving myself and stuffing my face with sugar-free, low-cal crap.
And if I made a mistake, chose the wrong path or felt "stuck" in a life I didn't love, I'd think there was nothing I could do about it. This is just how it is. It's "too late."
I now know it's never too late to start over & create the life you want for yourself. With this new mindset, I've left jobs that didn't feel right to me, let go of a toxic "relationship" that was draining me, broke up with the scale, and released the thoughts "I can't."
By doing so, I have found a career path that makes me stay up late at night feeling inspired, I know what real love feels like, I have developed a healthy & fun relationship with food and I now tell myself "I can do it" as much as possible.
You see, it truly is never too late. Your life is like a blank … Read More!