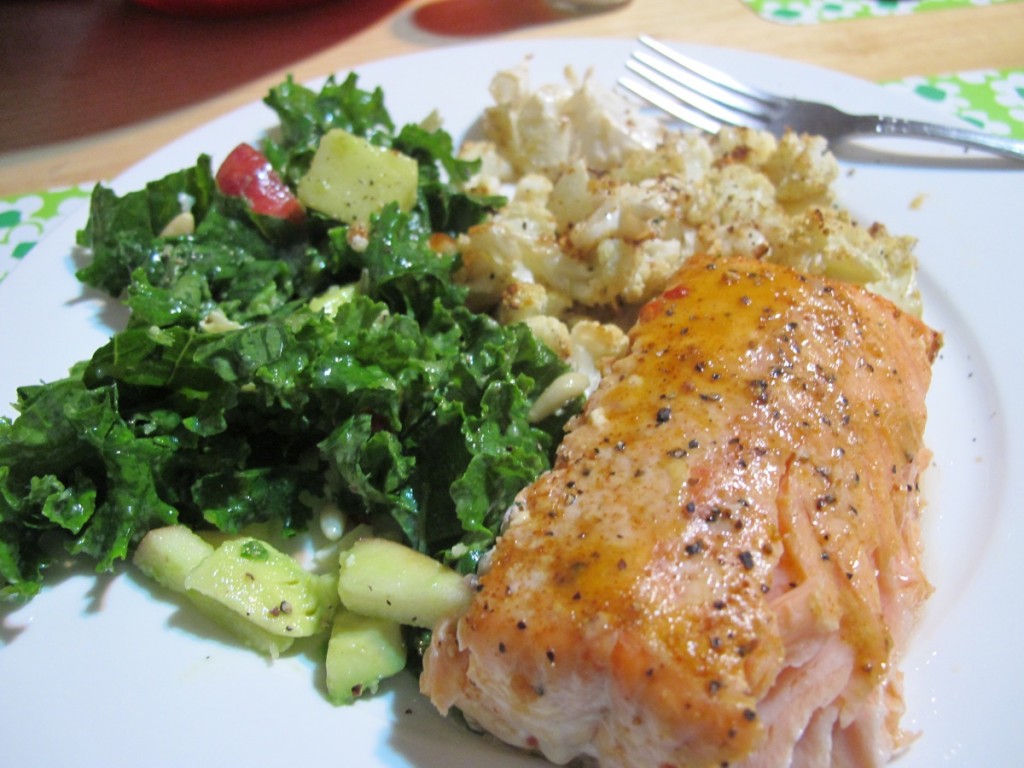 Yesterday evening, there was no doubt fall was in the air. That's why I decided to embrace the crisp weather and whip up an autumnal fall feast. I was craving salmon, so I based my dinner around the fish and my thinking cap went into full-fledged action. In a few minutes, I came up with a brilliant idea to make a baked cajun salmon with mango salsa, paired with roasted parmesan cauliflower and finally a kale & avocado salad.
Want to mimic last night's dinner for yourself?
Here's how:
Fresh Kale & Avocado Salad
Bunch of fresh green kale
1 avocado, diced
2 cloves garlic, crushed
3 TB olive oil
1/4 c. fresh shredded parmesan cheese
1 tsp. red pepper flakes
salt & pepper
juice of 1/2 lemon
handful pinenuts (optional)
~Mix ingredients together thoroughly, and chill for about an hour before serving (to give time for olive oil & lemon to soak up for ultimate flavor)
Roasted Parmesan & Garlic Cauliflower
1 head cauliflower, chopped
2 cloves garlic, crushed
handful of parmesan cheese (to taste)
salt & pepper
1 tsp. cajun seasoning
olive oil
1. Spread cauliflower out on a coated baking sheet. Top with garlic, parmesan cheese, cajun, salt, pepper and drizzle with olive oil until well coated.
2. Bake on 400 for approximately 35 minutes, stirring occasionally with a spatula.
Baked Cajun Salmon with Mango Salsa
Fresh salmon fillet (approximately 4 oz. per serving)
2 TB spicy mango salsa marinade (I bought an all-natural one at Whole Foods)
about 1 TB cajun seasoning
salt & pepper
1. Rub salmon with cajun seasoning, followed by the mango salsa marinade. Top with salt & pepper to taste.
2. Bake on 350 for 20 to 25 minutes, or until cooked through and sizzling.
I'd have to say, this dinner was a hit. I think the empty plates spoke for themselves. Enjoy!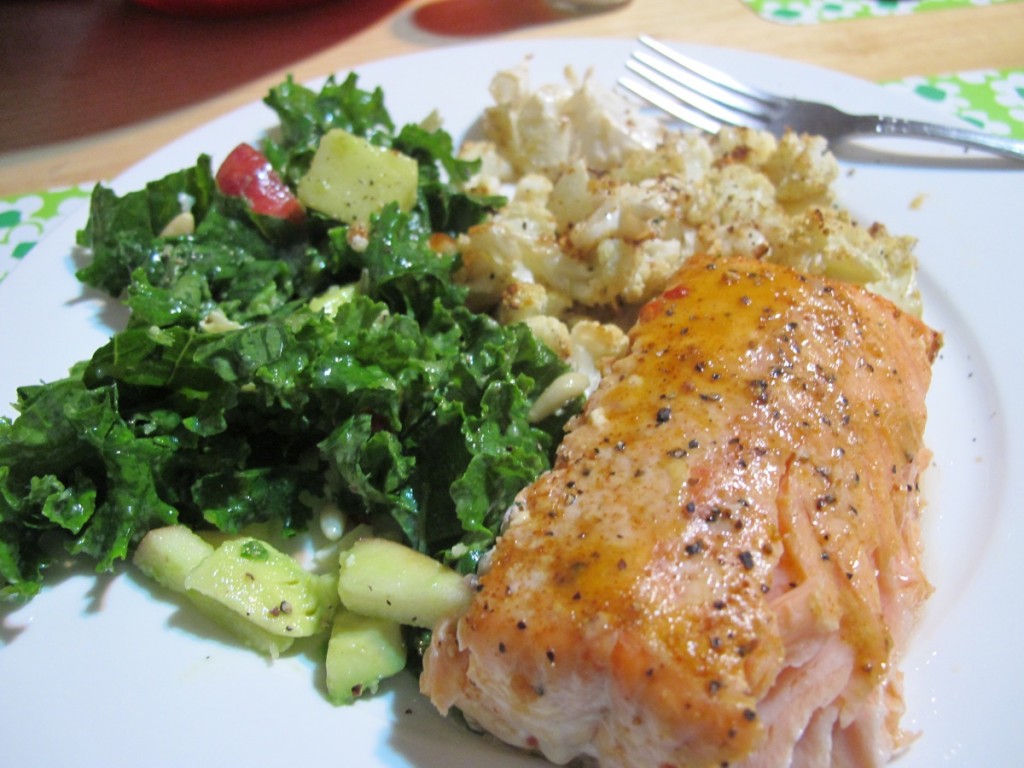 XoXo,