When I studied abroad in Italy several summers ago, I absolutely fell in love with the country…along with the Caprese salad I enjoyed nearly every day. There was just something about the magnificent combination of fresh buffalo mozzarella, luscious tomatoes, basil and pure olive oil that made my taste buds sing with joy.
In Italy, the dish is typically served as an antipasto (appetizer), but I like to enjoy it here in the U.S. as a main meal. And now that summer is here and the weather is only getting hotter, my memories of Italy and the Isalata Caprese have been on my mind.
Last night, after my evening Slow Flow yoga class I took at Healthworks, I headed to Trader Joe's to pick up some goods. I was craving Caprese…real bad. Naturally, I whipped up my favorite Italian salad when I got home and it tasted just as I remembered. I closed my eyes and pretended I was sitting at my favorite little cafe sipping red wine with the locals. Pure decadence.
Then this morning I took it a step further and got a little creative. Alas, the Caprese Egg White Omelet was born. Who knew one could enjoy an Italian lunch classic in their breakfast? Think it's a little bizzare? You'll think again once you take your first bite…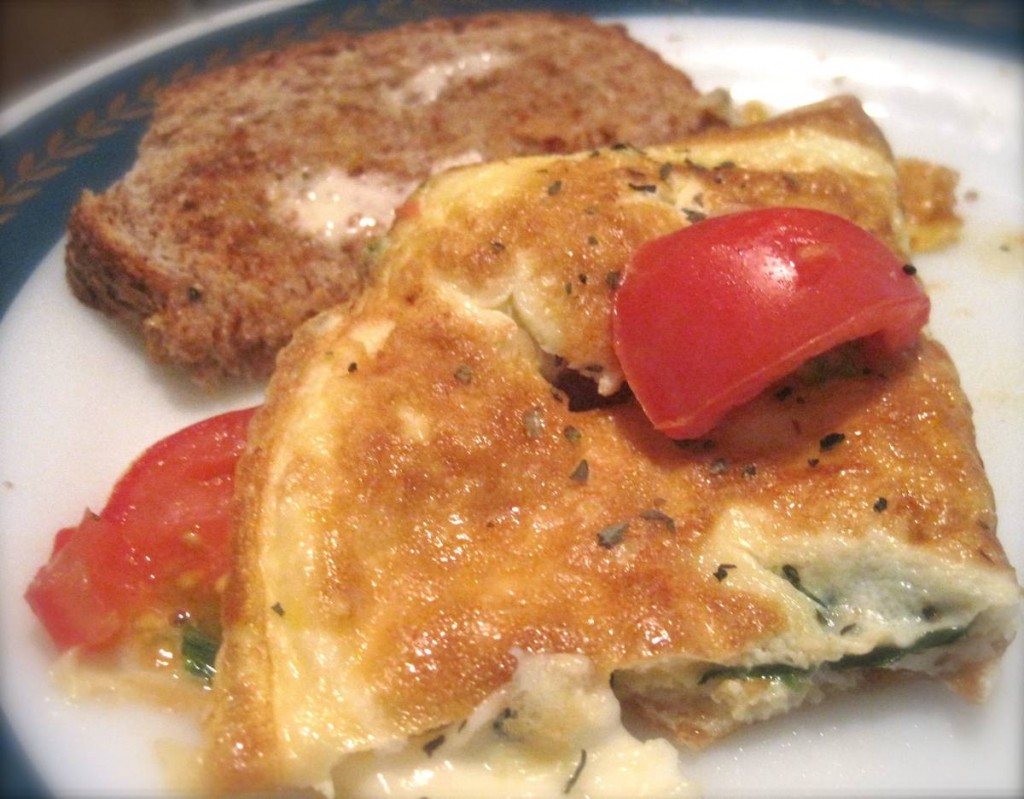 Caprese Egg White Omelet
What Ya Need:
-2 to 3 egg whites, whisked together with 1 TB water or milk
-4 small tomatoes on the vine, halved
-few thin slices fresh buffalo mozzarella cheese
-handful baby spinach
-2 leaves fresh basil, chopped
-salt & pepper
-1 TB olive oil, for cooking
1. Whisk together egg mixture, and pour into olive oil-coated skillet on medium heat.
2. Once the eggs begin to bubble, add in baby spinach and tomatoes to one half. Top with mozzarella slices, reduce heat to low and allow veggies to simmer and cheese to melt.
3. Flip the omelet, and top with basil and salt & pepper. Serve with a slice of Ezekiel toast and a shot of espresso or black coffee to eat as the Italians do. Mangia!
XoXo,