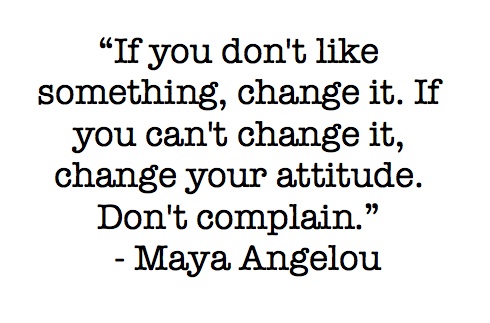 I used to be one of those girls who would flow through life settling. I settled on a long-term toxic "relationship" in college that was going no where because I was too afraid to say what I really wanted: a real relationship. I settled on a few entry level jobs after college, until I I realized I had much more potential than sitting at a desk in a position I loathed.
Worst part? Not only did I settle, but I'd complain about it. I want a boyfriend. Why isn't he calling me back? I hate my job. I need more money. Why am I not making more money? Why is life so hard for me? Why am I having the worst luck? Wah. Wah. Wah.
And then I realized, while it may be difficult at times, things are really pretty simple. We are all in control of our own lives, and ultimately play a huge part in our own destiny. Therefore if you are unhappy in one area of your life (be it financial, personal, etc) then make a change. Maybe that means letting go of a relationship that isn't working, or asking your boss for a raise or … Read More!