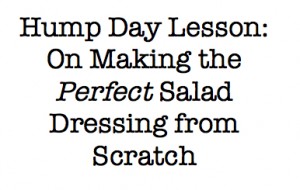 For someone who eats salad on the daily, it's nice to know making your own dressing is much easier than it seems. Why buy expensive, store-bought varieties (packed with weird, mysterious ingredients) when you can make your own salad dressing that's just as tasty, if not more? Add this fresh 'n' crisp red wine vinaigrette to all your salads throughout the week! Remember: a little bit goes a long way!
Rachel's Ruby Red Wine Vinaigrette
-3 TB red wine vinegar
-1 clove garlic, crushed
-3/4 c. extra virgin olive oil
-1/2 TB each dried oregano, parsley and basil
-splash of red grapefruit juice or cranberry juice for extra flavor & zing (optional)
-salt & pepper to taste
~Mix ingredients together well, until oil is mixed in thoroughly. Add to fresh salads, sliced cucumbers, tomato wedges or even use as a dip for bread!